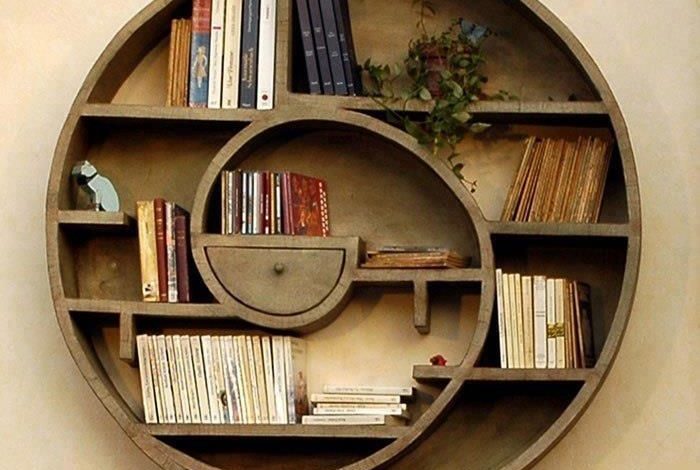 Uncategorized
29 Inspiring And Creative Bookshelves That Will Completely Steal Your Heart
Books are forever, and books are truly a man's best friend. But what adds to their awe is an awesome bookcase to flaunt your way through. These bookshelves are one-of-a-kind masterpieces that will truly be the envy of your friends.
If you want to buy a new modern bookshelf, a bookcase, or a ladder shelf, you can visit Nathan James for their offer.
Check out these amazing artworks and get mesmerized!
1. The United States Bookshelf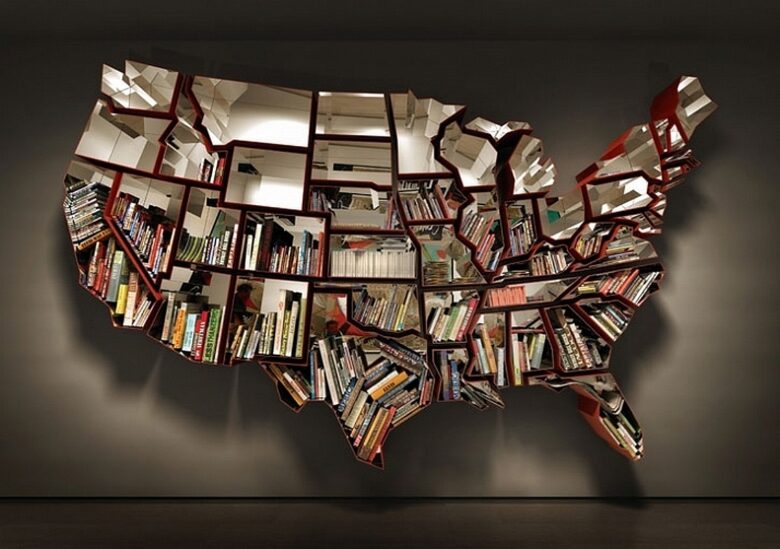 Designed by Ron Arad
Before you get too excited, this is only an art piece and not in production – but feel free to get excited about the design! Curiously titled 'Oh, the farmer and the cowman should be friends,' (which musical fans will recognize from Oklahoma!) the bookshelf is part of artist Ron Arad's exhibition at the Timothy Taylor Gallery. Wouldn't this be a fun way to teach your kids geography?
2. Industrial Corner Pipe Shelf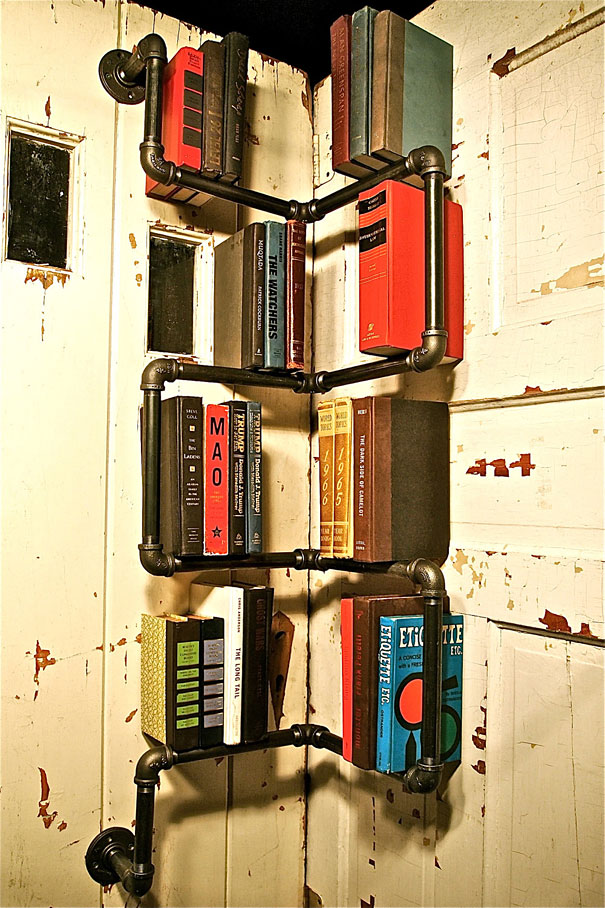 Designer: KKatz
"The Corner Industrial Bookshelf is a great conversation piece turning heavy iron piping into a modern urban look that will add a sense of history and character to any space."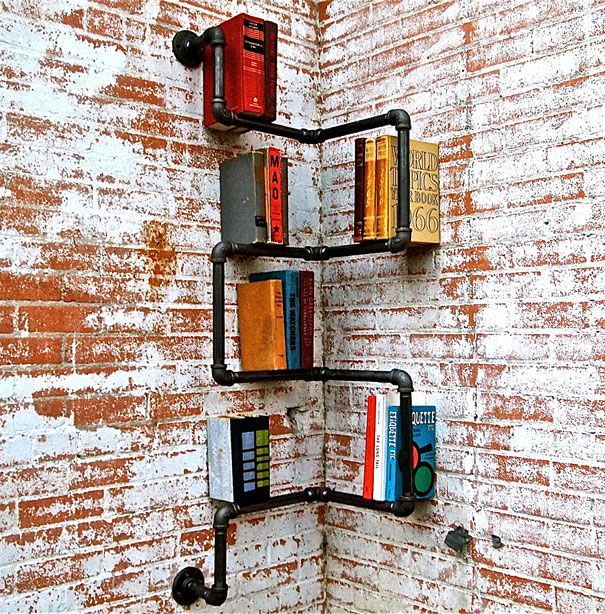 3. Read Your Bookcase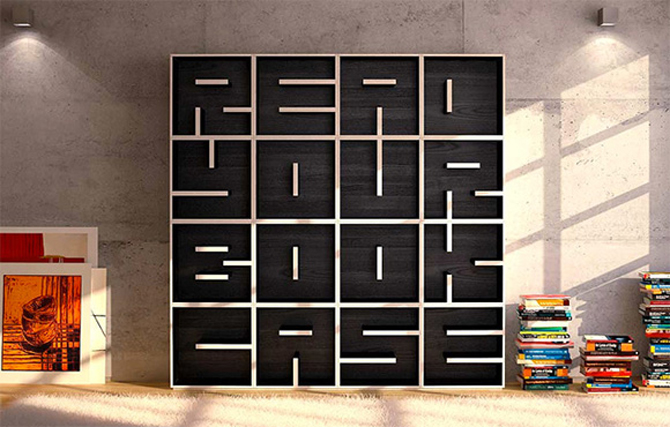 Designers: Eva Alessandrini & Roberto Saporiti
Nominated as the Selected Design in the Young & Design 2010, this stylish bookshelf will always work as a good reminder to read what you have put in ti.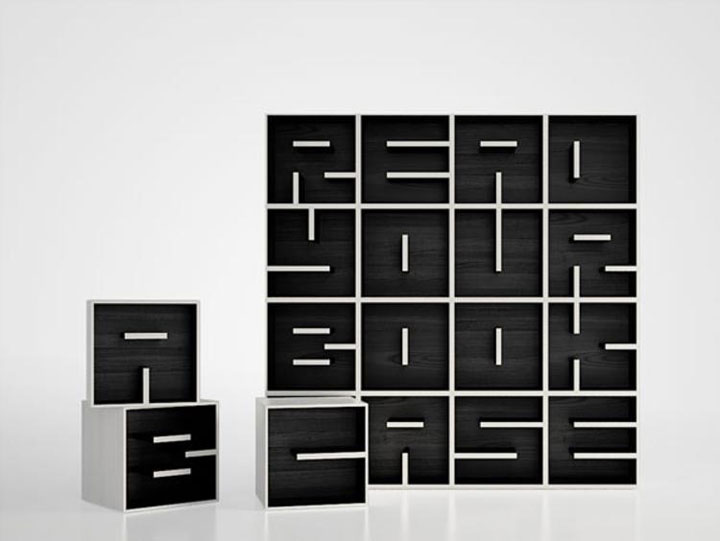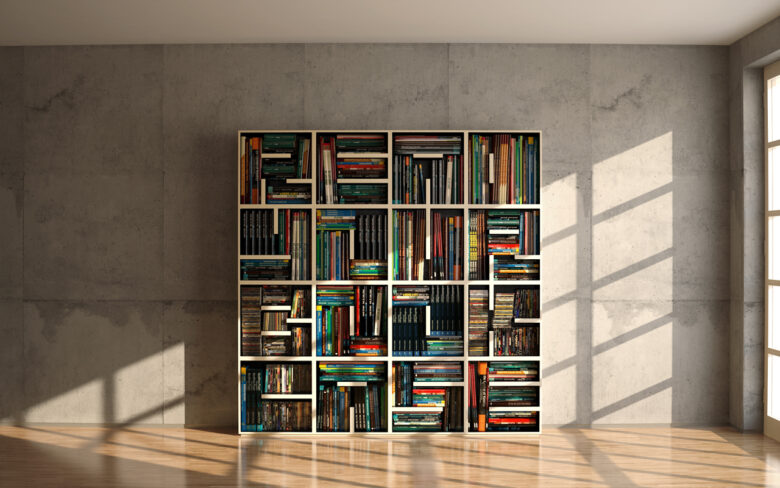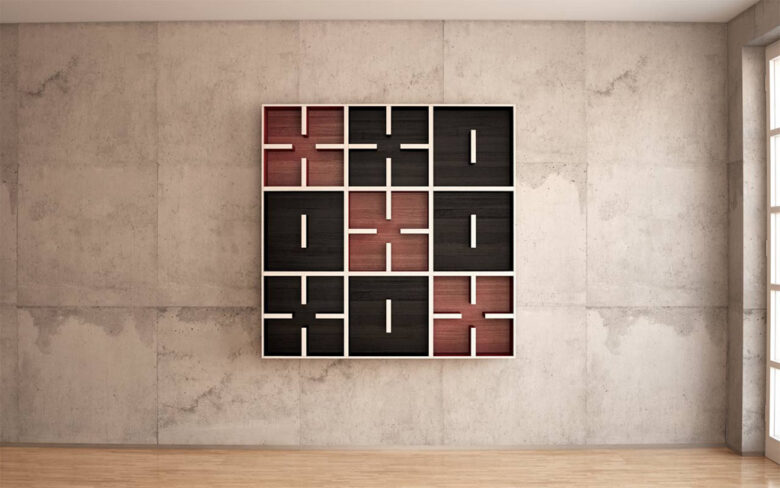 4. The Super Mario Bookshelf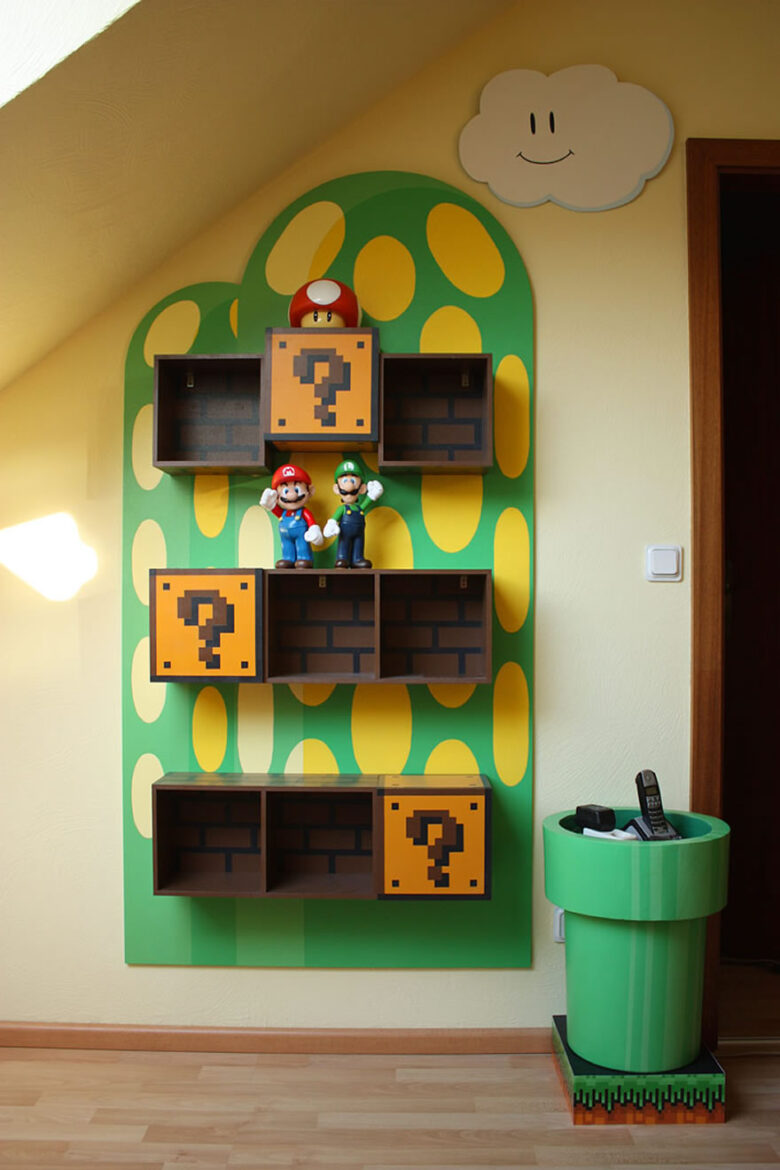 pinterest
For all you Super Mario fans out there, this one comes as a treat. It's even a better idea when its part of your kid's room. Make reading and learning fun for your kids with this awesome game inspired bookshelf. They'll love you for this and you'll never have to worry about their reading again!
5. Pulseline Bookshelf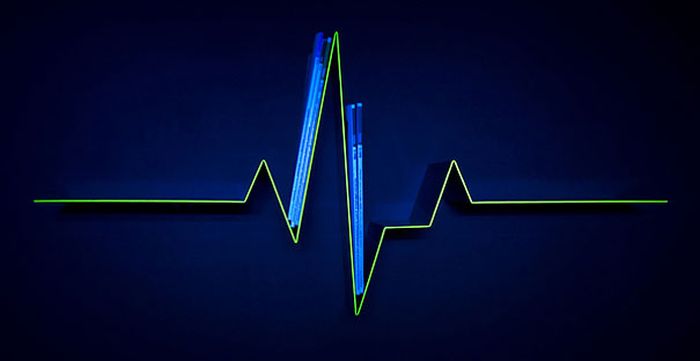 Designer: Måns Salomonsen
"The source of inspiration is obviously from the well-known shape of a heartbeat. The shelf works both as wall art and as an object to display some magazines and smaller items you like. The edge is painted with a florescent paint that glows in UV light to emphasize the silhouette. "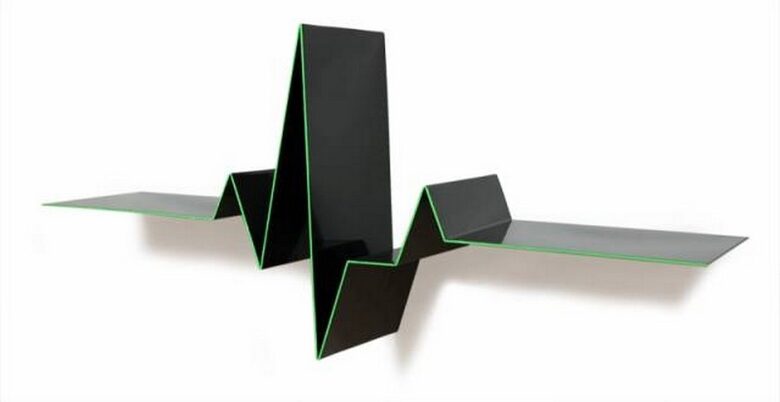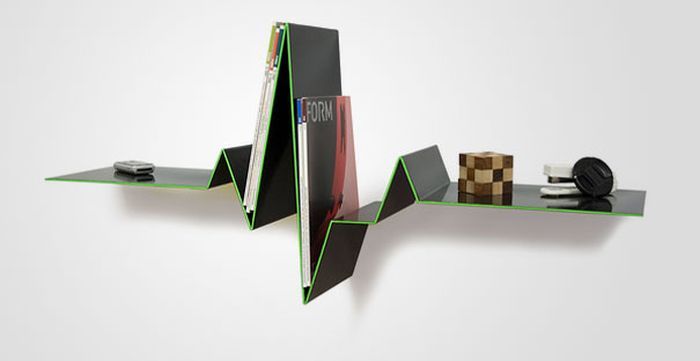 6. Tree Branch Bookshelf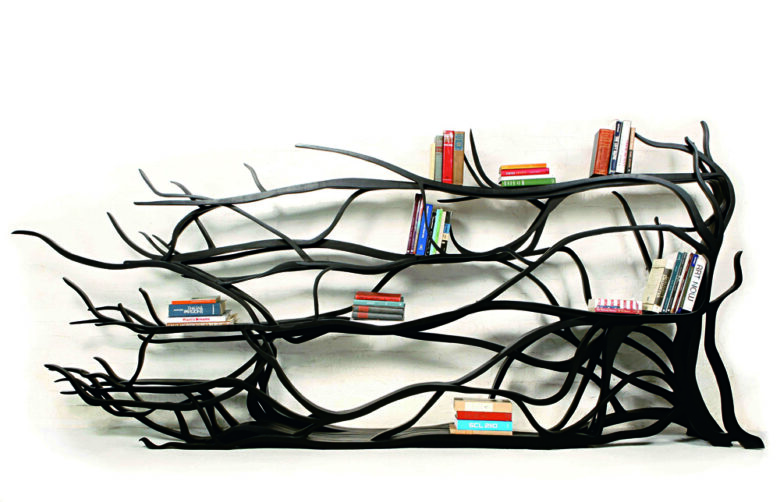 Designed by Sebastian Errazuriz
A state of the art ultra-modern sculpture, this bookshelf is sure to be the envy of your friends. This amazing bookshelf was designed by Sebastian Errazuriz.
7. The Beehive Bookshelf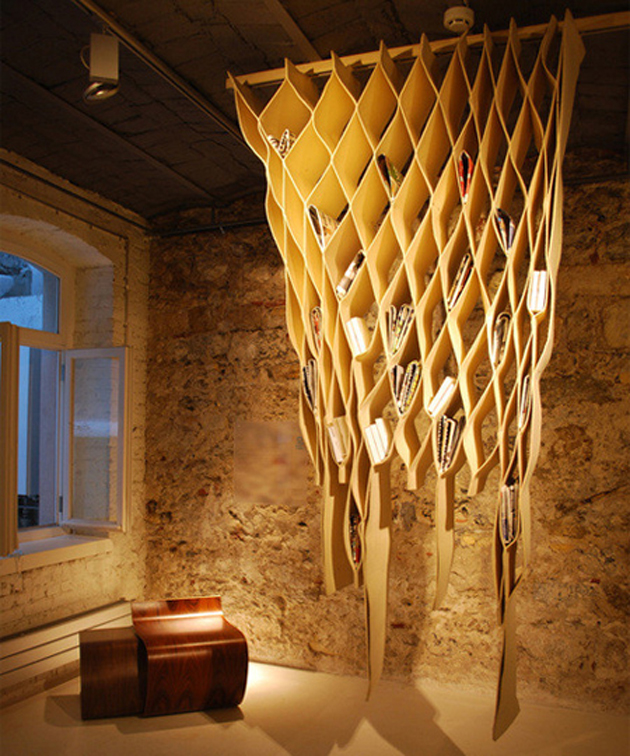 hometone
If you're on lookout for the cool bookshelf that you surely haven't seen in any of your friend's house then I'm sure, you'll love to take this one home. The Bookwave Hanging Storage is a a craftly designed curtain, a room divider and a bookshelf. Holding your great collection of books slyly, this cool hanging bookcase expands to any size.
8. Check Bookshelf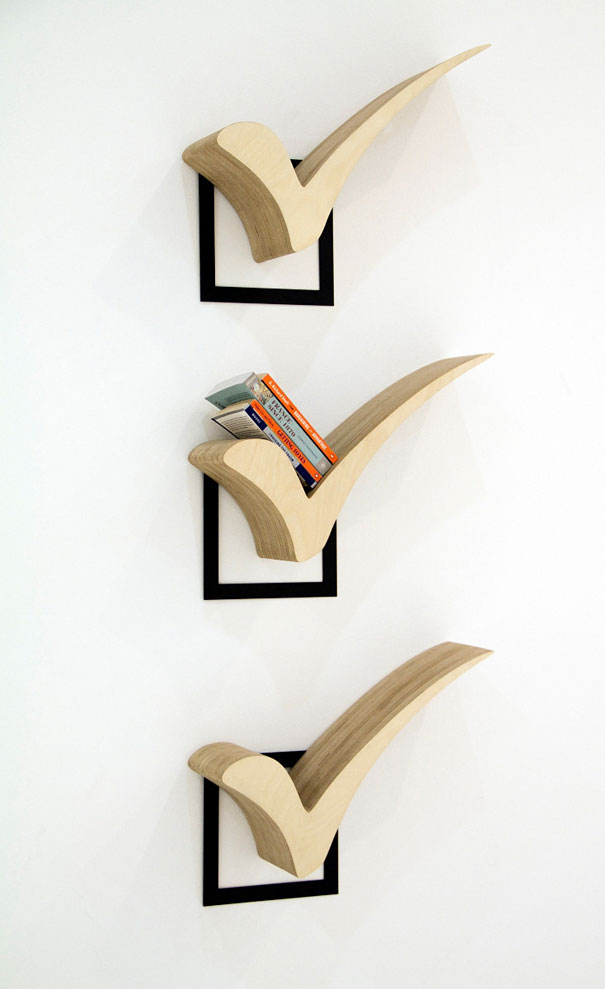 Designer: Jongho Park
"The object that shows the meaning and importance of a book through the V–shape, that is often used in checking, is used as the bookshelf where we can hold up the books."
9. The Invisible Book Shelf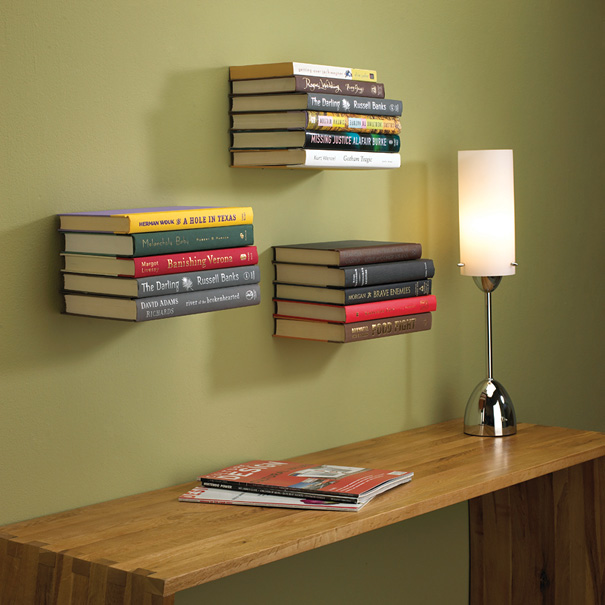 Designer: Miron Lior
"This book shelf, which holds up to 15 pounds of books, screws directly into a wall stud and presto – you have an invisible book shelf! The maximum stack height is 16-Inches. All hardware is included so all you need is a screwdriver. The Conceal Book Shelf, which has already won design awards, is innovative, inspirational and imaginative."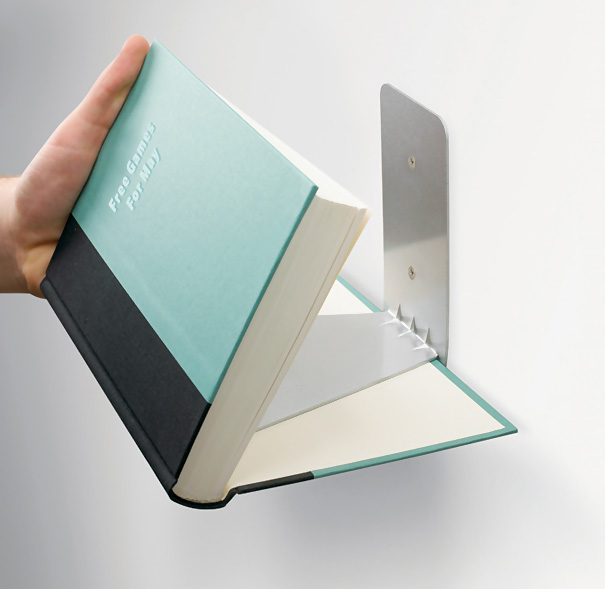 10. Wha Cabinet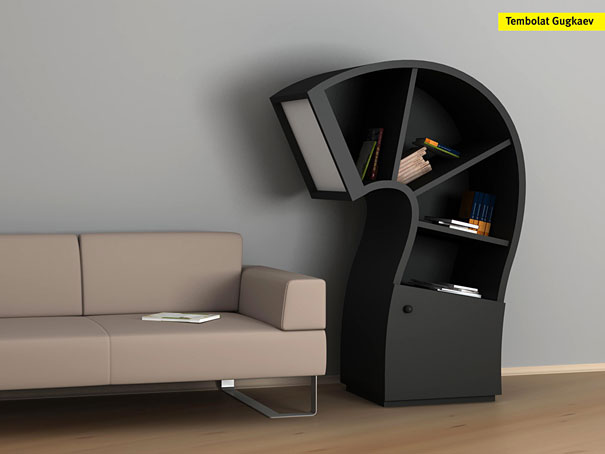 Designer: Tembolat Gugkaev
If only a little light bulb would turn on every time we have a question in our heads… Well, it does, when we have this question mark in our room!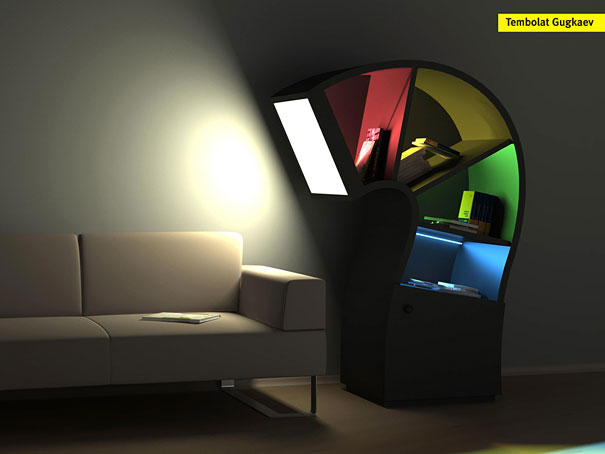 11. Tree Of Knowledge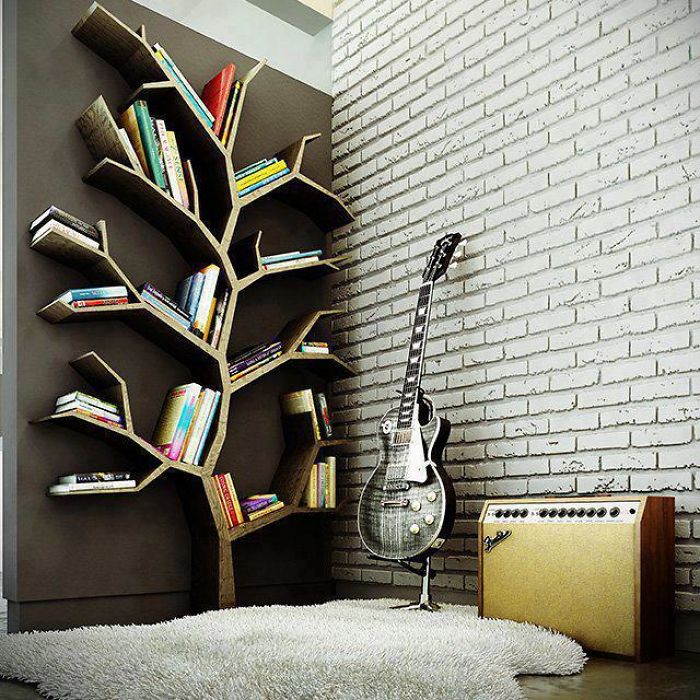 zszywka.pl
12. The Bookworm Bookcase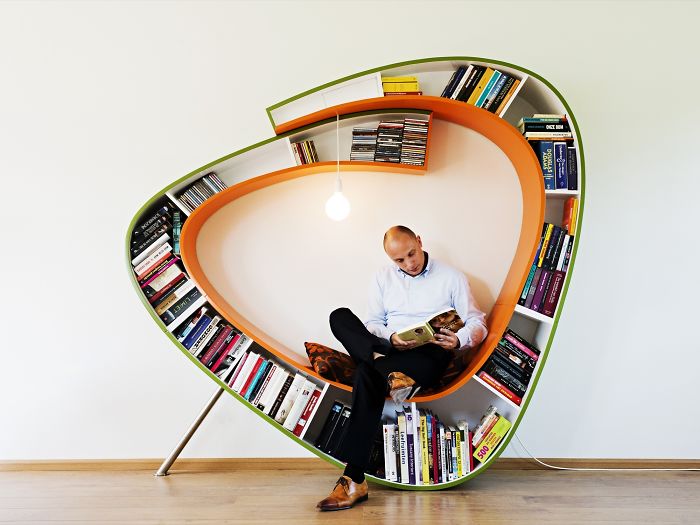 Designed By Atelier 010
Dutch designers Atelier 010 have created a feat of furniture design that will be an immediate hit among book-lovers. Titled "the Bookworm," this unique shelf meets chair was made from a commission asking the designers to create an "organic" bookcase. The result is a curved piece of furniture that sculpturally offers a place to sit, relax, read, and store your favorite books.
13. Opus Shelving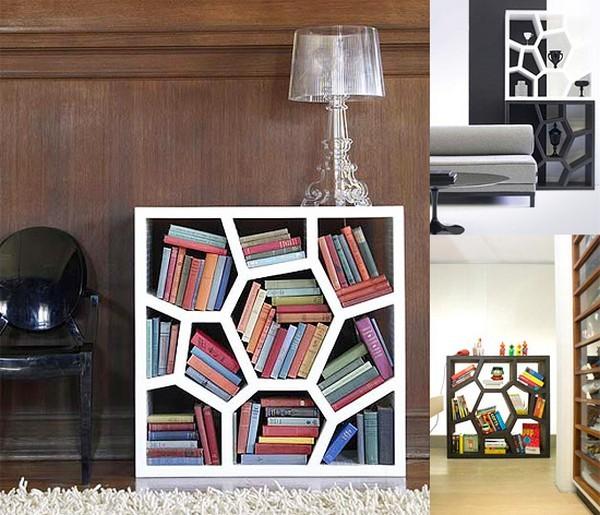 Designed by Sean Yoo
This quasi-hexagonal pattern bookcase ( Opus Shelving by Sean Yoo's ) is made with "expanded polypropylene"- same material used for the car bumper and motorcycle helmet. It is very light but very strong, can be used indoor or outdoor and 100% recyclable. It wasn't designed specifically to be used as a book case. I've seen some people use it for storing wine bottles, children's toys, CD's, DVD's, records, and even an occasional book or two.
14. Gravity-Defying Bookcase
trendhunter
Even with more people moving over to e-books, we're unlikely to see the extinction of the paper book in this lifetime. However, chances are, we won't be turning to them for reference (thanks, Wikipedia and dictionary.com), only heading to the shelf for that comforting read. What this means, then, for bookshelves, is that people will either want them to camouflage with the decor, or more likely, serve as decorative statement pieces. This cluster examines some of the unique modern bookshelves that have surfaced from around the world.
15. Movement Bookcase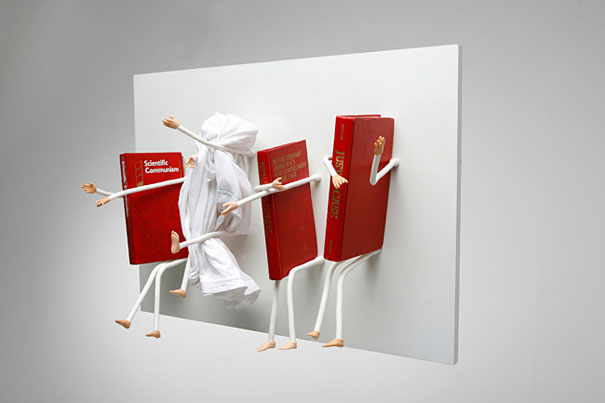 Designer: Sungmin Hong
"A bookcase that embraces your books."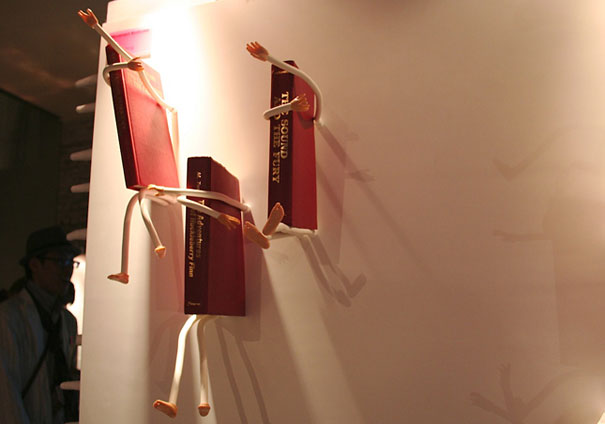 16. Modular Shelving Unit: 'Vjunok/Bindweed' Series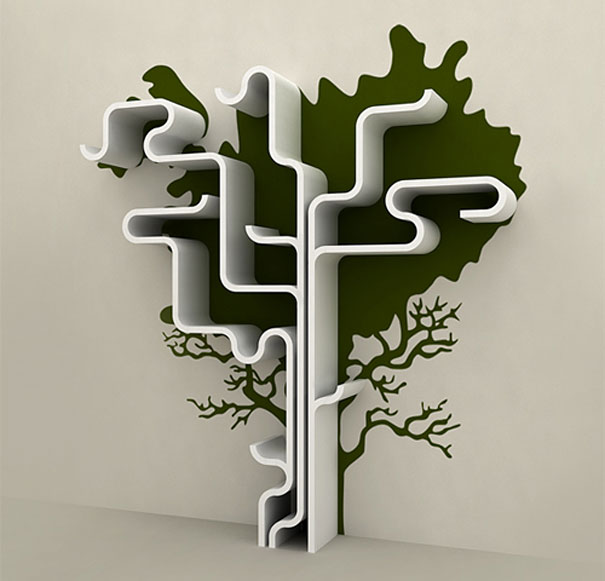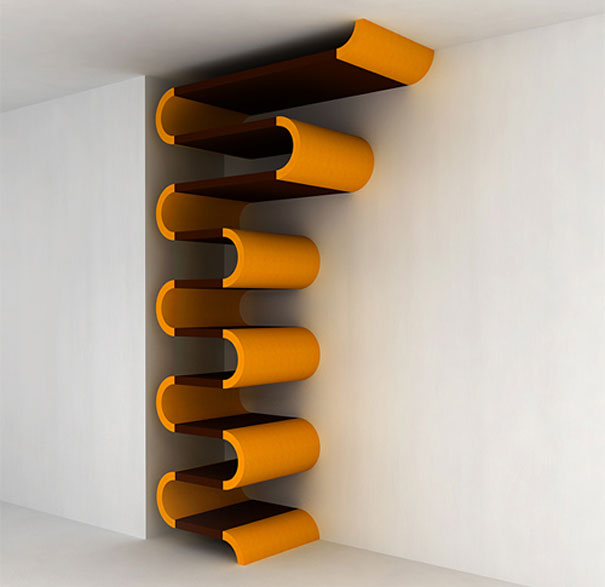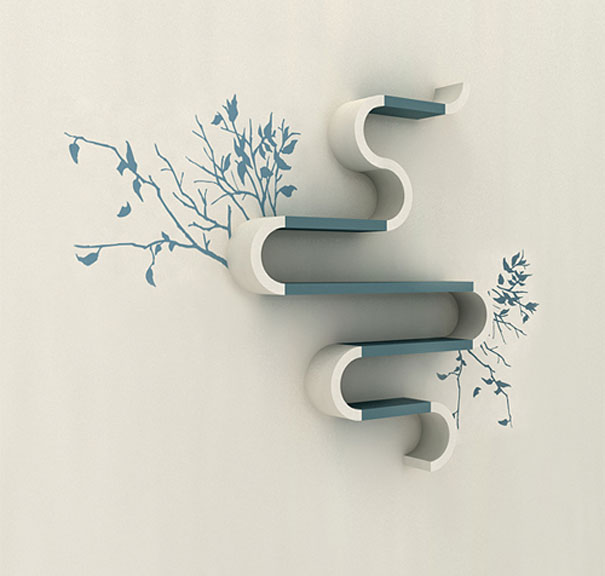 Designer: Maria Yasko
17. Lost in Sofa Book Storage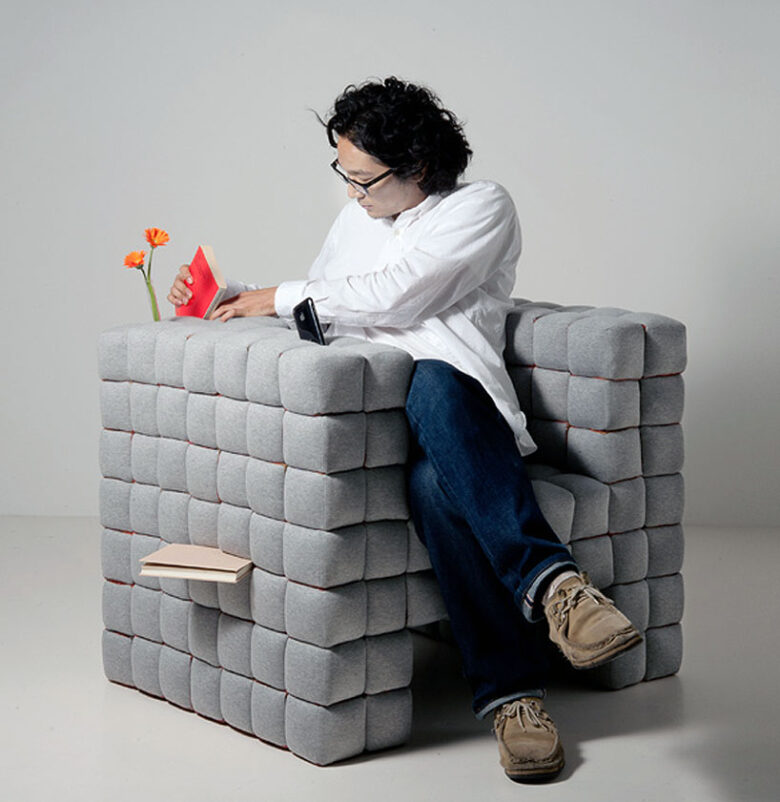 Designed by Daisuke Motogi
18. Letterkast Bookcase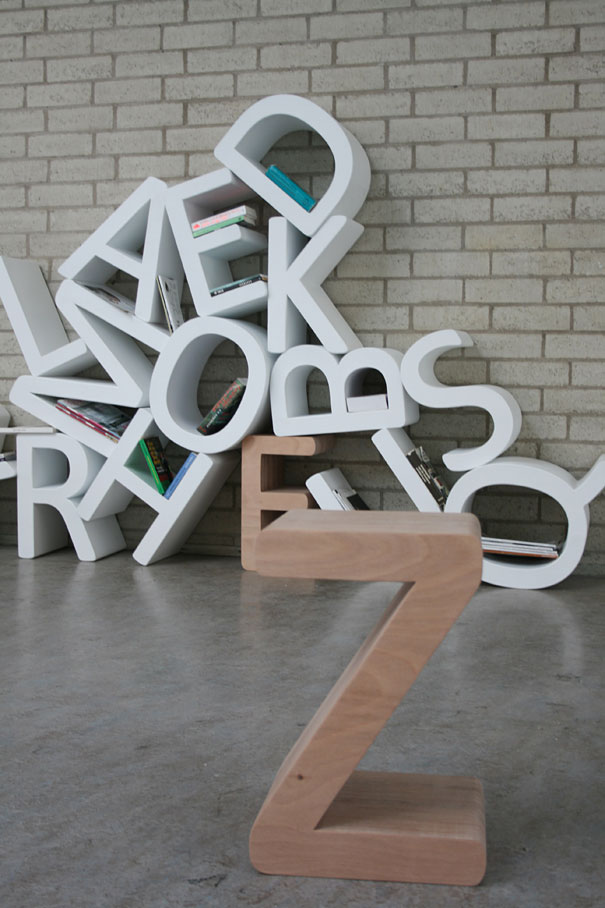 Designed by Pieter de Leeuw
What better describes reading and writing in the most basic way, if not … a bunch of letters? A witty and stylish bookshelf design indeed.
19. The Infinity Bookshelf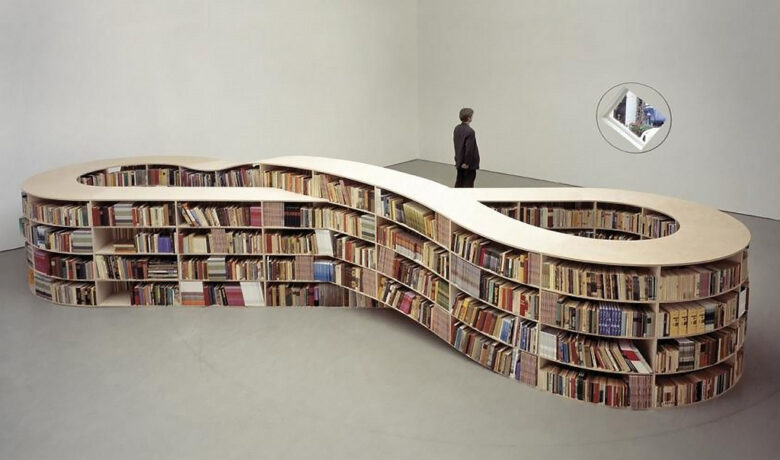 Designed by Job Koelewijn
Created by Dutch artist Job Koelewijn, it represents the power of learning and the infinite number of books that you are never going to read.
20. Shelf Life Unit or Room Divider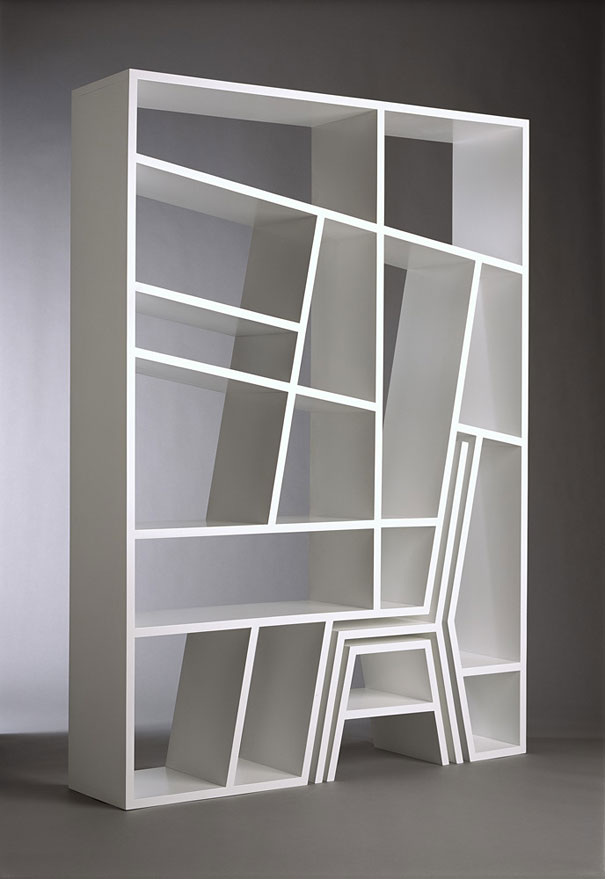 Designer: Charles Trevelyan
"Shelving unit or room divider in lacquered LDF (low density MDF) with removable chair and side table. Shelflife's striking angular appearance belies a practical functionality. Angular shelves prevent books from toppling, while the chair and table provide a convenient place to browse the collection."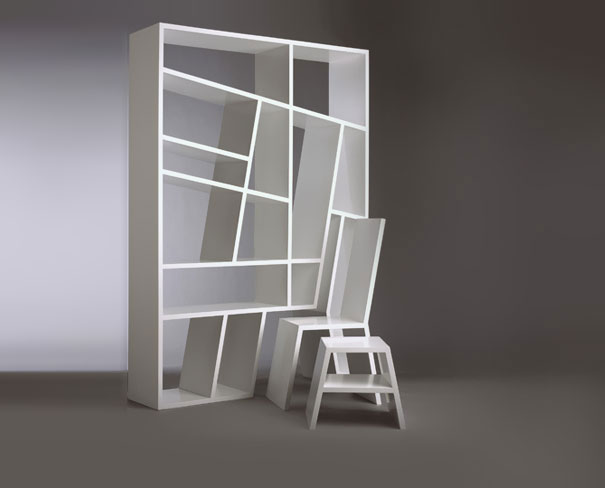 21. The Tectonic Bookshelf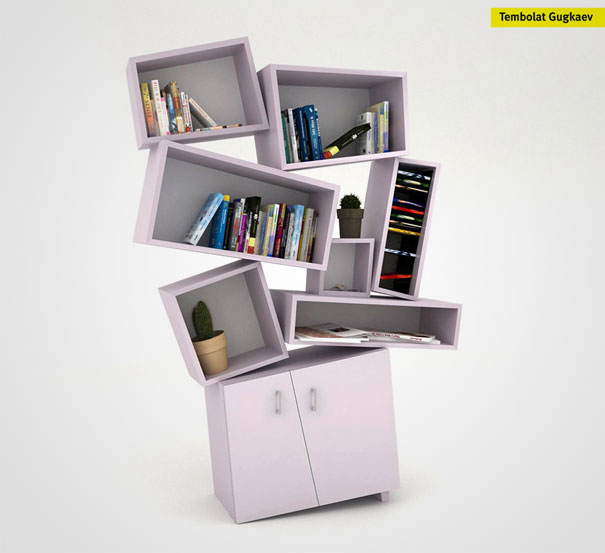 Designed By: Tembolat Gugkaev
22. Has Been Read…Will Be Read Bookshelf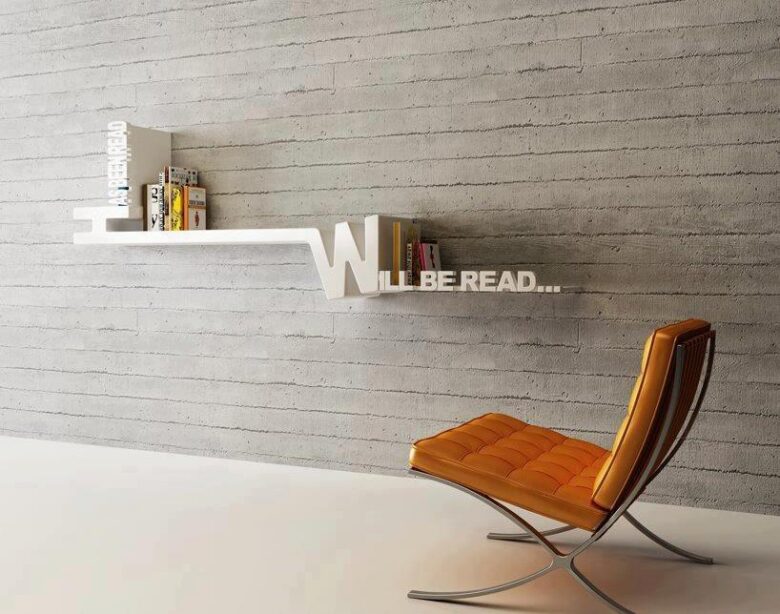 Designer: Mebrure Oral
"Simple way of organizing your books as "has been read" and "will be read". When we look at an ordinary book shelves we just see a boring stack of books which all books get lost in each other. Even when we buy a new book and plan to read it later, after a short time it gets forgotten in this book chaos. Aim of "TarGetBooks" design is based on this point."
23. The Yule Bookshelf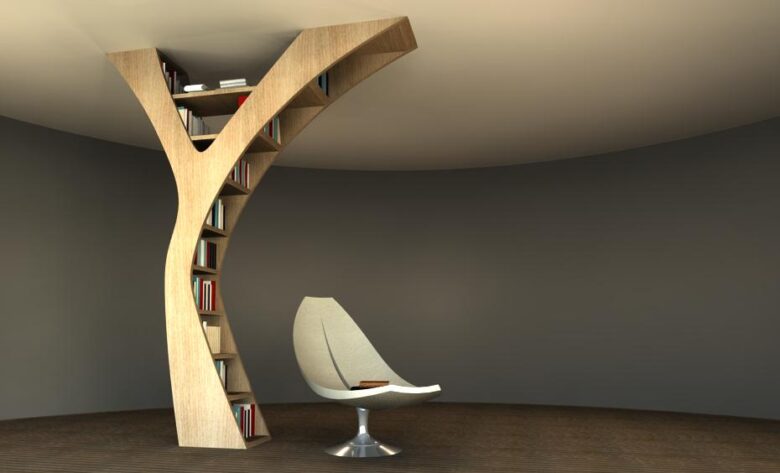 Designer: Claudia Bignoli
"Wooden bookshelf thought for who needs to add new shelves but has no more free space along the walls.It can be placed everywhere in the room and fixed to the ceiling.Yule optimizes the room at the top and allows you to walk above."
24. Malagana: Equilibrium Bookcase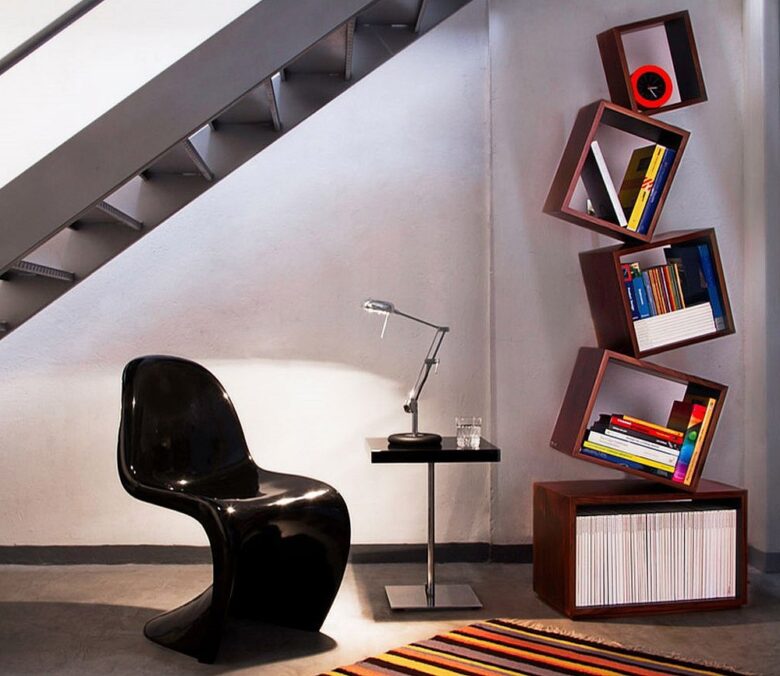 Designer: Alejandro Gomez
"With its cantilevered modules stacked upon each other at a single angled point, Equilibrium is a unique furniture piece that immediately catches attention by creating a sense of amusement and surprise. While its compartments seem to float in the air, Equilibrium can hold over 120 Lbs of weight and its different modules allow to keep books and magazines organized in a natural tilted position that eliminates the need for bookends."
25. Fox Bookshelf
Designed By Lago
26. People Running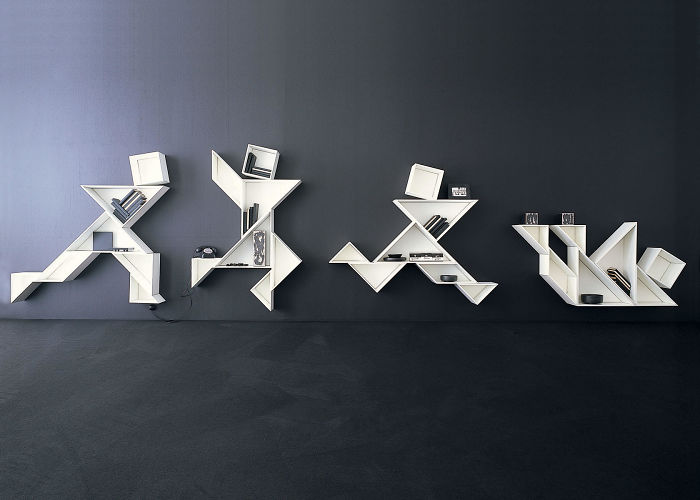 Designed By Lago
27. The Sunflower Bookchair.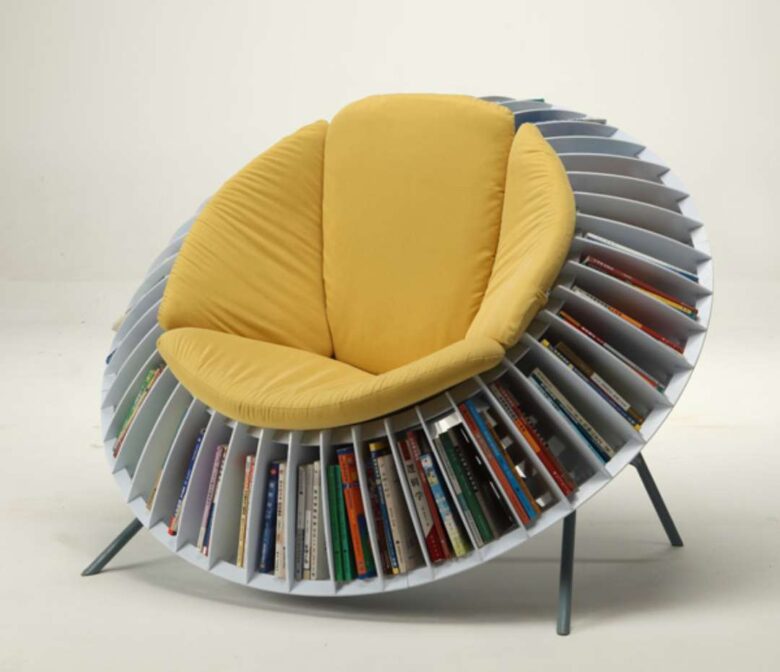 Designed By : He Mu and Zhang Qian
Sunflower Chair is an ingenious sunflower-shaped chair that is ringed by an integrated bookcase. The chair was created by designers He Mu and Zhang Qian from the Shanghai University of Engineering Science. The chair recently won the Redtory Design Award at the Design for Sitting Gran Prix competition hosted by art and design studio Redtory in Guangzhou, China.
28. Handmade Stacked Teacup Shelve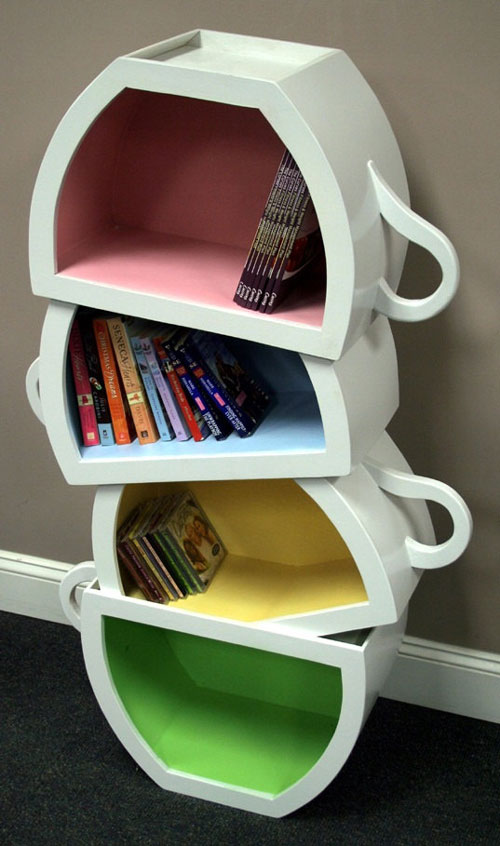 Designer: Scott Blackwell
A cup of tea and a good read do go together well, which makes it easy to fall in love and crave this stacked teacup bookshelf.
29. Book Rack in Wenge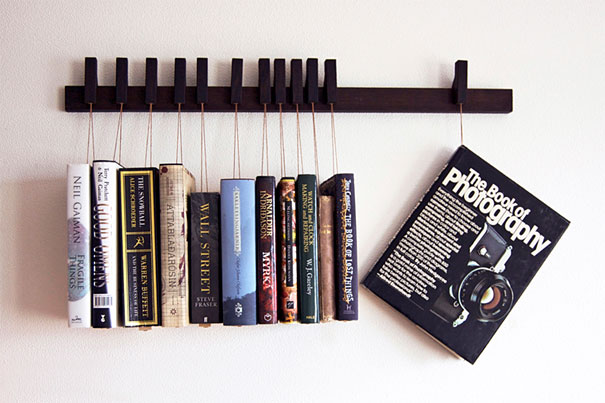 Designers: Agusta Magnusdottir & Gustav Johannsson
"The book rack comes in solid Wenge, with a set of 12 pins/bookmarks. The pins are detached and can be moved around the back piece to meet your needs at each time. The books rest on a small wooden plate so the pages stay intact. The plates can be moved back and forth on the bottom of the book to control the height of which the book hangs, making it possible to line different sized books up in a straight line."