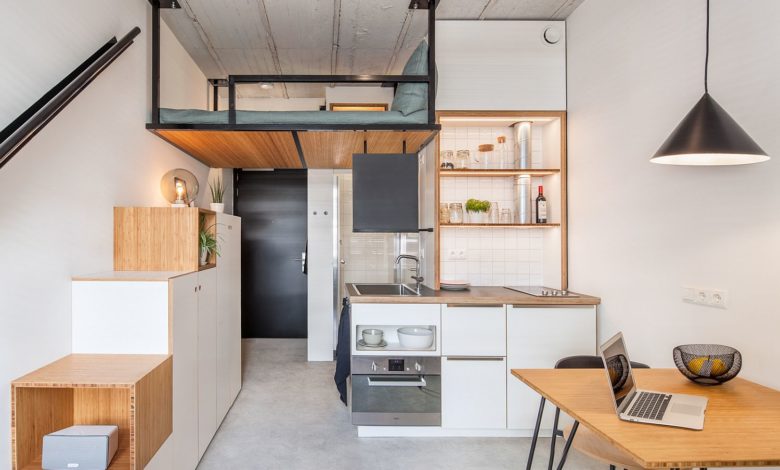 Uncategorized
36 Ingenious Ideas to Make Your Small Apartment Look Insanely Huge
Living in an apartment where there always seems to be no space for anything more? Is your tiny apartment just a heap of clutter and mess? Well, worry not because we have the ultimate solution for your house to look like your dream home! Check out these insanely clever ideas.
1. The Collapsible Laundry Basket
quirky.com
Folds up into a shred of nothing.
2. A cake stand to declutter your bathroom
flickr.com
3. The Toilet Paper and Magazine Holder 2 in 1.
designbu.com
All other toilet paper roll holders should just go out of business.
4. Over-the-Fridge Snack Caddy
pbteen.com
It can also be easily sewn at home.
5. Vertical Wine Rack
wayfair.com
Because if you are sacrificing one thing in your small space, it will NOT be your alcohol.
6. A Slide-Out Pantry in 6" of Space
Get the Directions here: classyclutter.blogspot.com
If you've ever yearned for the vast pantries of suburban homes, you can finally own a little sliver of that dream.
7. An Over-the-Faucet Shelf for Toiletries
walmart.com
Your tiny sink will look at you and wonder how you never thought of this before.
8. Corner Shelf for the smallest of bathrooms.
Get the DIY Tutorial here: houseofroseblog.com
So that you never have to worry about storing stuff in a small bathroom.
9. The Mirror/Ironing Board
buegelbrett.net
Possibly the most well-designed ironing board ever created.
10. The Couch Arm Wrap
livemaster.ru
It spells the E-N-D for your end table.
11. A Roll-out Table Drawer For All the Counter Work.
bhg.com
12. A Jewelry Display Storage For Your Bathroom.
media-cache-ak0.pinimg.com
Cute and creative way to store and display your jewelry in your bathroom – small shelf, short rods, and black wooden plaques.
13. Cord Balls
finnishdesignshop.us
They're like little hungry munchkins that will "eat" up to five feet of cable to keep your media centers and office spaces free of clutter.
14. Book Racks on a Dresser
between3sisters.com
To store all your child's junk in one place!
15. Folding Wall-Mounted BBQ Pod
focus-creation.com
In case your tiny home has also got a tiny backyard.
16. An All-in-One Over-the-Sink Cutting Board
rumahoke.cm
It even doubles as a produce-washing station. You will never look at a cutting board the same way again.
17. Space saving Spiral Stair
inewidea.com
18. The Hook-On Balcony Desk
edelight.de
Just tell your boss you'll be working from home FOR THE REST OF YOUR LIFE.
19. A Fold-Up Cheese Grater
unclutterer.com
ISN'T IT GRATE.
20. The Shoe Ottoman
overstock.com
For those of us who can't help but have a chronic case of shoe overflow.
21. Nesting Bowls with Measuring Cups
buhicamp.com
Not only is it super functional and space-saving, but it looks like a cross-section of the world's most beautiful Gobstopper.
22. A Room Divider Picture Frame
iroomdividers.com
An innovative and beautiful room divider.
23. Slide-in Spice Rack
tesadasht.am
You can have your marjoram and eat it, too.
24. A Hot Iron Holster
mommymandy.com
One hundred percent essential for anyone with a pedestal sink.
25. A Cabinet Door Wastebasket
rumahoke.com
You can't call yourself a minimalist and keep your trash out IN PLAIN SIGHT.
26. Magnetic Stickers
adme.ru
Keeps your everyday grooming tools in arm's reach.
27. Corner Dish Rack
betterhouseware.com
For those with achingly precious counter real estate.
28. A Shower Curtain with POCKETS
casa.com
Buy this as a passive-aggressive gesture toward your roommate who keeps her 13 different shampoos all around the rim of the bathtub.
29. A Hidden Jewelry Holder Behind a Painting
whiskeydrinkstudio.wordpress.com
Behold, the magical power of hinges.
30. Loft Bedroom
time2bed.tumblr.com
31. An Under-Cabinet Knife Drawer
americanwoodworker.com
Can these drawers just come standard with every kitchen from here on out? Check out the site for directions on how to get this space-saving drawer.
32. A Ceiling-Hung Garment Rack
apartmenttherapy.com
So much better than one of those janky free-standing garment racks.
33. Shower Rod Hooks
moen.com
This almost stupidly simple concept will make you wonder how you never thought of this before.
34. The Laundry Pod
thelaundrypod.com
At ~$100, this tiny workhorse is much cheaper than a washing machine and can fit 5–10 garments at once.
35. Circular Towel Baskets
beautifullybellafaith.com
36. An All-in-One Cabinet that Swivels
solutions.blair.com
It's a mirror! It's a bulletin board! It's a coat rack! Finally, a piece of furniture that is all things to all people.