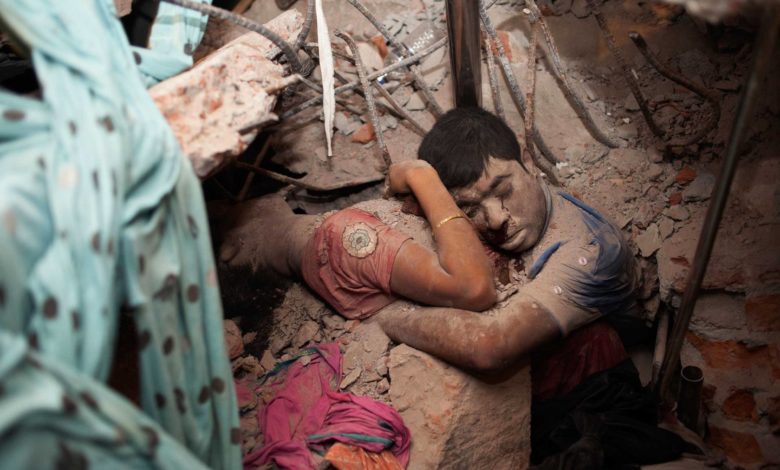 Uncategorized
31 Soul Stirring and Absolutely Touching Images From 2013 That Will Make you Cry
Pictures that are so powerful and predominant that you better get a hold of your heart and clench your soul because they are the true essence of 2013.
1. Rescue workers carry a child who was rescued from the rubble at the site of a collapsed residential building in Mumbai, India
Reuters
2. Issa, 10 years old, carries a mortar shell in a weapons factory of the Free Syrian Army in Aleppo.Issa works with his father in the factory for ten hours every day except on Fridays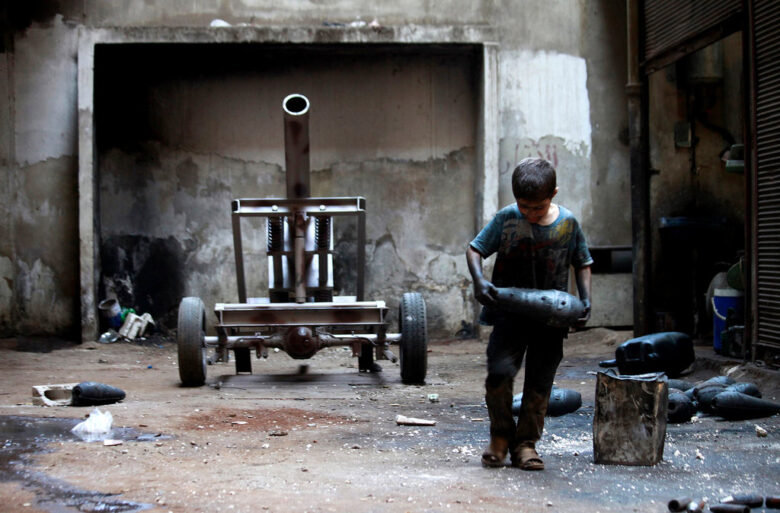 Hamid Khatib/Reuters
3. Danielle Stephan holds boyfriend Thomas Layton as they pause between salvaging through the remains of a family member's home one day after a tornado devastated the town Moore, Oklahoma, in the outskirts of Oklahoma City.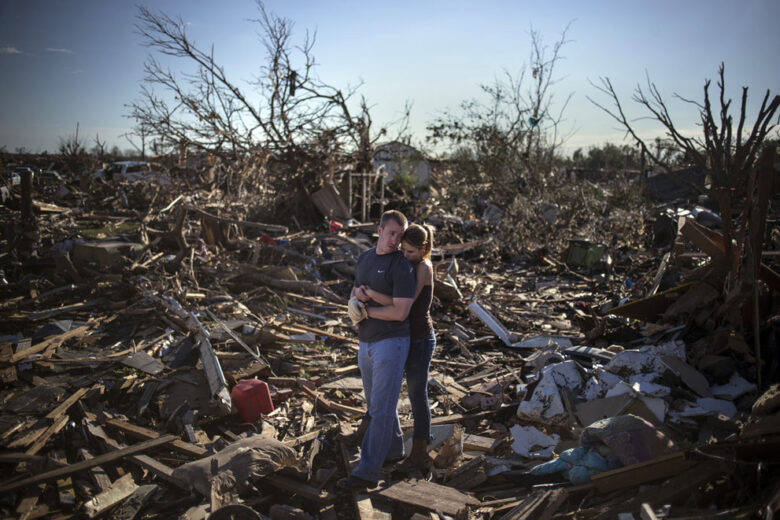 ADREES LATIF / Reuters
4. A father reacts after the death of two of his children, whom activists said were killed by shelling by forces loyal to Syria's President Bashar al-Assad, at al-Ansari area in Aleppo.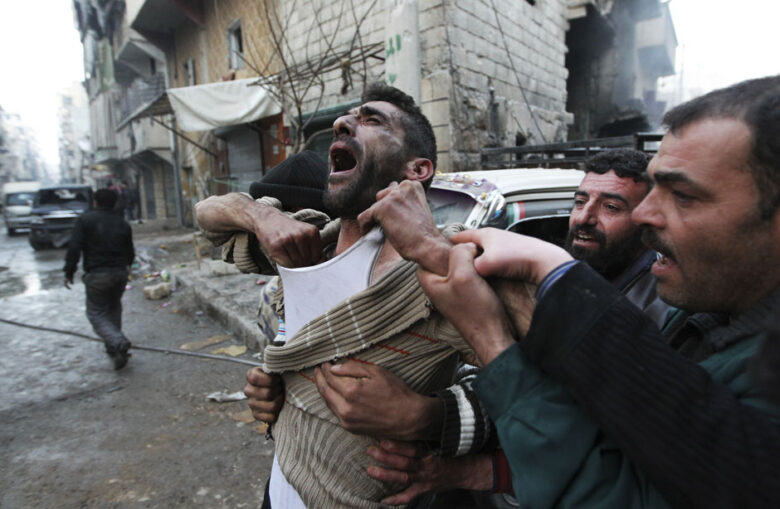 Reuters
5. A Turkish riot policeman uses tear gas as people protest against the destruction of trees in a park brought about by a pedestrian project, in Taksim Square in central Istanbul.
Osman Orsal / Reuters
6. Rescuers pull out a female survivor, Reshma, alive 16 days after a garment factory building collapsed in Bangladesh.
7. Miles, a five-year-old battling leukemia, is dressed as "Batkid" as part of a day arranged by the Make-A-Wish Foundation in San Francisco.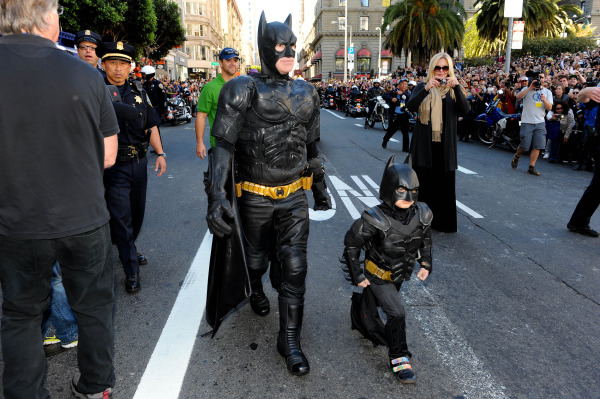 Make-A-Wish Bay Area / sf.wish.org / Via Twitter: @SFWish
8. A boy holds his mother's leg as he cries in front of their damaged house after a strong 6.6 magnitude earthquake at Longmen village, Lushan county in Ya'an, Sichuan province.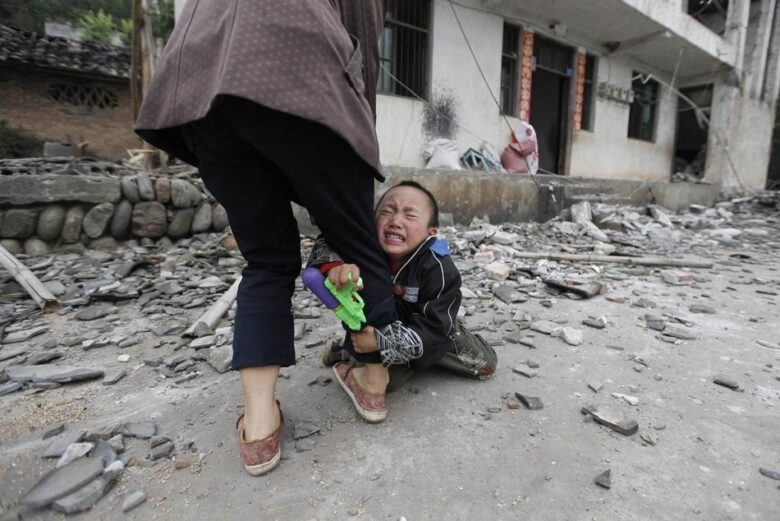 Jason Lee / Reuters
9. Tammy Holmes and her grandchildren take refuge under a jetty as a wildfire rages in the Australian town of Dunalley.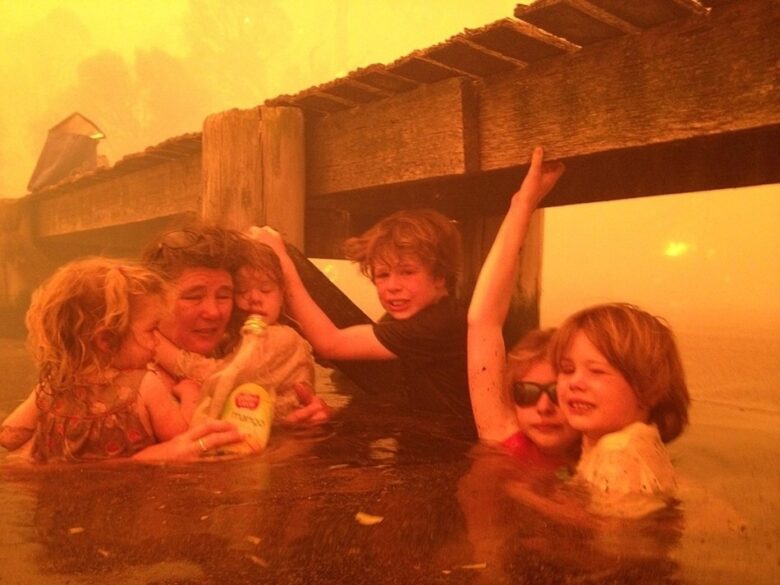 Tim Holmes / AP
10. Women carrying children run for safety as armed police hunt gunmen who went on a shooting spree in a shopping mall in Nairobi, Kenya that left 67 dead.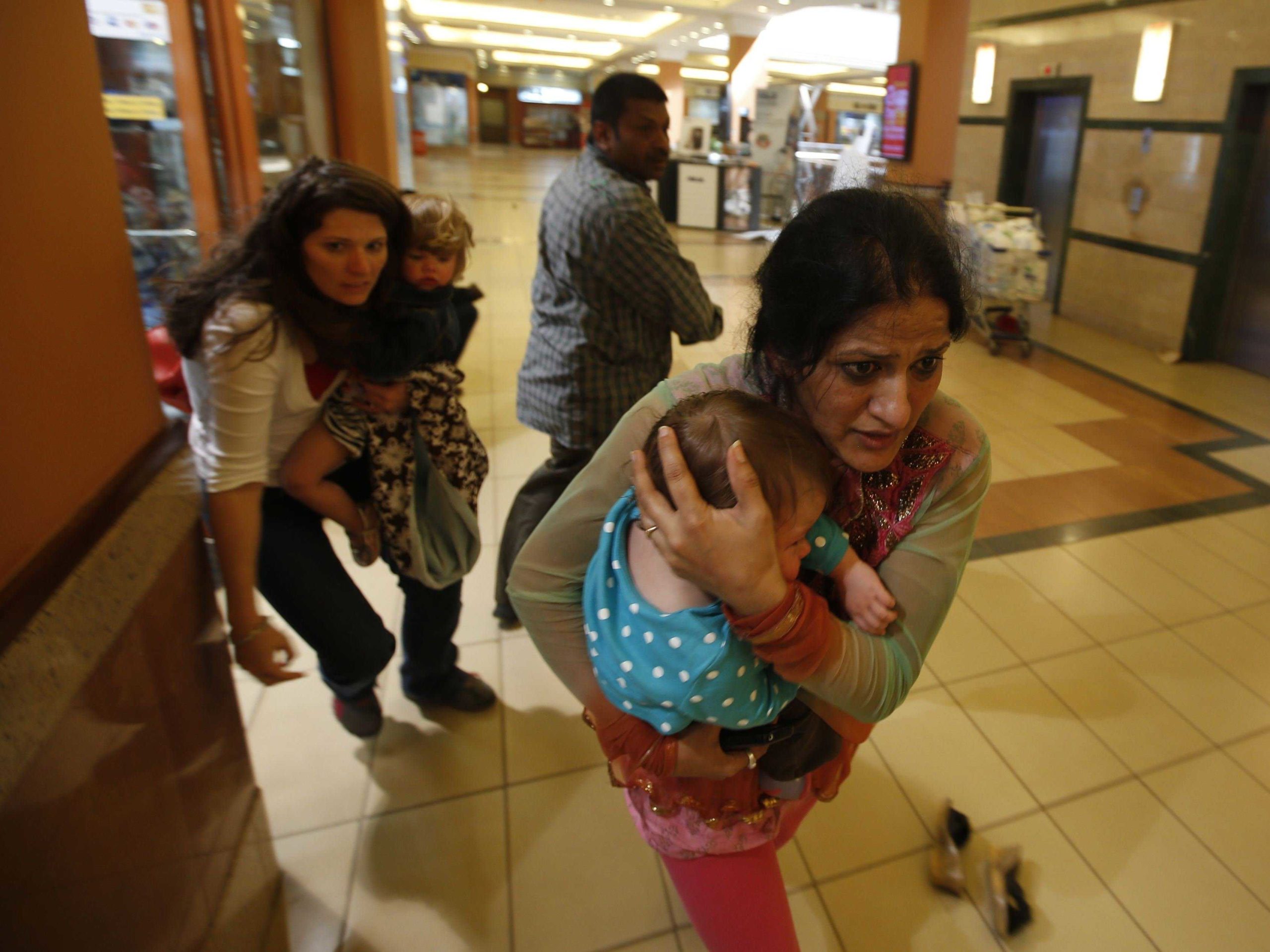 Goran Tomasevic / Reuters
11. An Indian youth dangles from a power line before diving into the floodwaters of an overflowing Ganges river in Allahabad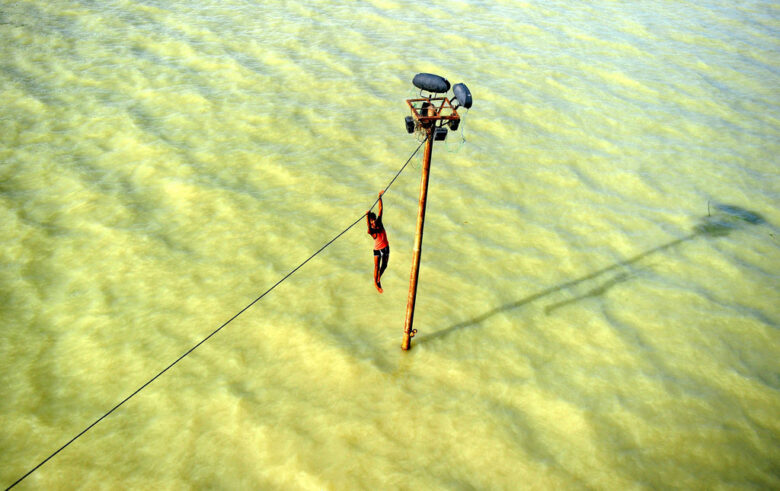 Sanjay Kanojia / AFP / Getty Images
12. Young Palestinian groom Ahmed Soboh, 15 and his bride Tala, 14, stand inside Tala's house which was damaged during an Israeli strike in 2009, during their wedding party in the town of Beit Lahiya, near the border between Israeli and northern Gaza Strip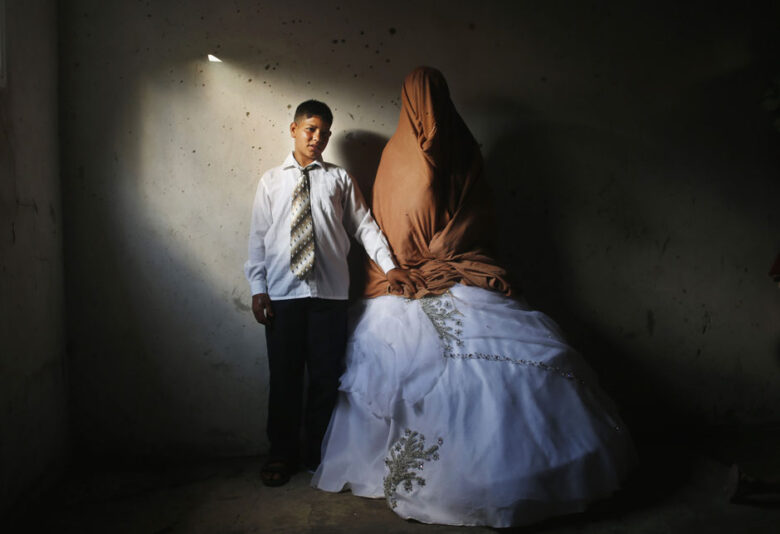 Reuters
13. A Bahraini anti-government protester is engulfed in flames after a shot fired by riot police hit the gasoline bomb in his hand that he was preparing to throw.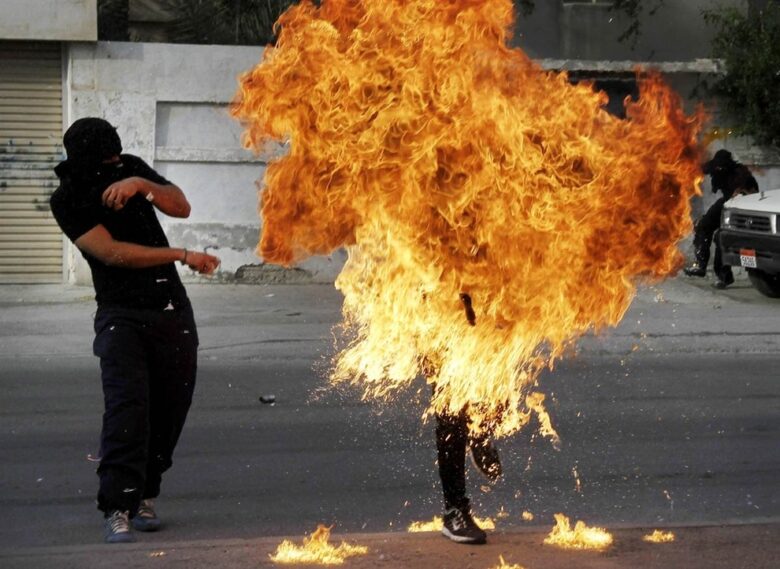 Hasan Jamali / AP
14. Survivors of Super Typhoon Haiyan, which left 1.9 million homeless, take part in a religious procession in Tolosa on the eastern Philippine island of Leyte.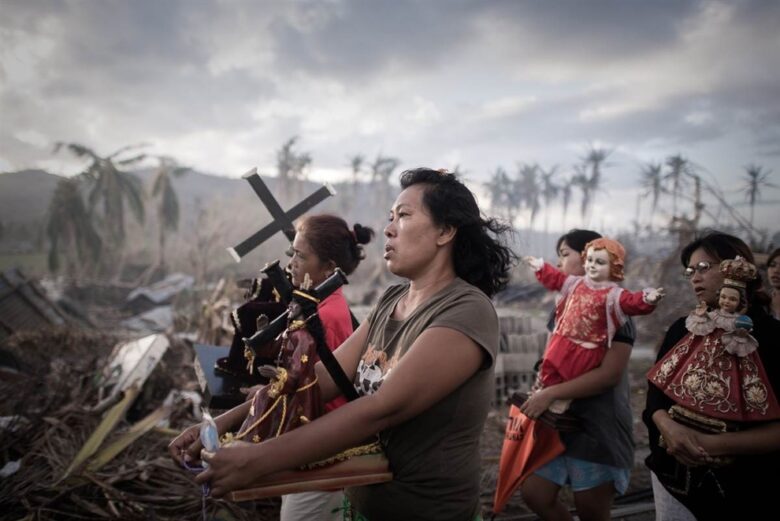 Philippe Lopez / AFP / Getty Images
15. Figo, a Kentucky police dog, pays his last respects to his human partner, Officer Jason Ellis, who was killed in an ambush.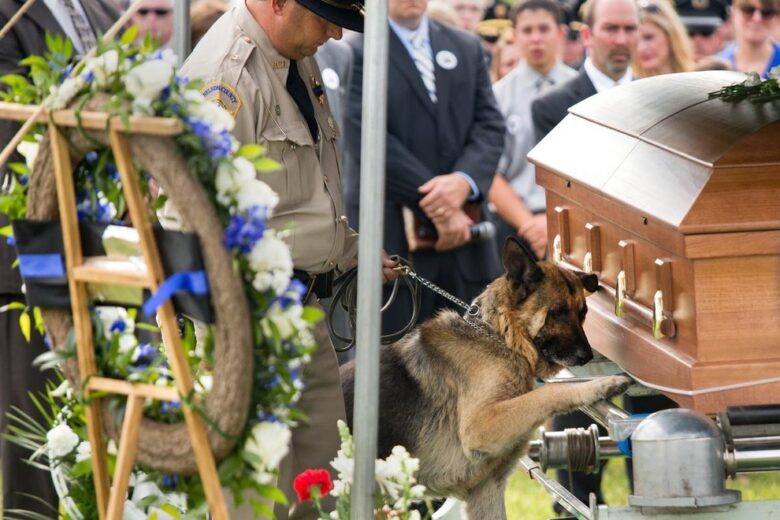 Jonathan Palmer / Herald-Leader
16. Riot police guard gay rights activists who have been beaten by anti-gay protesters during an authorized gay rights rally in St.Petersburg, Russia.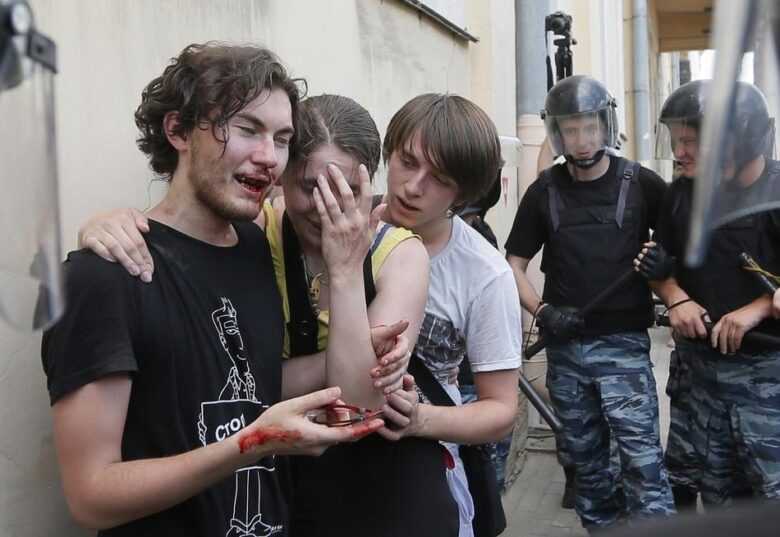 Dmitry Lovetsky, File / AP Photo
17. A man cradled his wife, who was killed in a stampede at a train station at the height of the Kumbh Mela, a Hindu religious festival, ALLAHABAD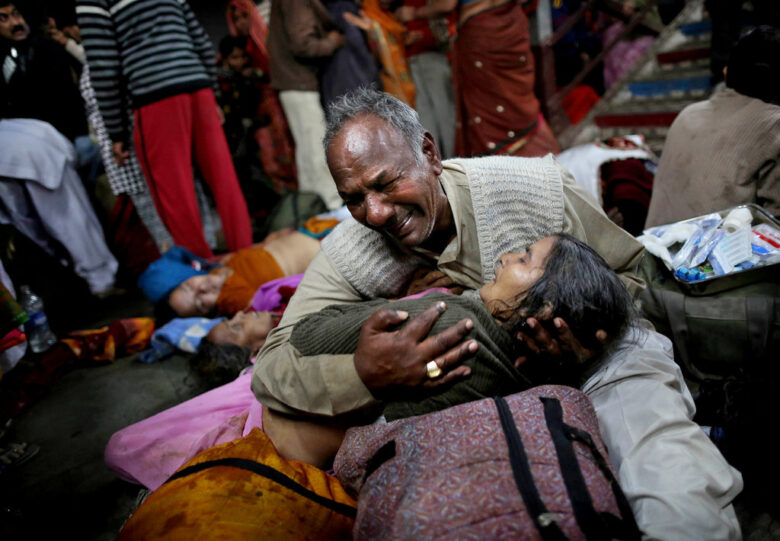 Reuters
18. A young man jumps from the Yangtze River Bridge in Wuhan, China, into the river following another person who committed suicide minutes earlier.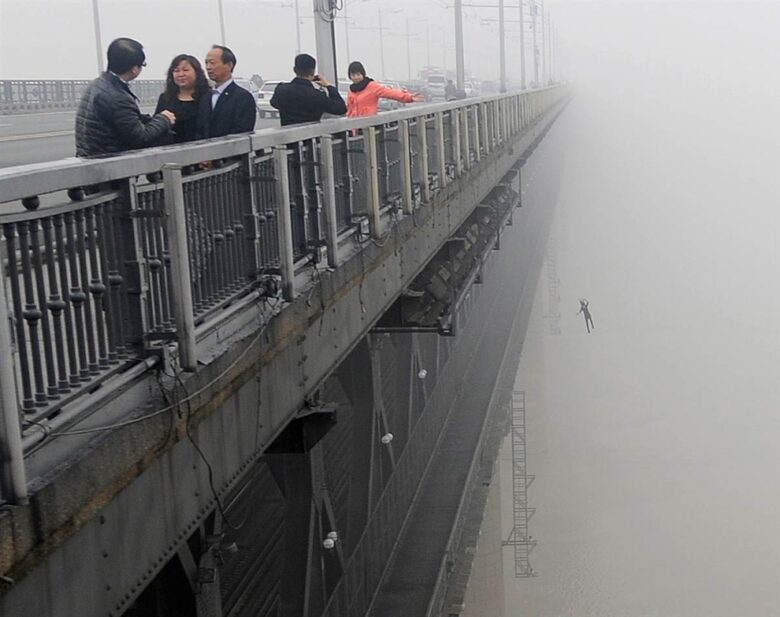 STR / AFP / Getty Images
19. Pope Francis blesses and prays with a severely disfigured man.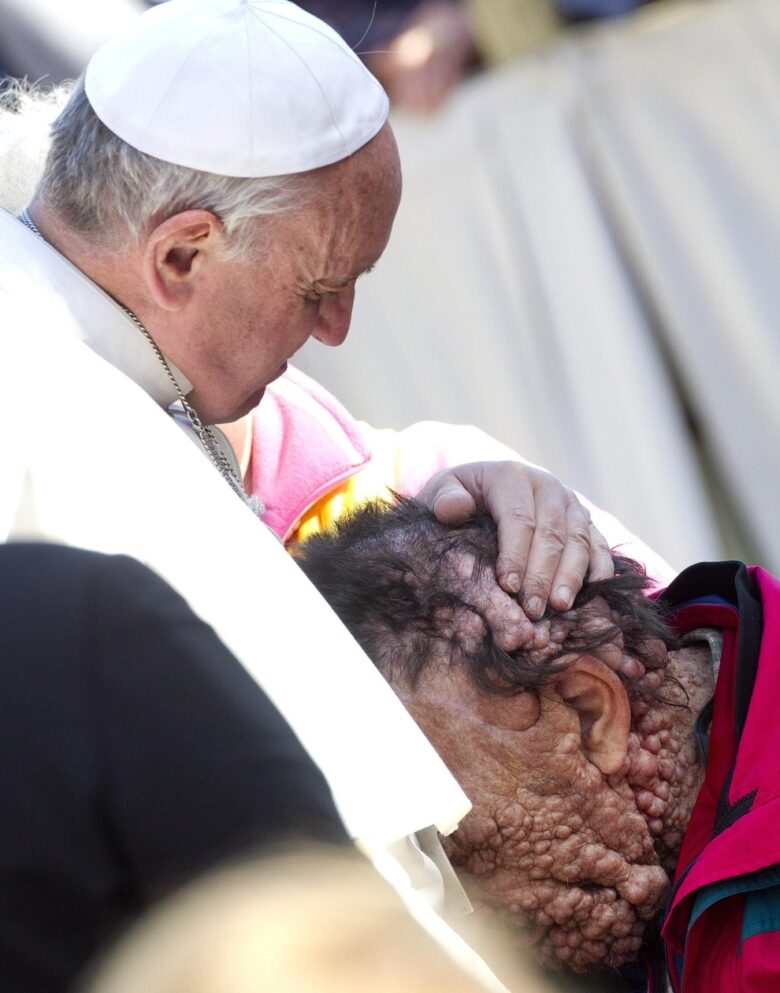 Claudio Peri / EPA / Landov
20. Afghan boys play with toy guns on the first day of Eid al-Adha in October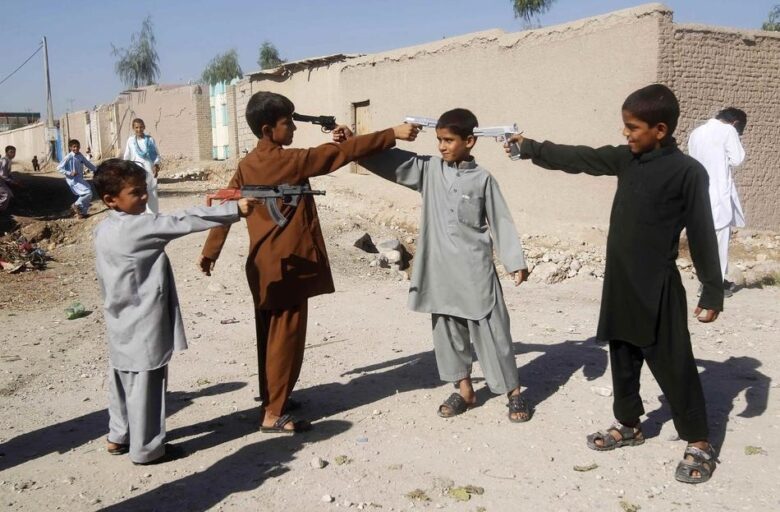 Parwiz / Reuters
21. A woman is rescued from flood waters by a resident standing on top of her car during heavy rain in Chalandri suburb north of Athens.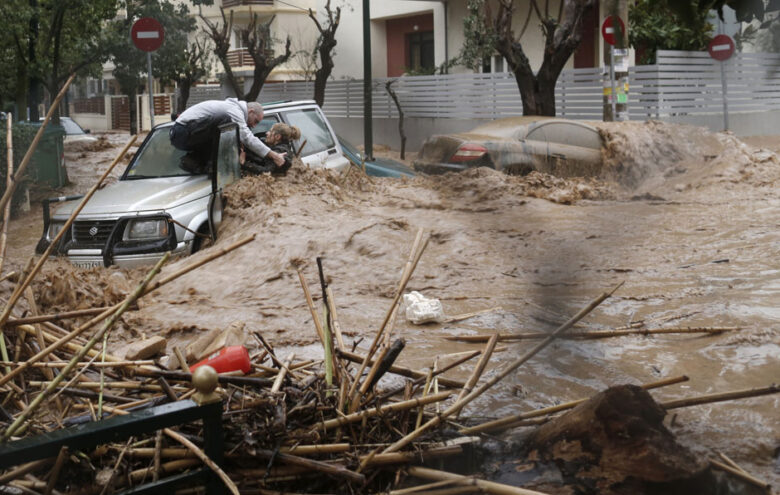 John Kolesidis / Reuters
22. An Indonesian child watches as ash spews out of Mt. Sinabung.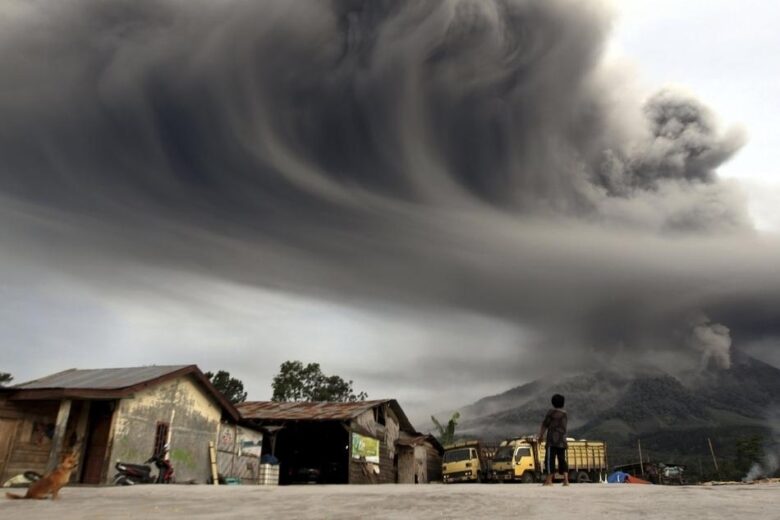 Roni Bintang / Reuters
23. A demonstrator is shot by rubber bullets as riot police charge after clashes erupted during a protest against corruption and price hikes in Rio de Janeiro, Brazil.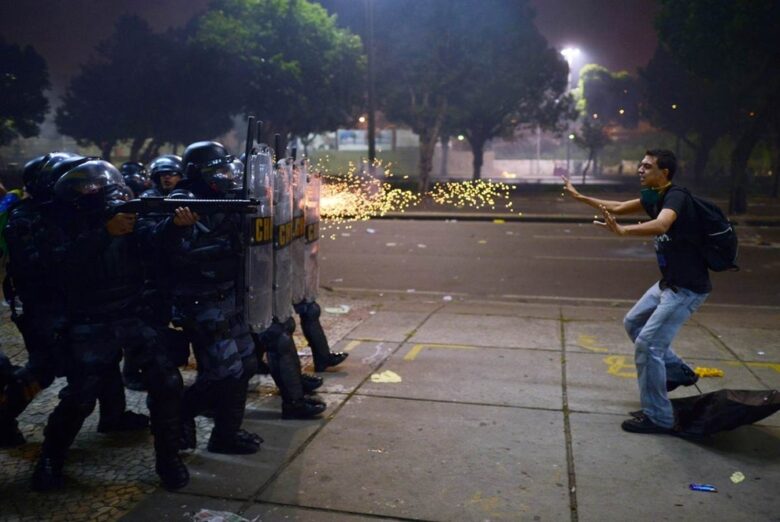 Christophe Simon / AFP / Getty Images
24. A woman tries to stop a military bulldozer from hurting a wounded person after clashes between security forces and opposition groups that left hundreds dead in Cairo.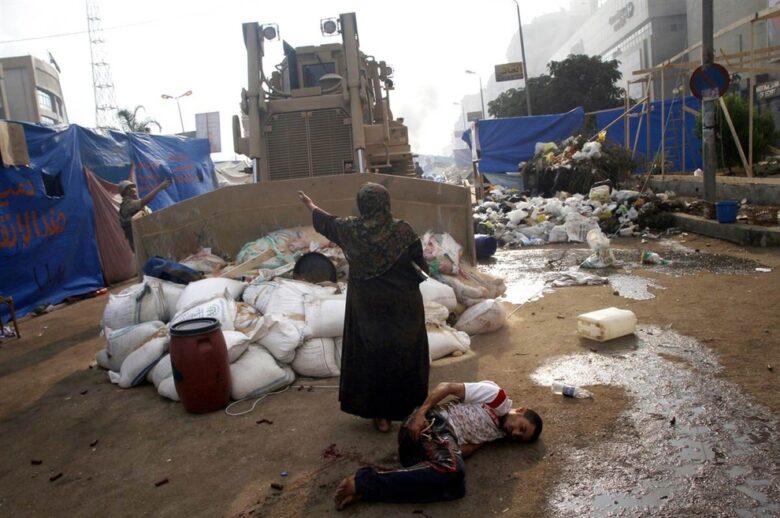 Mohammed Abdel Moneim / AFP / Getty Images
25. A man kicks a topless activist of the Ukrainian feminist movement Femen as she raises her fist to protest against Islamists in front of the Great Mosque of Paris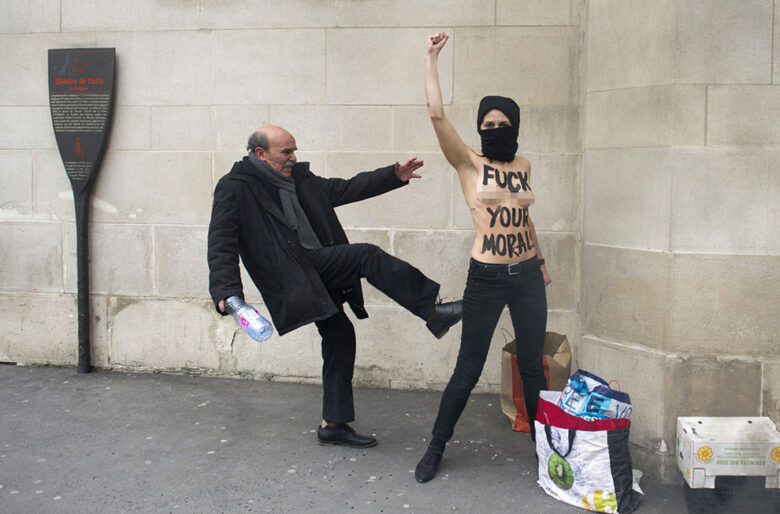 Fred Dufour / AFP / Getty Images
26. An anti-government protester gives a rose to a Thai soldier at the Defense Ministry during a rally in Bangkok.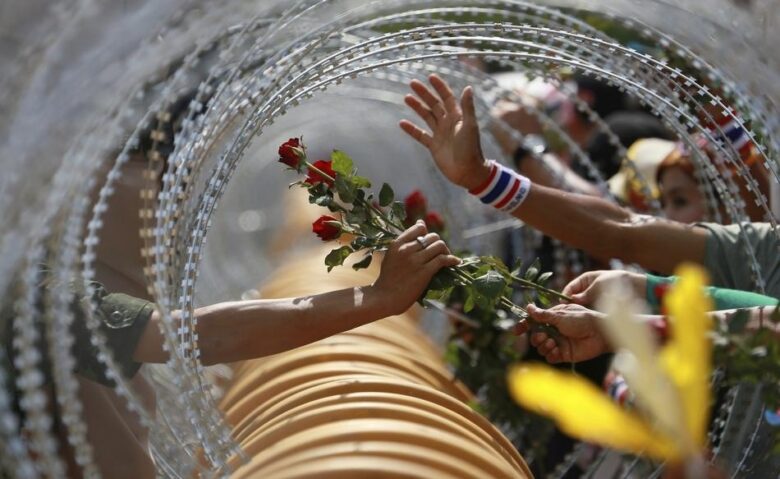 AP Photo/Wason Wanichakorn, File
27. Bill Iffrig, 78, lies on the ground as police officers react to a second explosion at the finish line of the Boston Marathon.
John Tlumacki / The Boston Globe / AP
28. A boy carries his dog through floodwaters brought by the monsoon rain in Manila, Philippines.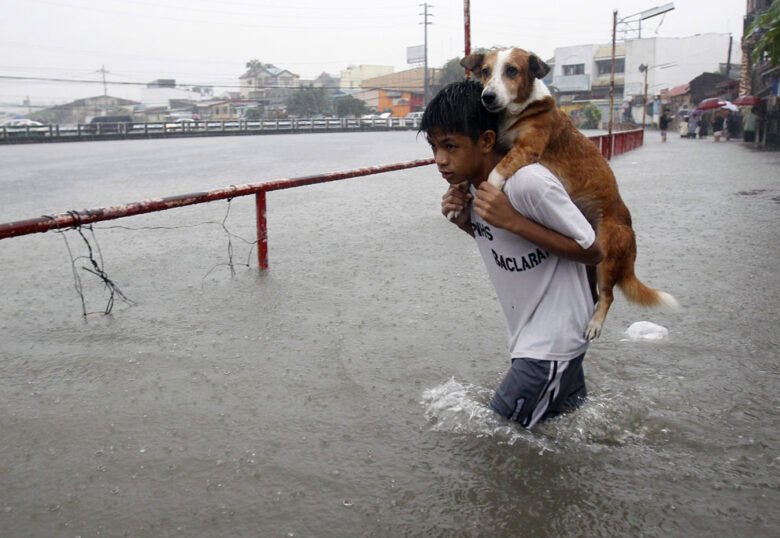 Reuters/Romeo Ranoco
29. Michael Knaapen and John Becker, who married seven years ago in Toronto, Canada, react to the news that the Supreme Court struck down the Defense of Marriage Act (DOMA).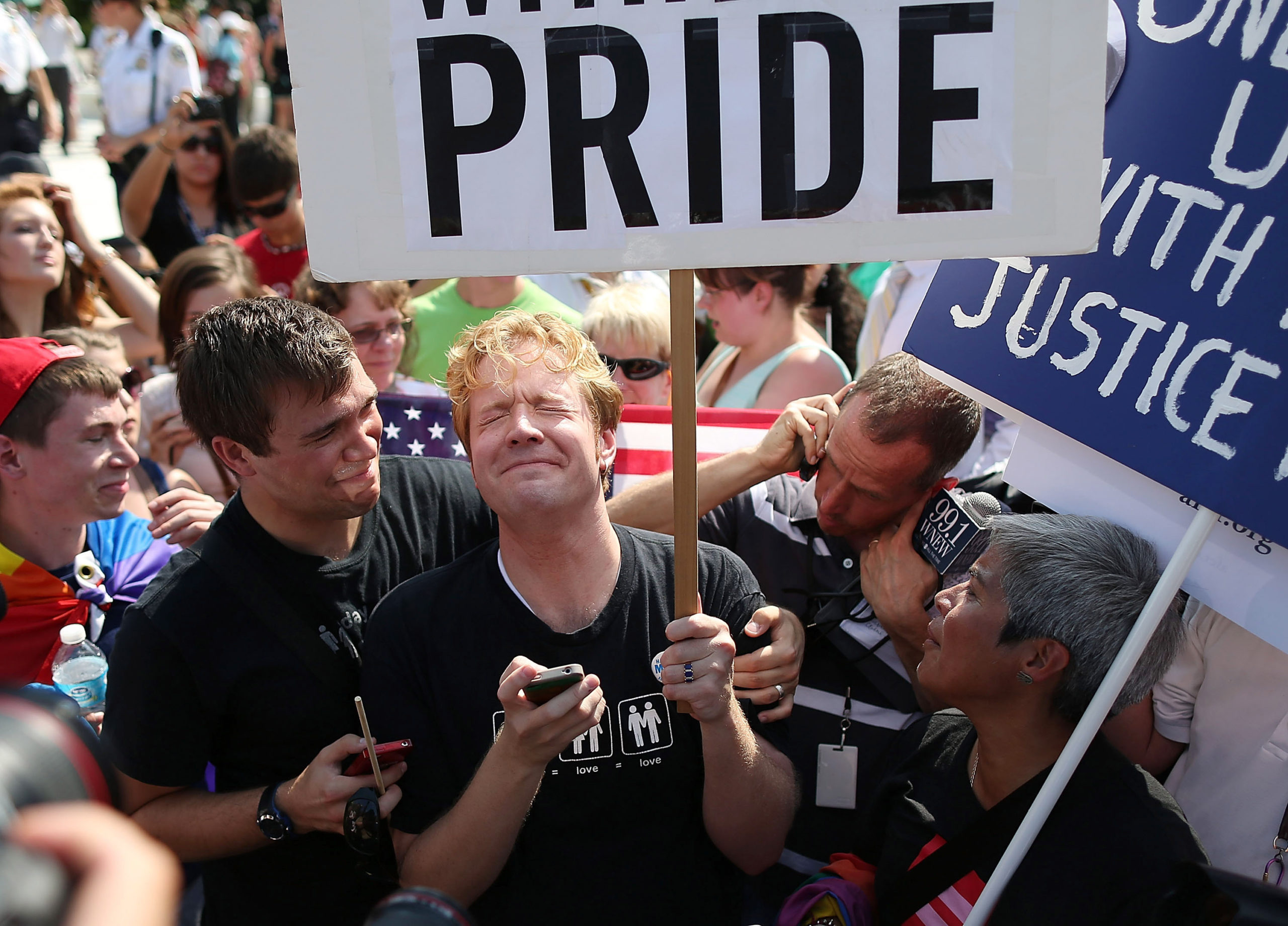 Jim Lo Scalzo / EPA / Landov
30. A Pakistani man carrying a child rushes away from the site of a car bombing in Peshawar, northwest Pakistan.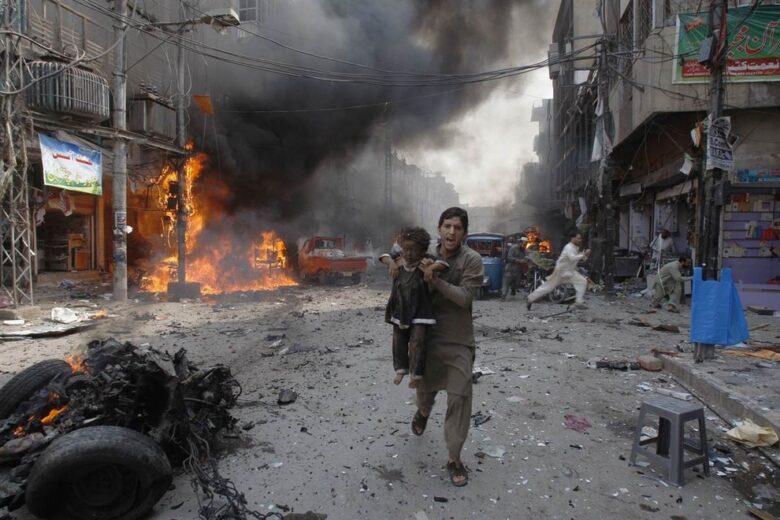 Mohammad Sajjad / AP
31. A man dressed as Superman smiles at patient Joao Bertola, 2, and his father at the Hospital Infantil Sabara in Sao Paulo, Brazil