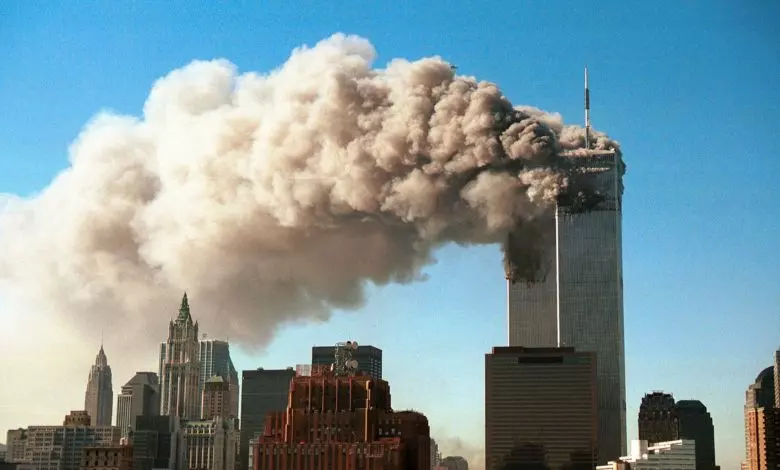 Uncategorized
78 Events Across 100 Years That Completely Changed The World
The article recalls the events of modern history that proved to bring about a massive change in the world. These are days on which political revolutions, technological breakthroughs, unforeseen natural disasters and sporting triumphs took place, and whose effects were felt the world over. Get ready to relive history as you've never done before.
1. Queen Victoria's Funeral (1901)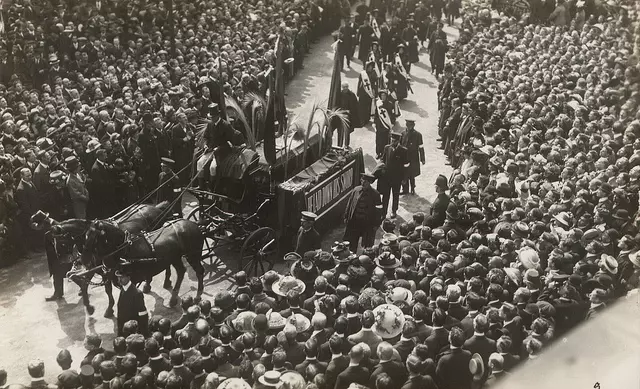 royal-portraits.blogspot.com
Crowds line up to bid a final farewell to Queen Victoria. After 63 years on the throne, Victoria died at the age of 81 at Osborne House on The Isle of Wight. Her military state funeral was held on Saturday 2 February 1901 in St. George's Chapel, Windsor Castle. She was the longest-reigning British monarch in history.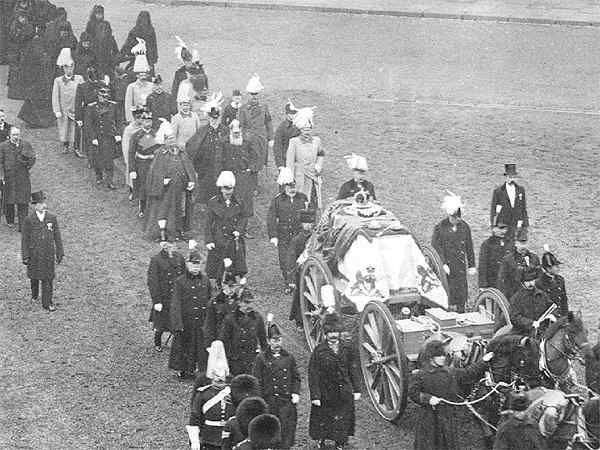 Queen Victoria's funeral procession, Windsor, 1901
2. Wright Brother's First Flight (1903)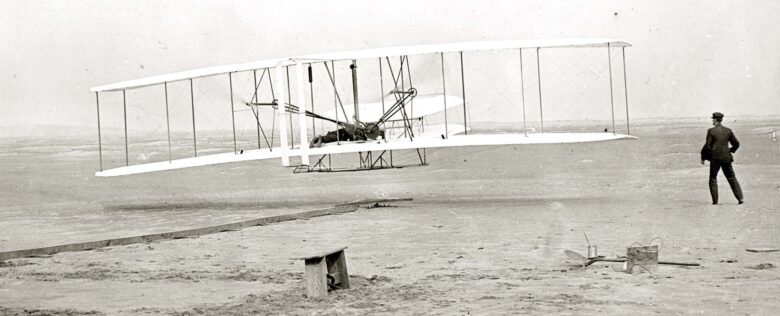 On December 17 1903, news came through that two brothers had flown a curious air machine for more than a minute. This event marked a revolution in human transportation and was in fact one of human's greatest achievements.
3. Emily Davison Throws Herself Under The Kings Horse (1913)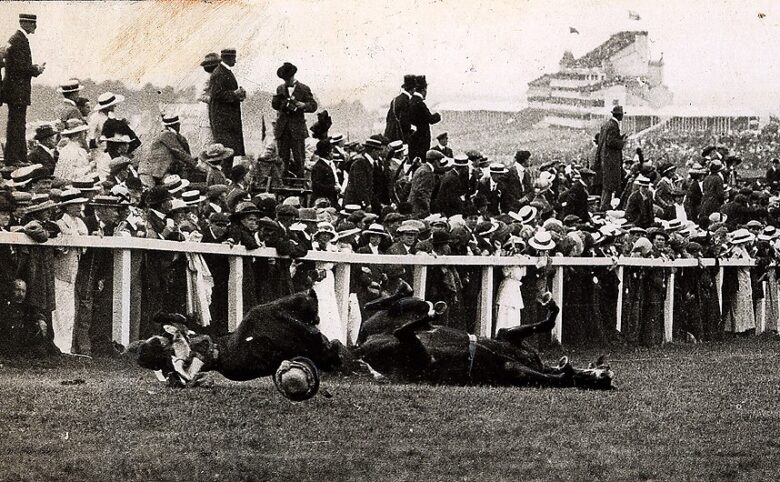 Suffragette Emily Davison's Derby Day protest ends in tragedy. She was a militant activist who fought for women's suffrage in Britain. She was jailed on nine occasions and force-fed 49 times. She is best known for stepping in front of King George V's horse Anmer at the Epsom Derby on 4 June 1913, sustaining injuries that resulted in her death four days later.
4. Abdication of the Tsar Nikolas II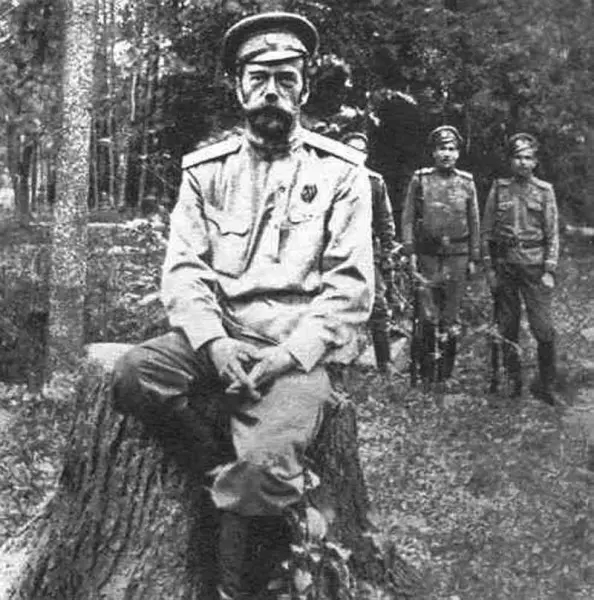 Tsar Nicholas II in detention after his abdication in March 1917
On March 15, 1917 following the Feburary Revolution, the Russian Tsar Nicholas abdicated, heralding the end of the Russian imperial empire. His reign saw Imperial Russia go from being one of the foremost great powers of the world to economic and military collapse. Enemies nicknamed him Nicholas the Bloody. Later he and his family were brutally murdered by the Bolsheviks on the night of July 16/17 1918.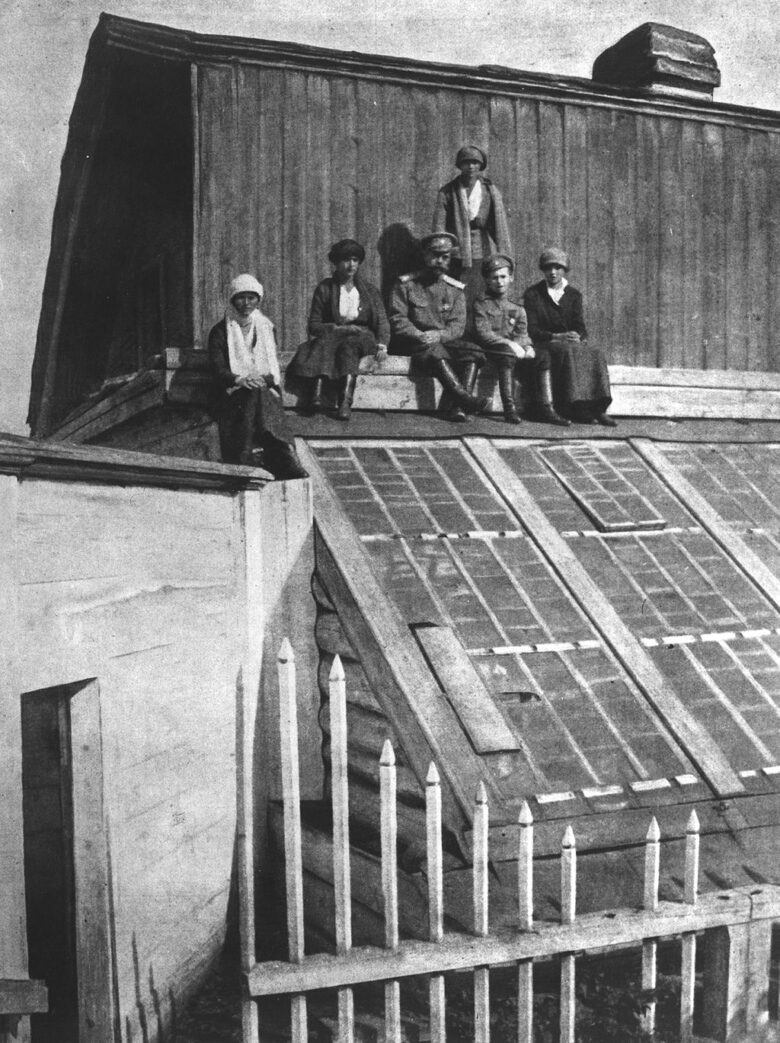 wikipedia.org
The former tsar Nicholas II and his children sitting on the roof of a greenhouse during their captivity in Tobolsk.
5. Irish Free State Treaty Signed (1921)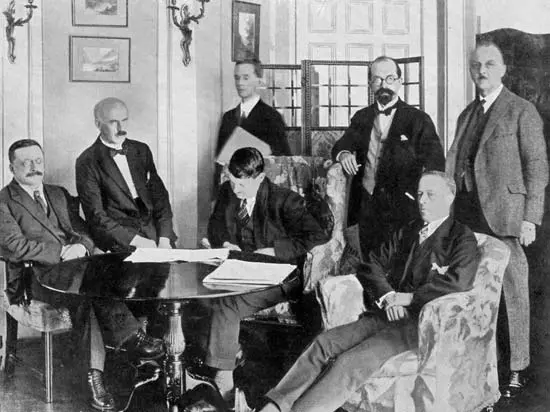 Signing of the treaty to establish the Irish Free State.
In late 1921, the Irish Free State Treaty is signed, establishing Ireland as a Dominion within the British Empire. Strictly speaking the Irish Free State treaty was signed on the 6th December 1921, not the 7th.
6. Suzanne Lenglen Breaks Wimbledon Record (1925)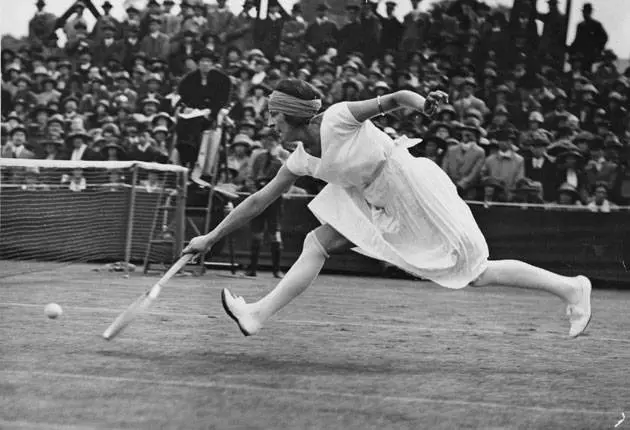 Suzanne Lenglen hits the final shot that won her the legendary Wimbledon game in 1925.
Suzanne Lenglen wins an unprecedented sixth singles title at Wimbledon in the space of seven years.
7. Start Of UK General Strike (1926)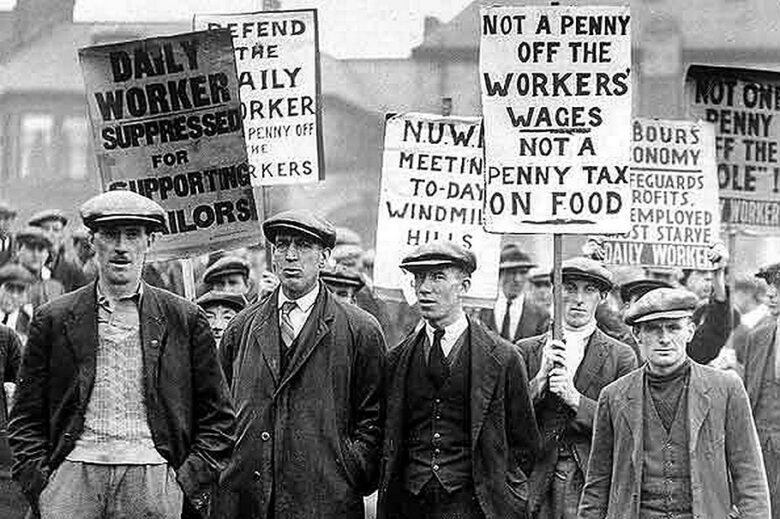 Miners protest low wages at a historic UK General Strike.
Start Of UK General Strike (1926). The General Strike begins as a response to the British government's attempts to lower wages for miners.
8. Charles Lindbergh Flies the Atlantic Solo (1927)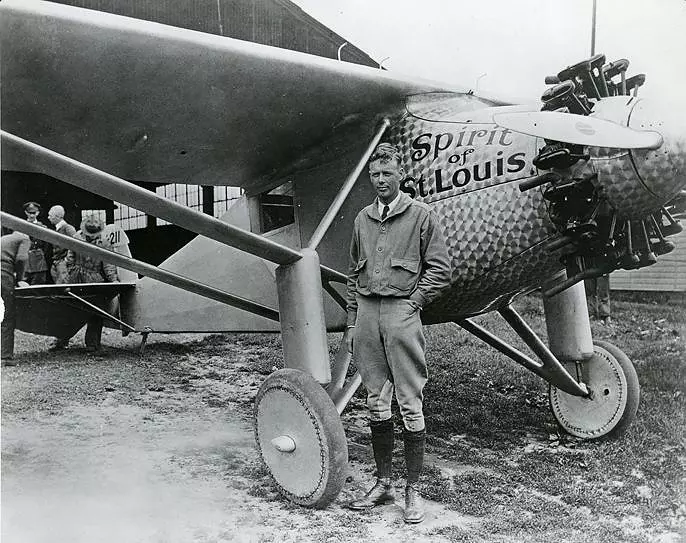 Charles Lindbergh achieves the world's first non-stop transatlantic flight.
9. American Golfer Bobby Jones Wins Grand Slam (1930)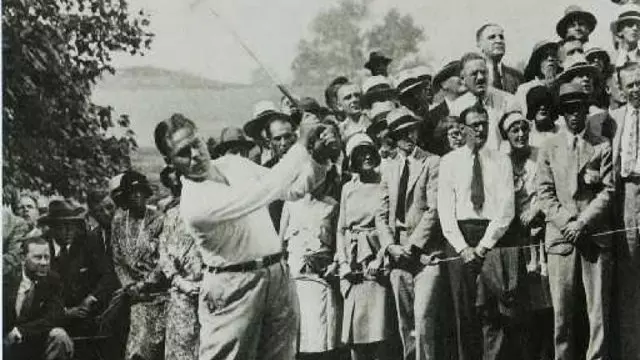 Bobby Jones sweeps his way to victory as spectators watch history in the making.
On September 27th, 1930 the American golfer Bobby Jones made sporting history at the final round of the US Open. Over the previous 8 years he had won countless titles. Never before and never since has a golfer won the grand slam – all 4 major world tournaments in one season. In fact up to that time, there was no term for such a sporting feat and so the term Grand Slam was used to capture the accomplishment. What was so remarkable about this international sporting hero was that he was a true amateur, fitting golf around his business meetings and his work as a lawyer.
10. Hitler Becomes German Chancellor (1933)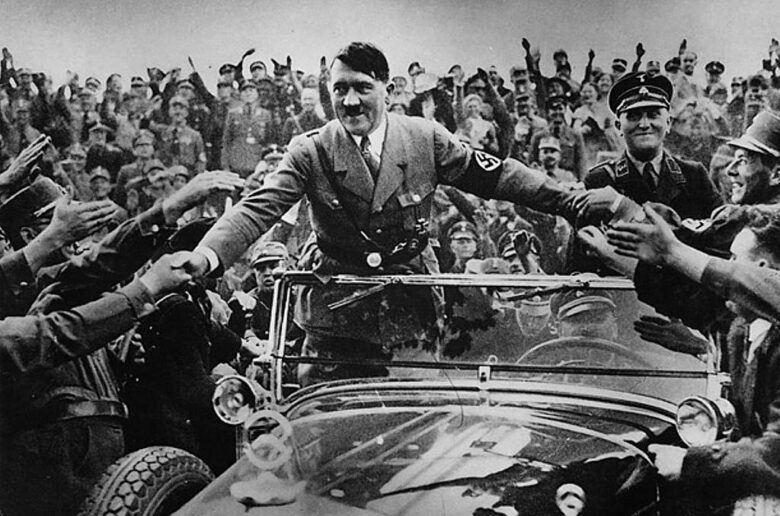 Hitler paves his way through the crowds after being appointed as Chancellor of Germany.
In an attempt to form a stable coalition government, Hitler is appointed Chancellor of Germany.
11. King Edward VIII Abdicates (1936)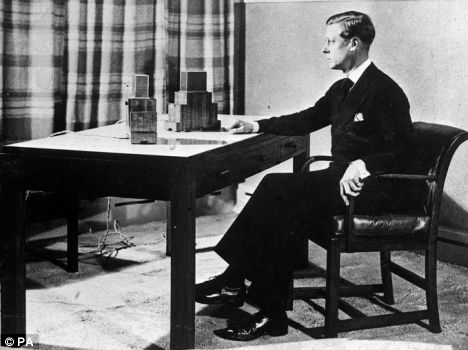 King Edward VIII, as he delivers his abdication speech, in December 1936.
Edward VIII abdicates in order to marry the American divorcee Wallis Simpson.
12. Hindenburg Airship Crash (1937)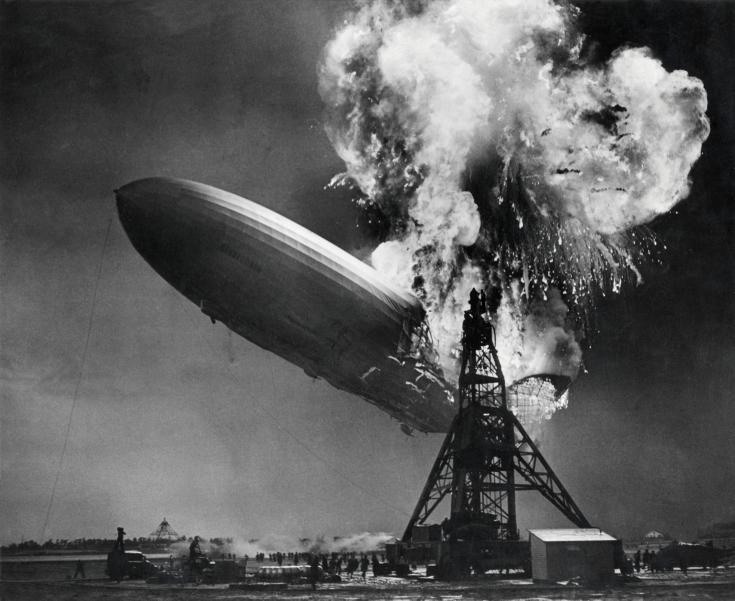 The world's largest airship, the Hindenburg, is destroyed in a spectacular fire which resulted in the death of all 33 passengers and crew on board the fatal flight.
13. Hitler Annexes Austria (1938)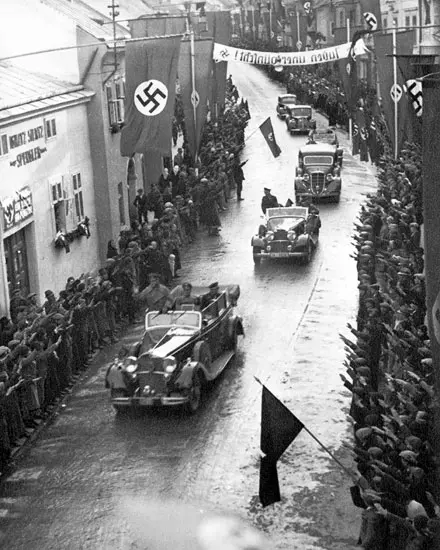 Hitler achieves the 'Anschluss' of Germany and Austria, as Austria becomes part of the Third Reich on 12th March 1938.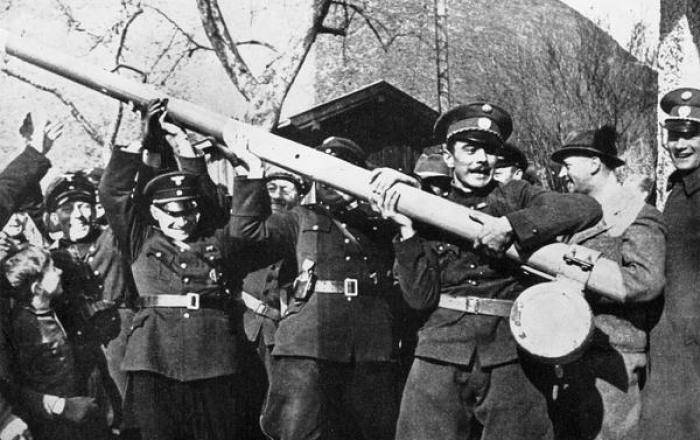 Austria opens its gates to German troops.
14. Germany Invades Poland (1939)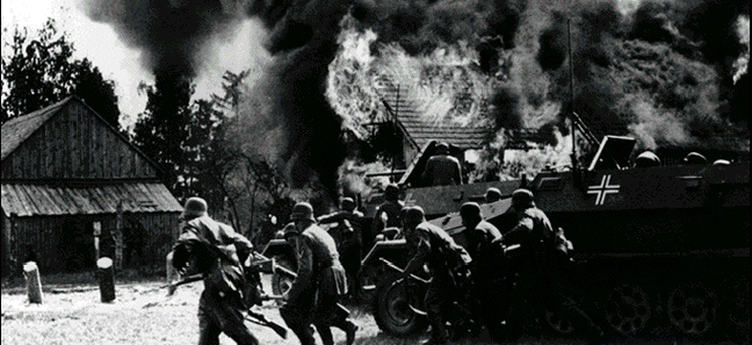 German armies rally onto Poland marking the beginning of the second world war.
On 1 September 1939, German forces invaded Poland. Without warning, their planes bombed cities including the capital Warsaw, thus starting the WW2
15. Evacuation of Dunkirk (1940)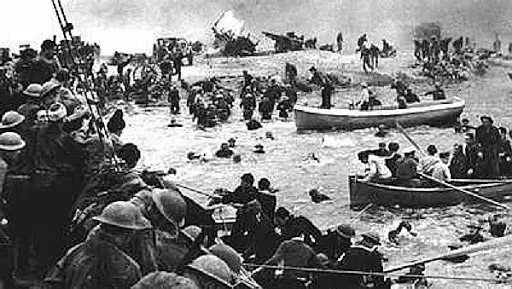 Mass evacuation of Dunkirk takes place.
On 27th May 1940, the mass evacuation of Allied forces from Dunkirk commenced. The Dunkirk evacuation, code-named Operation Dynamo, also known as the Miracle of Dunkirk, was the evacuation of Allied soldiers from the beaches and harbour of Dunkirk, France, between 27 May and 4 June 1940. The operation became necessary when large numbers of British, French, and Belgian troops were cut off and surrounded by the German army during the Battle of France in the Second World War.
16. London Blitz Begins (1940)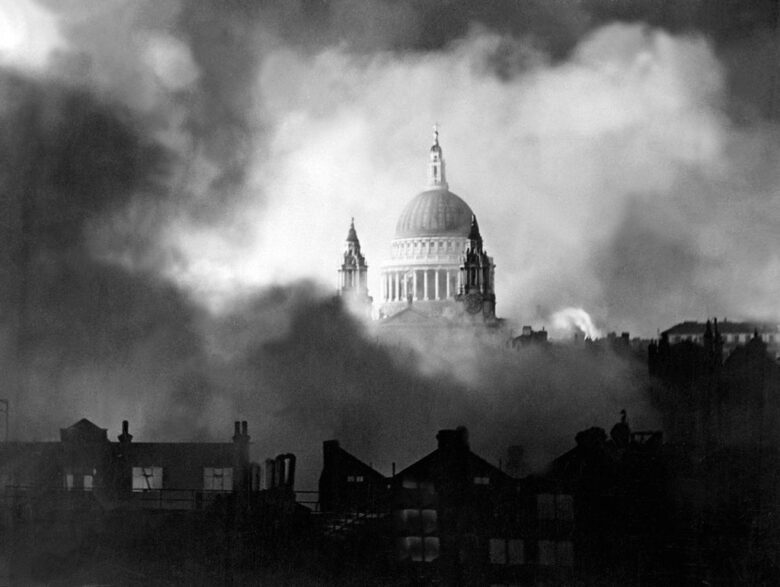 On September 7, 1940 Germany begins its campaign of Blitzkrieg on London and its civilians. Nights after nights, German soldiers dropped high explosives and fireballs on civilians in what happen to be the worst civilian tragedy of UK. There were major aerial raids (attacks in which more than 100 tonnes of high explosives were dropped) on 16 British cities. Over a period of 267 days (almost 37 weeks), London was attacked 71 times.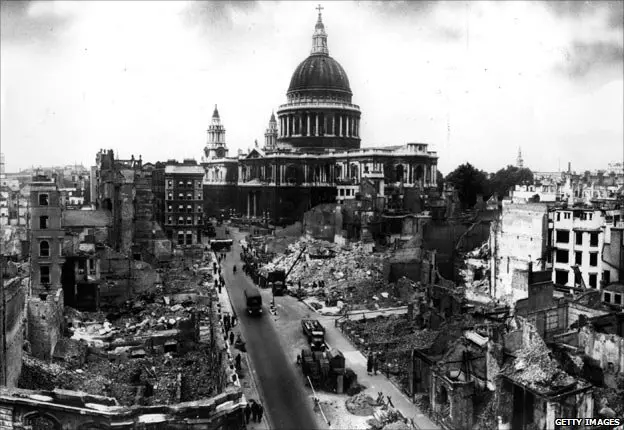 London after the monstrous attacks that left several innocent civilians dead.
17. Pearl Harbour Attacked (1941)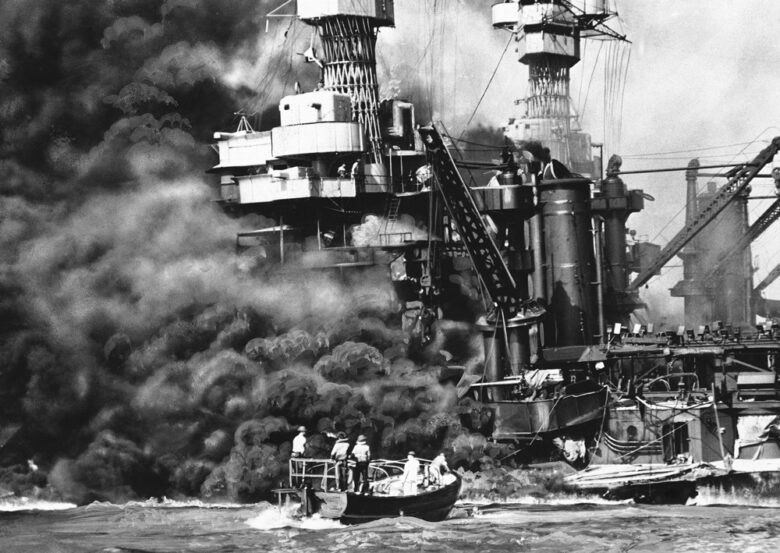 December 7th 1941 – The Imperial Japanese Navy launches a surprise devastating air attack against the United States naval base at Pearl Harbour, Hawaii
18. Fall of Stalingrad (1943)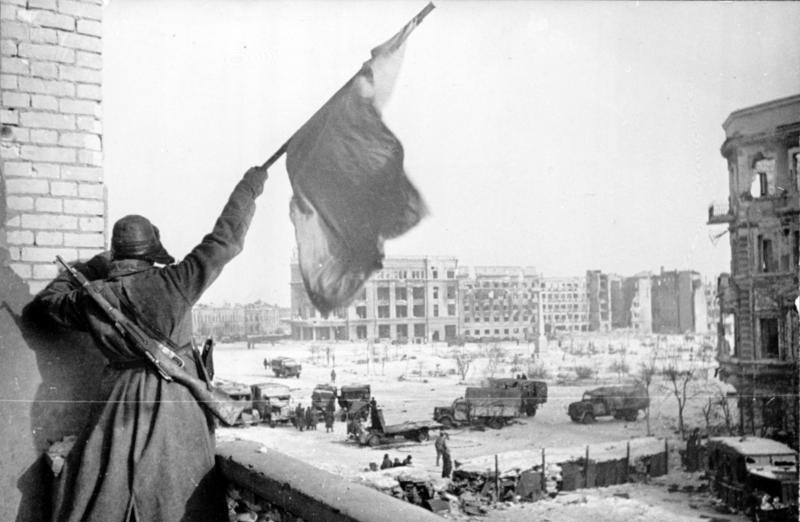 Soviet soldier waving the Red Banner over the central plaza of Stalingrad in 1943.
The greatest battle of WW2 ended on 31st Jan 1943 – the surrender of the German 6th army at Stallingrad. After months besieging the city of Stalingrad without success, the German Army capitulated.
19. D-Day Landings (1944)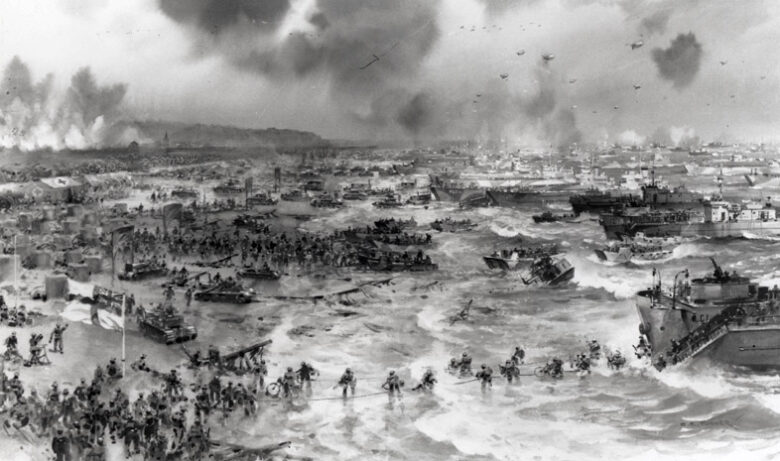 On June 6 1944, Allied troops begin their invasion of Europe with the D-Day landings in Normandy. It was the start of the final phase of WW2.
20. Liberation of Paris (1944)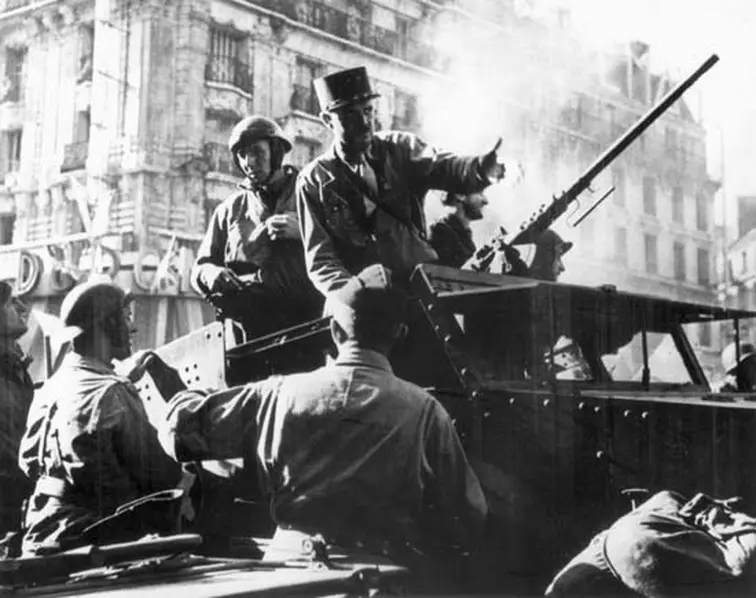 Jacques-Philippe Leclerc, during the liberation of Paris, August 1944.
On August 25th, 1944 after 4years of occupation, the French tricolore was hoisted once again over Paris. General DeGaulle lead an impromptu victory march through the capital. However, the day wasn't straightforward as German snipers fired at the Parisien crowds who were celebrating.
21. Churchill, Stalin and Roosevelt Meet at Yalta (1945)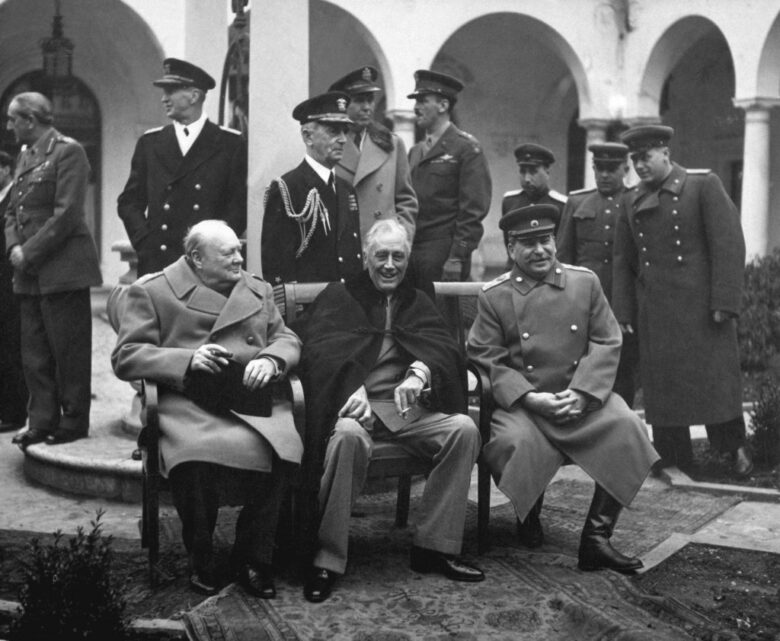 Churchill, Roosevelt and Stalin meet at Yalta to discuss Europe's post-war reorganisation.
On February 12th 1945, a communicate was issued from the Crimean town of Yalta in the Soviet Union that changed the course of history. It was here after 8 days of secret talks, that the victors carved out the future of the post-war period. The Big Three, as they were called, Stalin, Roosevelt and Churchill decided on how Germany would finally be defeated, divided and punished.
22. Germans Surrender to Montgomery (1945)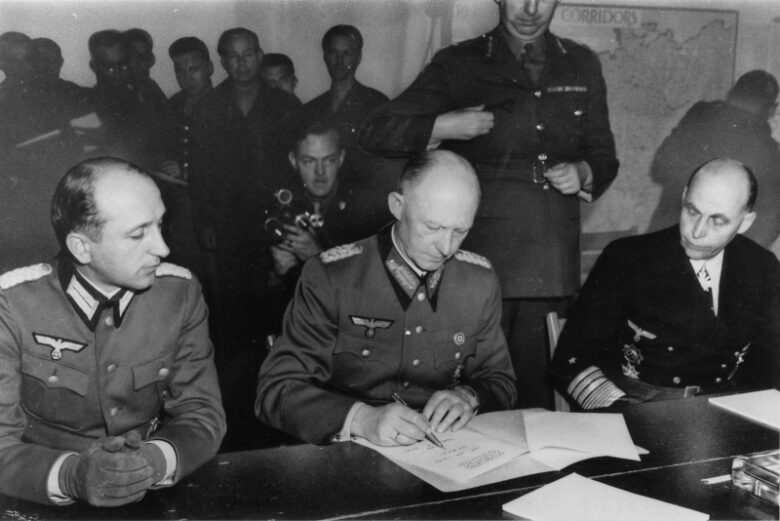 On 4 May 1945 at Lüneburg Heath, near Hamburg, Field Marshal Bernard Montgomery accepted the unconditional surrender of the German forces in the Netherlands, in north west Germany including all islands, and in Denmark and all naval ships in those areas.
23. VE Day Celebrations (1945)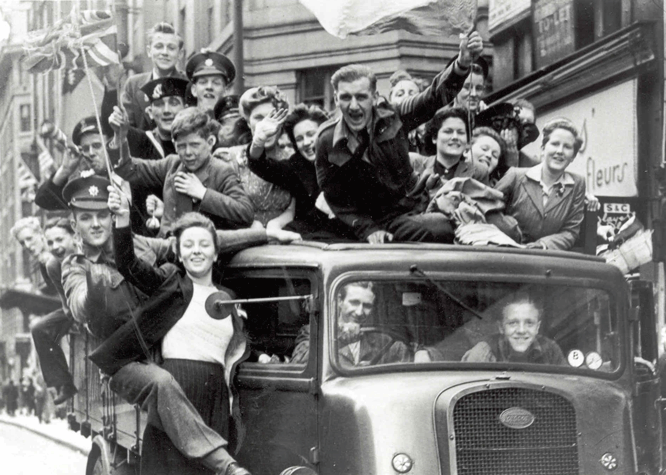 The war in Europe is declared over as celebrations break out across Britain.
After Winston Churchill announced that the war in Europe is over, he declared May 13th 1945 as VE day and the crowds of London went wild with joy.
24. Labour's Landslide Election Win (1945)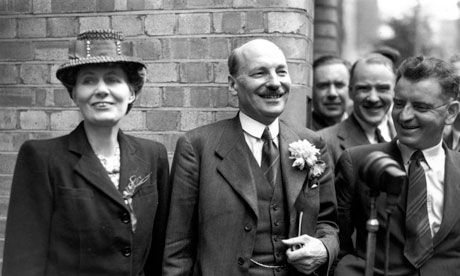 British prime minister Clement Attlee and his wife Violet after Labour's victory in the general election, London, 26 July 1945.
On 26 July 1945, Labour won an unprecedented landslide victory in the UK general election of 1945. It came as a major shock to the Conservatives considering the heroic status of Winston Churchill. It was Labour's policies on Social Reform that made Clement Attlee Prime Minister.
25. Hiroshima Atomic Bomb (1945)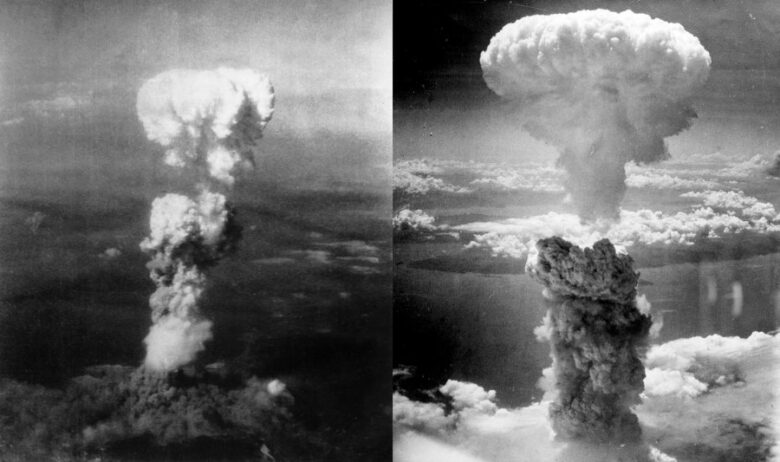 Picture shows atomic bombing in Hiroshima(left) on 6th August 1945 and Nagasaki (right) on 9th August 1945.
The first atom bomb to be used as a weapon, "Little Boy" (as was its codename) was dropped on to the flat terrain of Hiroshima on August 6, 1945. The bomb vapourised buildings and killed nearly 70,000 people directly but by the end of 1945, nearly 100,000 had died from its protracted effects.
26. India and Pakistan Gain Independence (1947)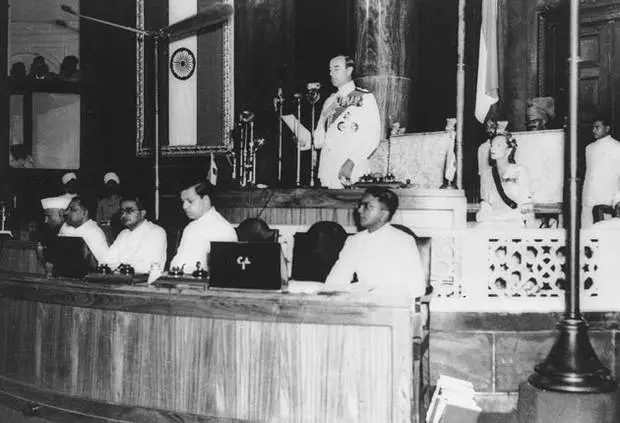 Lord Mountbatten announces India as independent on the night of 14/15th August 1947.
Viscount Louis Mountbatten announced the partitioning of the British Indian Empire into India and Pakistan. Pakistan was then declared a separate nation from Britain on the 14 August 1947. On 15 August 1947, India became an independent nation.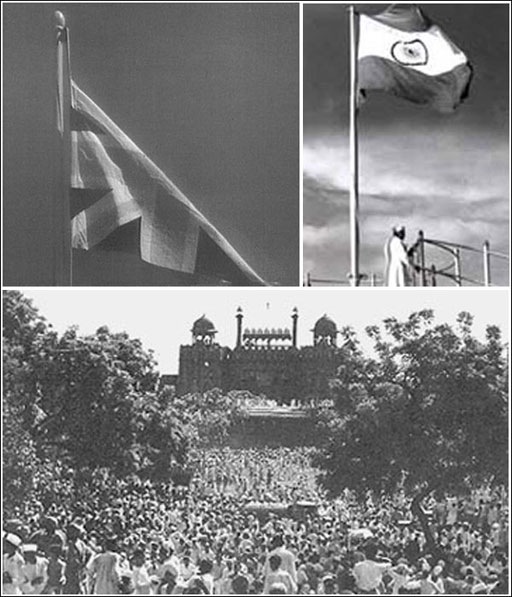 India hoists its flag for the first time on the day of its independence from British rule at the historic Red Fort attended by millions of people and the first prime minister of India, Jawaharlal Nehru.
27. Berlin Airlift Begins (1948)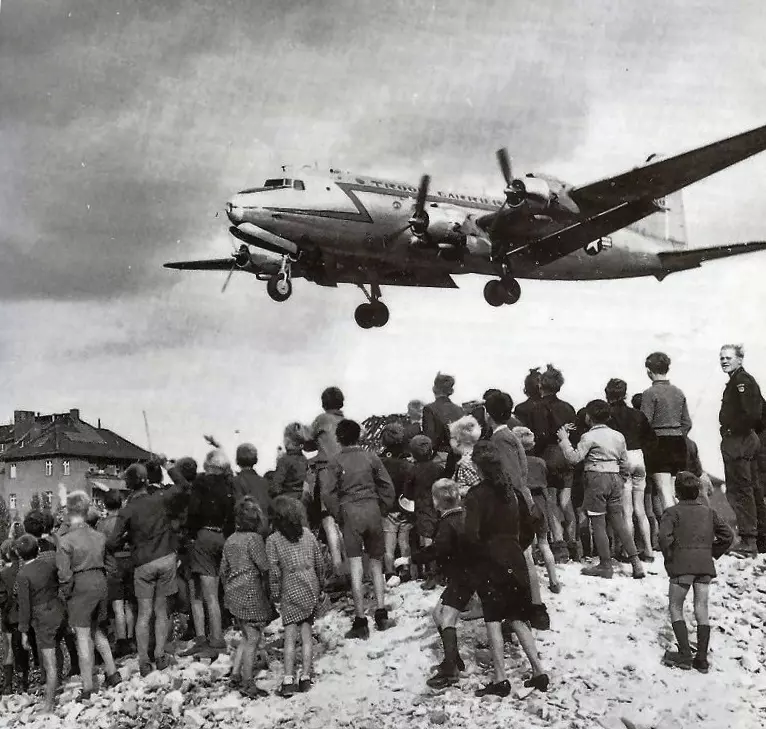 Following a Soviet blockade of all ground routes into and out of Berlin, American and British forces organise airlifts to maintain food supplies into the isolated city. On June 26 1948, the effort to feed more than two million people in the city of Berlin began.
28. Mao's Communists Take Over China (1949)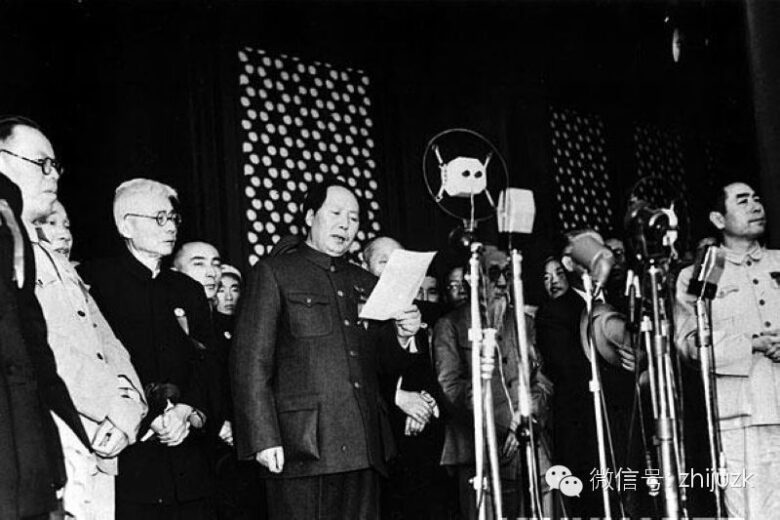 On October 1st 1949, China was proclaimed a Communist state. Communist Party Chairman Mao Zedong took over the reign of Government and proclaimed the establishment of the People's Republic of China.
29. Korean War Starts (1950)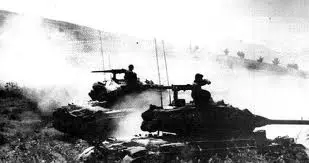 N Korean tanks cross the 38th. June 25 – The invasion starts at 0400 hours on the Onjin Peninsula.
On 25 June 1950, armed forces from communist North Korea bulldoze their way into South Korea, setting off the Korean War.
30. Launch of First Nuclear Submarine (1954)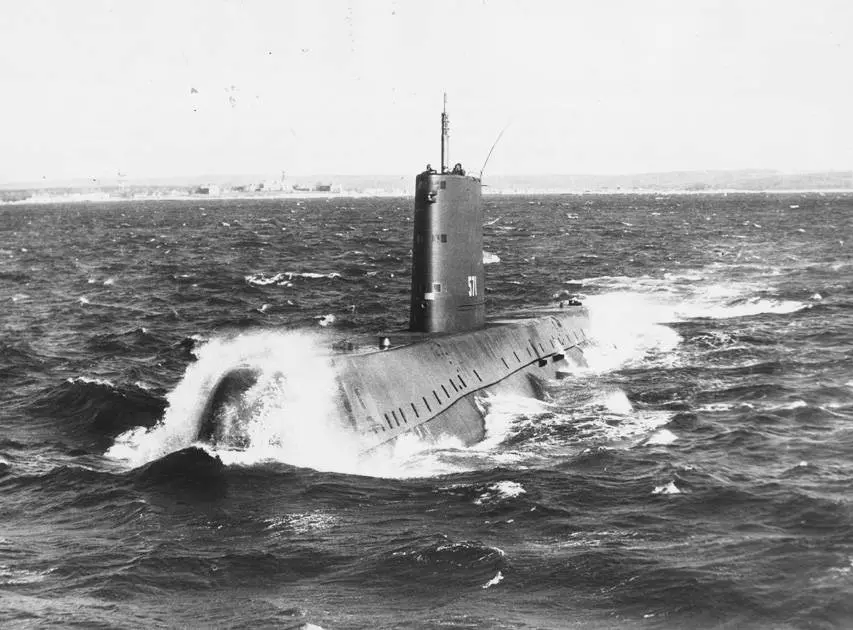 The United States launches the world's first nuclear submarine, USS Nautilus.
31. Roger Bannister Breaks the 4 Minute Mile (1954)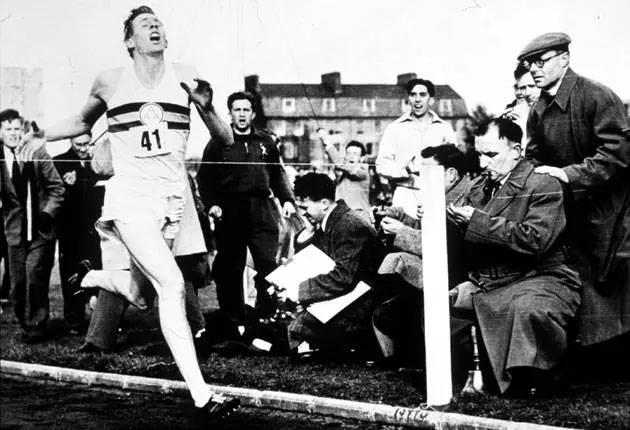 On 6 May 1954, Roger Bannister becomes the first man to break the four minute mile.
32. Le Mans 24 Hour Race Disaster (1955)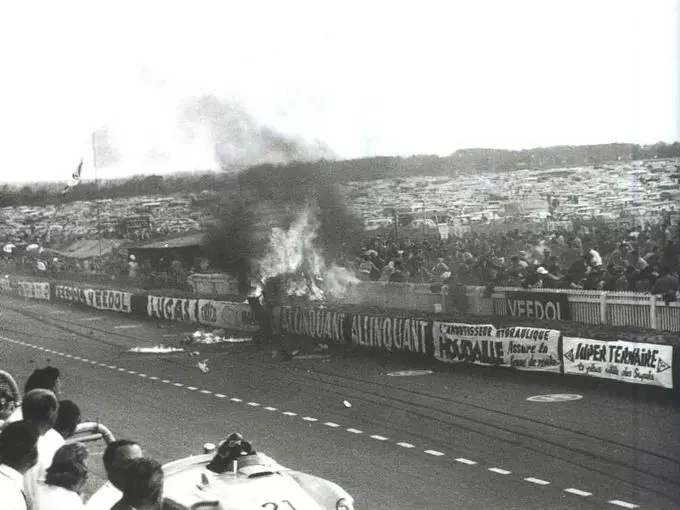 On June 11 1955, a horrific crash at the 24 Hours Le Mans motor race killed 84 people.
33. Manchester United Players Die in Munich Air Crash (1958)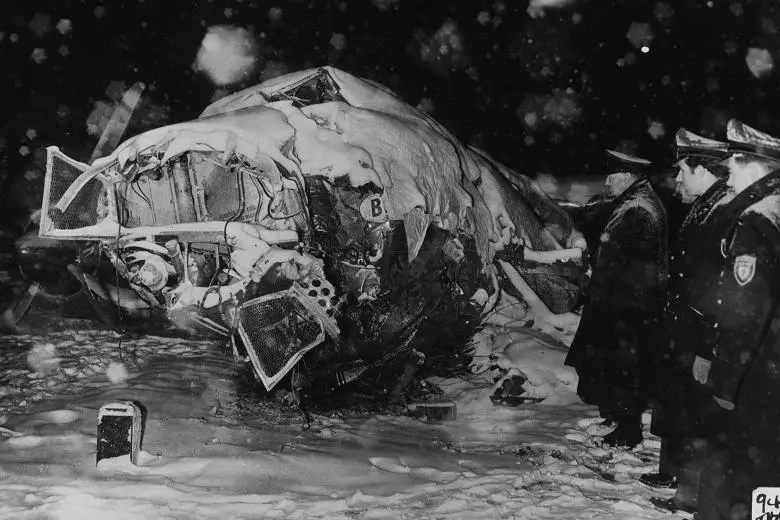 The Munich Air Crash happened on 6 February 1958. On board were the affectionately known 'Busby Babes' – the Manchester United football team. Their plane crashed on its third attempt at take off. Twenty three people died, 21 survived.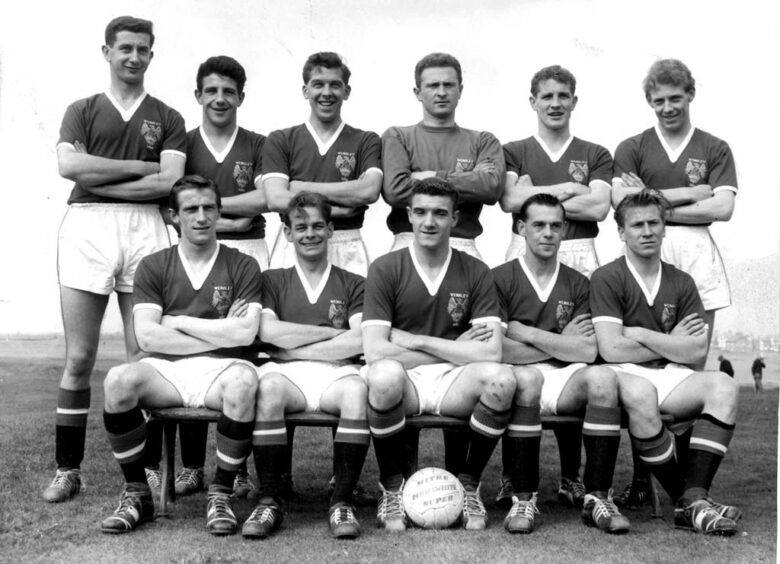 The famous Manchester United Football team whose doom changed the course of football history.
34. Pele's World Cup Final Performance (1958)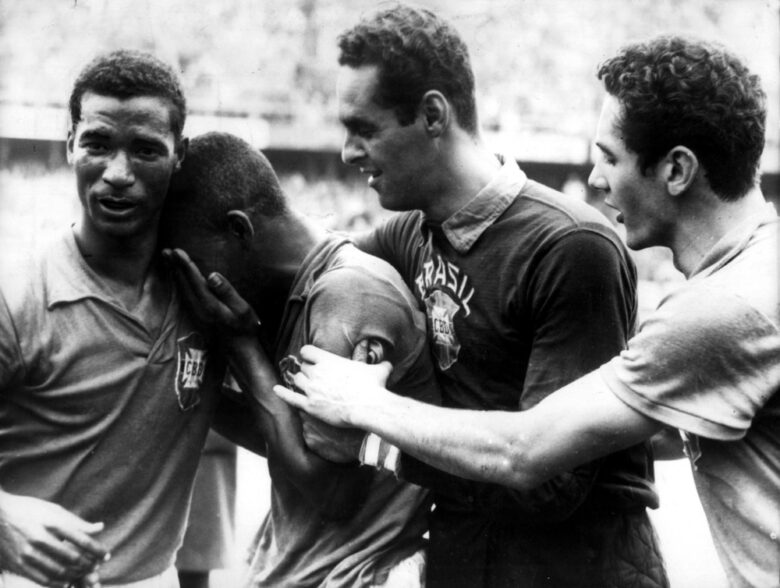 17-year-old Pele cries on the shoulder of Didi as teammates Gilmar and Orlando congratulate him on his fantastic performance in the 1958 World Cup final.
June 1958, Sweden v Brazil in the World Cup Final. Brazil were a goal down until a17 year old newcomer, Pele, equalised with a stunning goal. Brazil went on to win 5-2 and Pele became a sporting hero and is considered one of the greatest football players of all time.
35. First Man in Space (1961)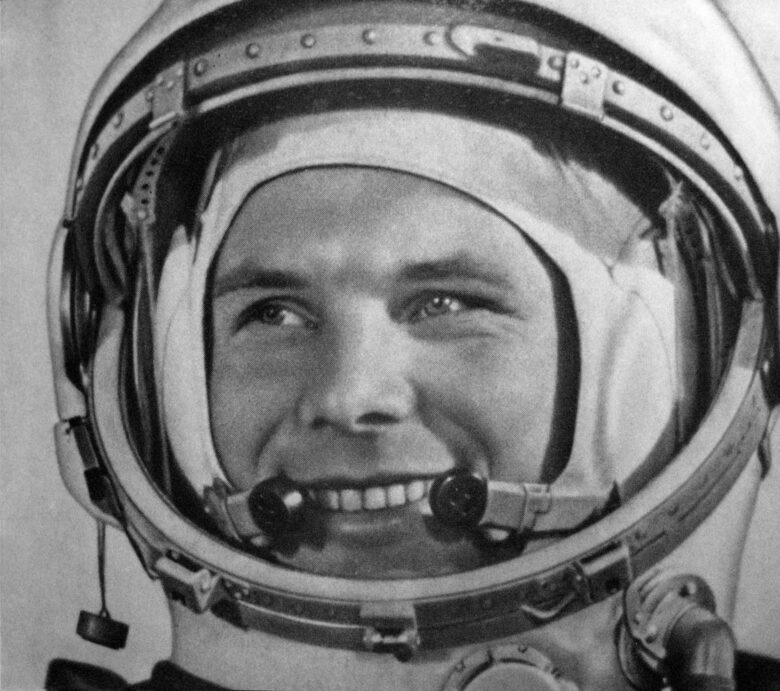 Soviet cosmonaut Yuri Gagarin becomes the first man in space after completing an orbit of the Earth in his Vostok spacecraft.
36. Berlin Wall Erected (1961)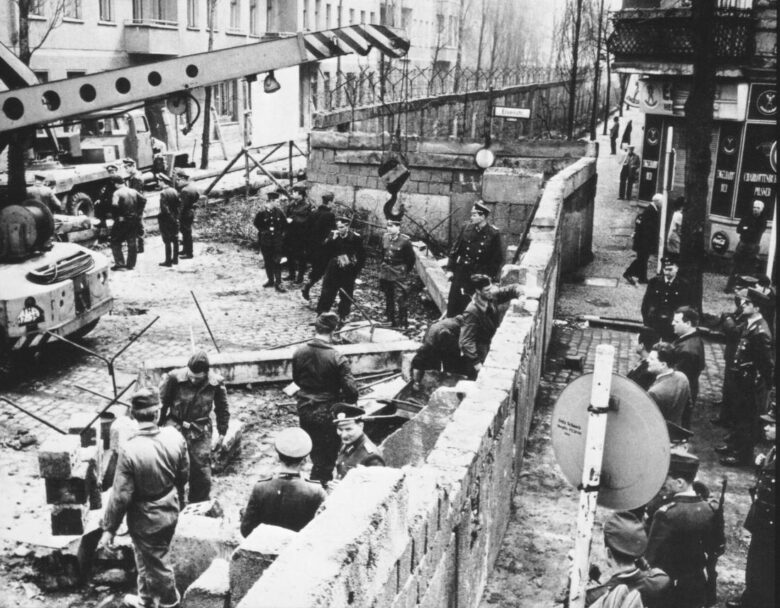 In August 1961, troops in East Germany began to seal the border between East and West Berlin. In doing so they blocked off the escape route for refugees from the East. The barrier ended up being 12 feet high and 66 miles long with a further 41 miles of barbed wire fencing. Over the years, nearly 200 people died trying to cross the wall. It became a symbol for the divided world.
37. Cuban Missile Crisis (1962)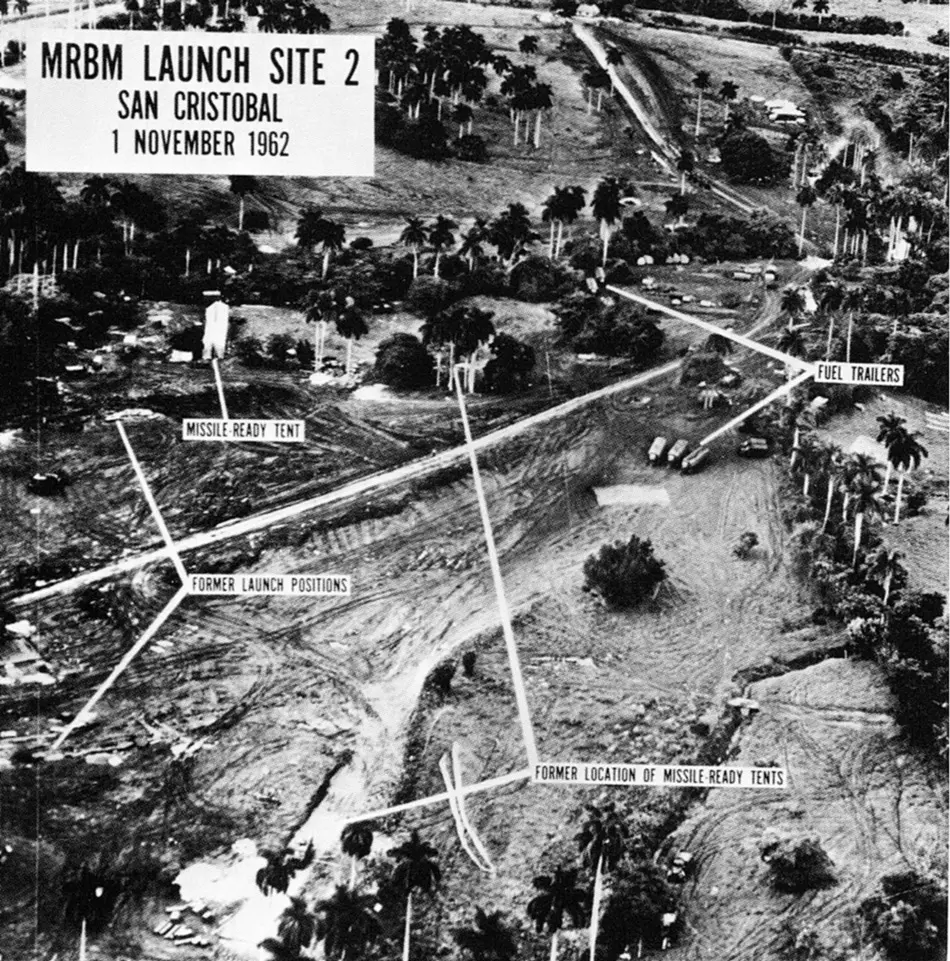 The Cuban Missle Crisis was a confrontation between the Soviet Union, Cuba and the United States in October 1962, during the Cold War. On 28th October 1962, the confrontation ended and the world stepped back from nuclear war . Along with General U Thant, John F Kennedy reached an agreement with Soviet premier Nikita Khrushchev.
38. Martin Luther King Delivers His "I have a dream" speech (1963)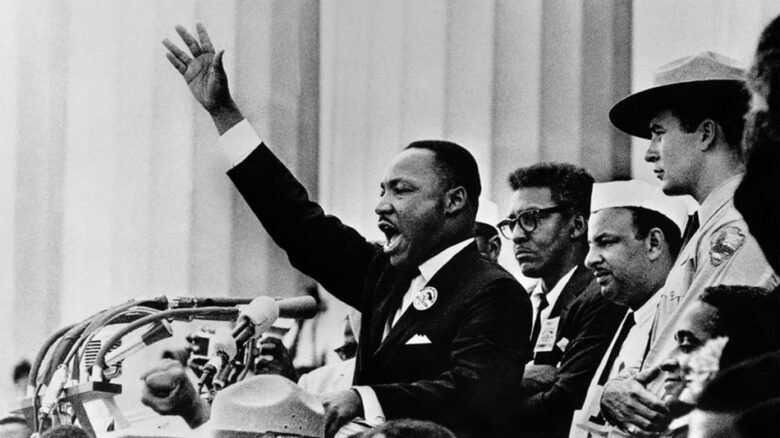 A defining moment in the American civil rights movement, Martin Luther King delivers a speech from the steps of the Lincoln Memorial in Washington on 28 August 1963.
39. JFK Assassinated (1963)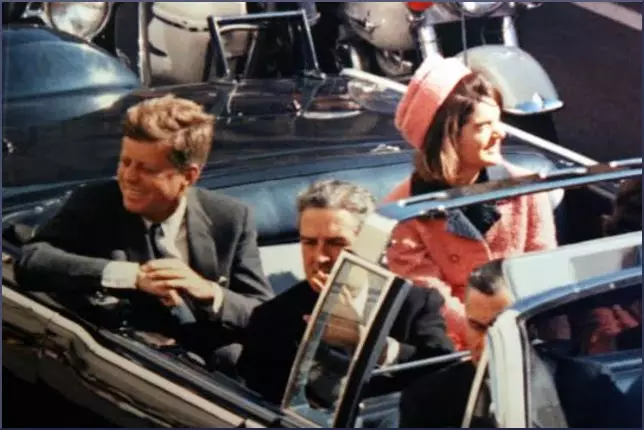 President John F. Kennedy and wife, Jacqueline, in Dallas on Main Street, minutes before his assassination, November 22, 1963.
On November 22 1963, President John F Kennedy is assassinated in Dallas, Texas.
40. Beatlemania Arrives (1964)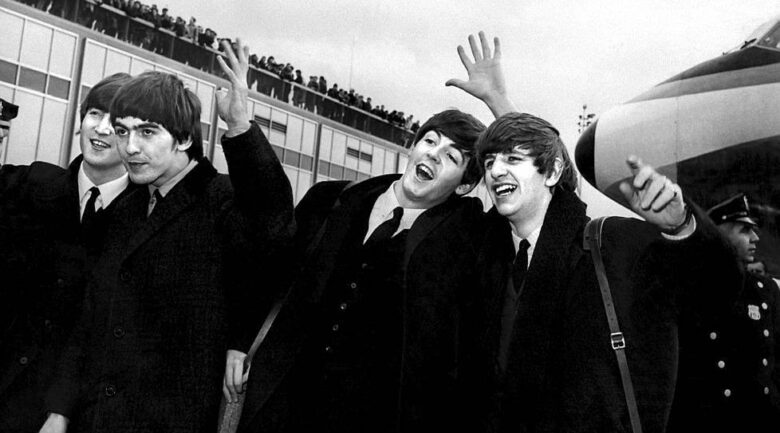 The triumphant Beatles return to Britain after conquering the US charts.
John Lennon, Ringo Starr, Paul McCartney and George Harrison, arrive at John F. Kennedy Airport in New York in 1964.
41. Coal Tip Buries Hundreds of Children in Aberfan (1966)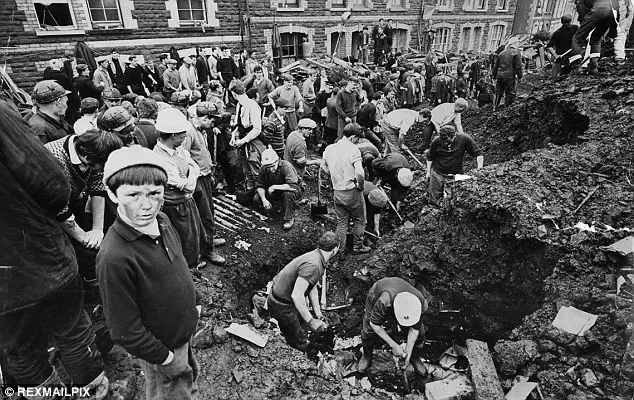 A boy's face is streaked with coal dust as he watches rescue workers toil their way through the long, dirty task of digging away colliery waste in 1966.
A colliery spoil heap collapses onto a school and homes in Aberfan, South Wales, killing 116 children and 28 adults.
42. Donald Campbell Dies in Bluebird Crash (1967)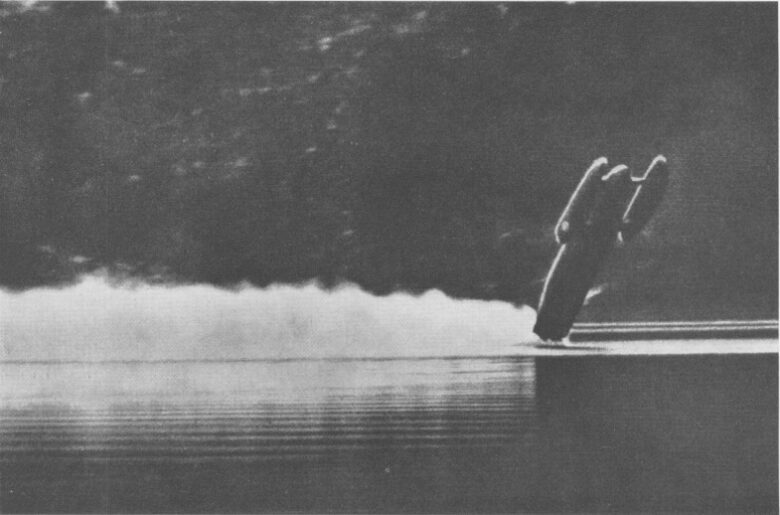 On 4th January 1967, Campbell was killed whilst attempting to set another water speed record in his 'Bluebird K7'. He had already set seven water speed records between 1955 and 1964 with speed increases from 216mph to 276.33mph. The accident happened on Coniston Water, Lancashire, England. The Bluebird surpassed 320mph but as she did so she gradually lifted from the water before somersaulting out of control. Campbell was killed instantly.
43. The Six-Day War Begins (1967)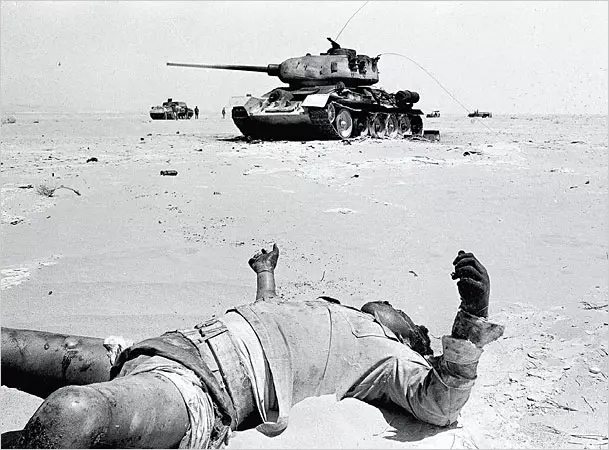 Also known as the War of 1967, this war was fought between Israeli and the Arab Forces across large areas across the Middle-East. Tension between Israel and her Arab neighbours had been growing for several months. Egypt, known as the United Arab Republic at the time, Jordan and Syria were all involved in the conflict. By the end of the war Israel had taken control of the Gaza Strip, Sinai Peninsula (from Egypt), West Bank and Eastern Jerusalem (from Jordan) and the Golan Heights from Syria.
44. Violent Anti-Vietnam Riots in London (1968)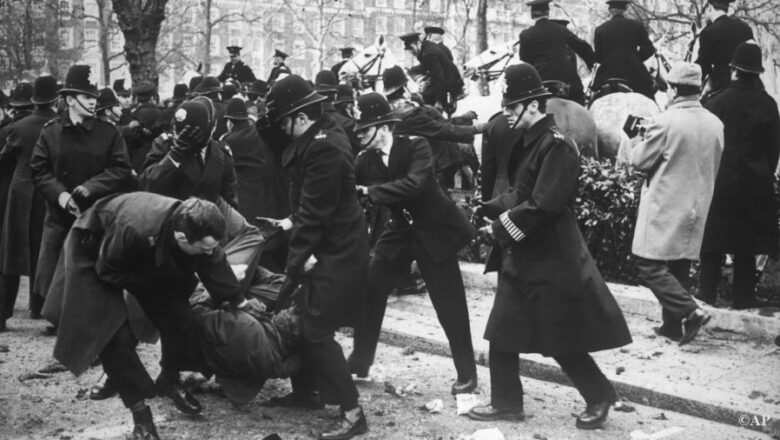 Police struggle with anti Vietnam War demonstrators outside the Embassy of the United States in Grosvenor Square, London, Mar. 17, 1968.
On March 17th 1968, 80,000 demonstrators congregated in central London. It was a peaceful demonstration until thousands broke away and headed to the American embassy. What followed was the worst violence seen on the capital's streets for decades.
45. Concorde Flies for the First Time (1969)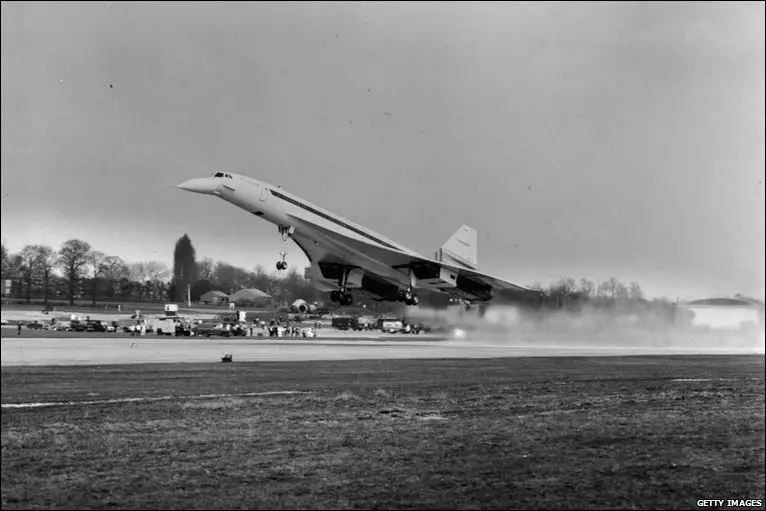 On March 2 1969, the Anglo-French supersonic Concorde made its first flight.
46. Armstrong Sets Foot on the Moon (1969)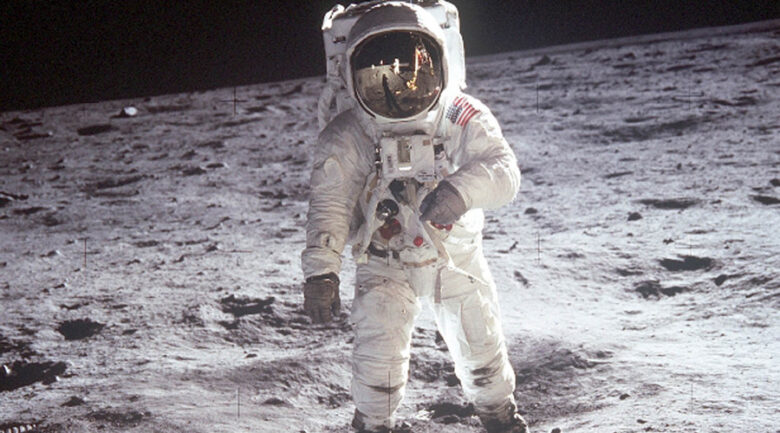 On July 21 1969, Neil Armstrong takes the first steps on the moon. As he put his left foot down first Armstrong declared: "That's one small step for man, one giant leap for mankind.".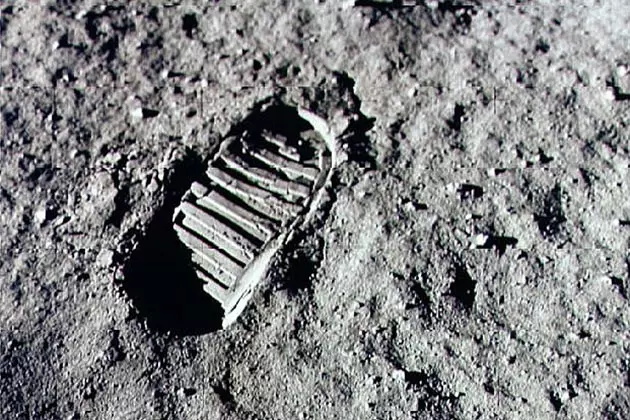 First human footprint on the moon : Neil Armstrong.
47. Bloody Sunday in Northern Ireland (1972)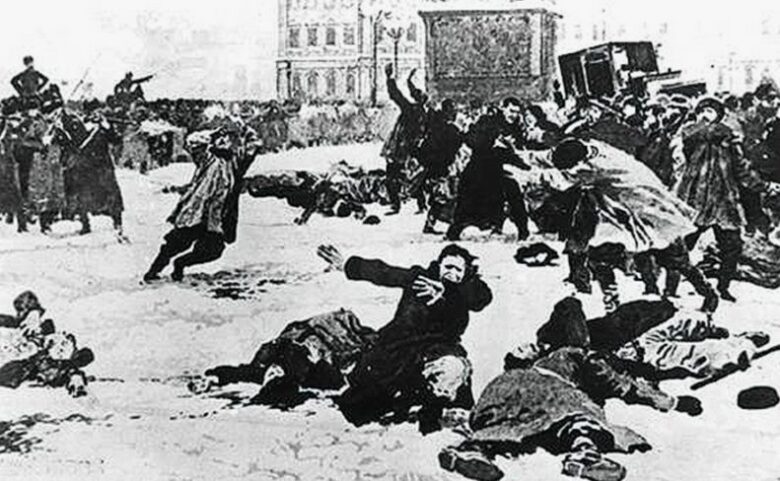 On January 30 1972, British troops shoot unarmed protesters in Northern Ireland, killing 13 civilians. It was to be known as the Bogside Massacre.
48. Nixon Resigns in Shame (1974)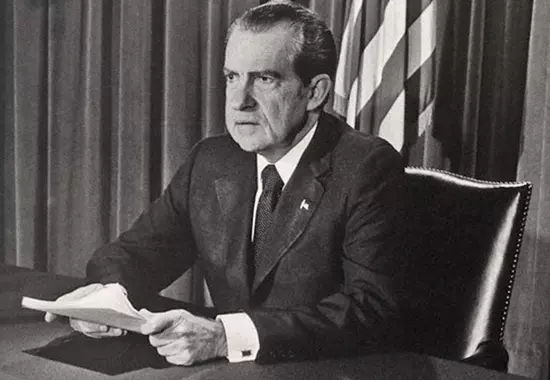 In the wake of the Watergate scandal, Nixon becomes the first president in US history to resign from office.
49. Exiled Religious Leader Ayatollah Khomeini returns to Iran (1979)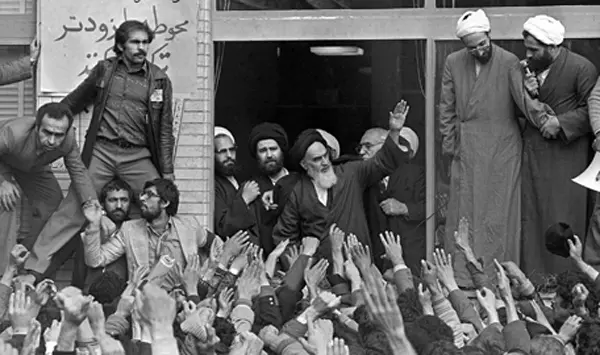 On February 1 1979, the religious leader Ayatollah Khomeini returns to Iran after 14 years in exile. 5 million people lined the streets of Tehran to witness the homecoming of the Shia Muslim imam.
50. Lord Mountbatten Assassinated by IRA (1979)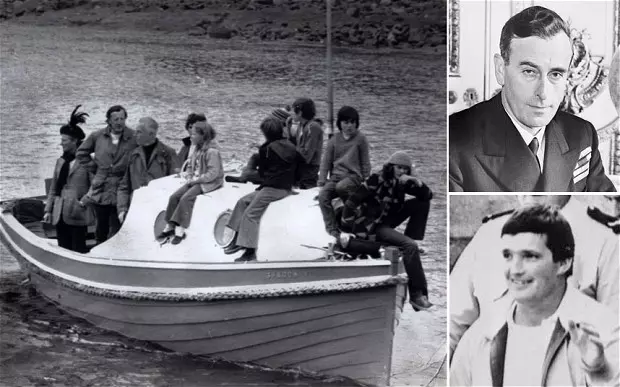 August 1979: Lord Mountbatten (top right) with members of his family aboard the boat that was blown up by members of the IRA and Thomas McMahon (bottom)
Lord Mountbatten is assassinated by IRA terrorists while on holiday in County Sligo, Ireland.
51. Ethiopian Famine (1984)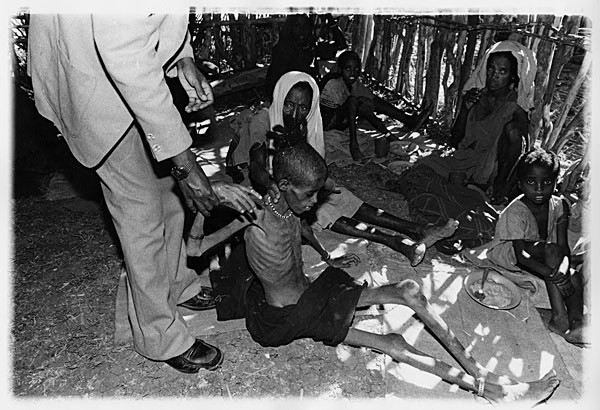 On 23rd October 1984, Ethiopia was hit by the world's worst famine yet. The world's eyes are opened to Ethiopia's famine plight by BBC reports, sparking an enormous public response.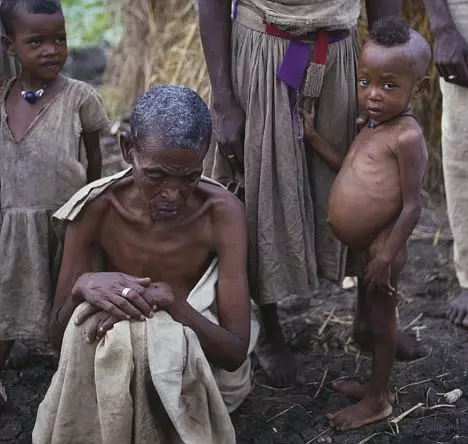 A starving family in a famine-ravaged village in Ethiopia at the height of the disaster in 1985.
52. Heysel Stadium Disaster (1985)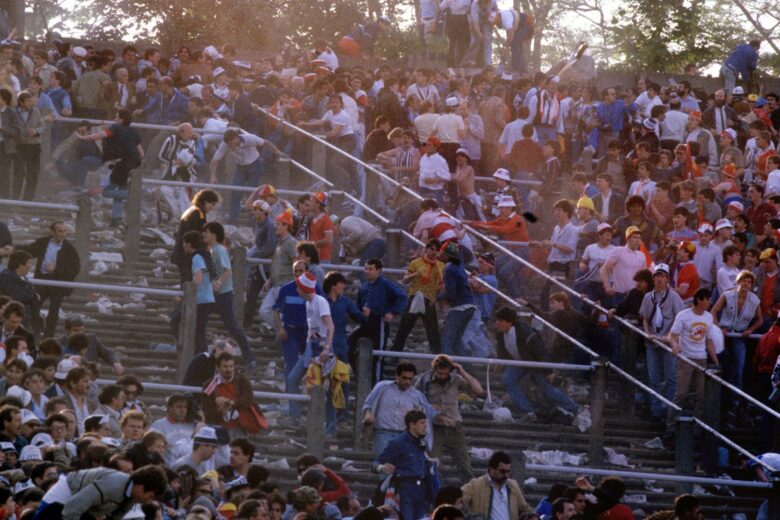 On, 29 May 1985, one hour before the European Cup final between Juventus and Liverpool, Liverpool fans breached a fence. Escaping Juventus fans were pressed against a wall in the Heysel Stadium in Brussels, Belgium. Thirty-nine Juventus fans died and 600 were injured.
53. Challenger Spacecraft Explodes (1986)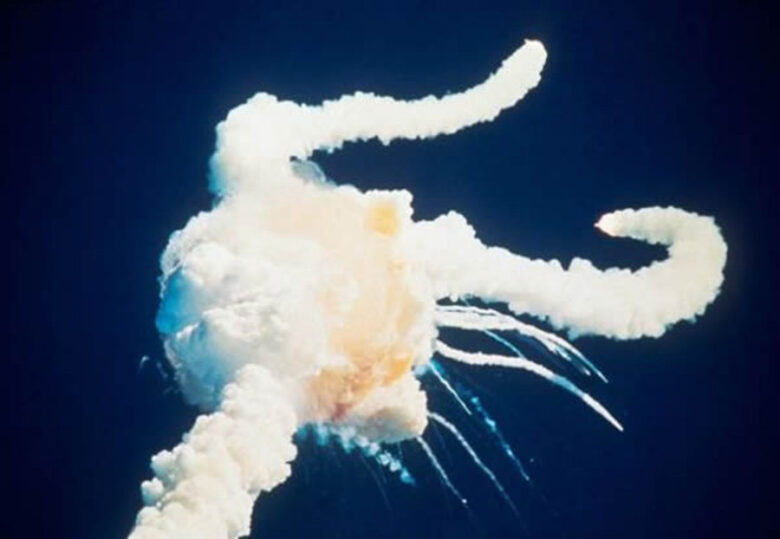 On January 28, 1986, Space Shuttle Challenger disintegrated 73 seconds into its flight leading to the death of all 7 members of the crew.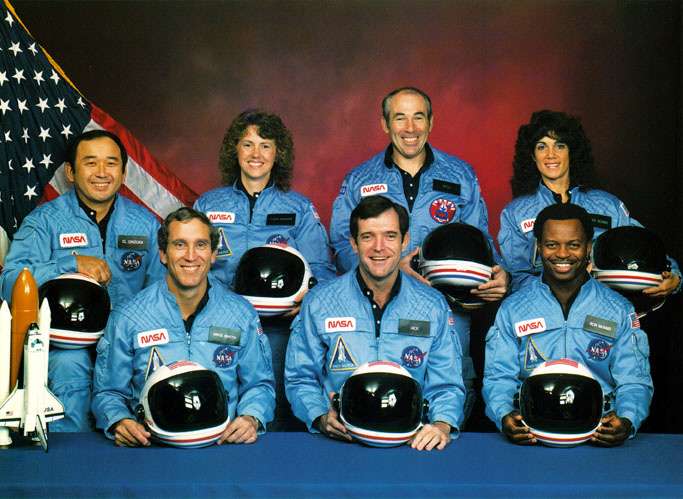 The crew members of the doomed space shuttle Challenger.
54. Chernoybl Nuclear Disaster (1986)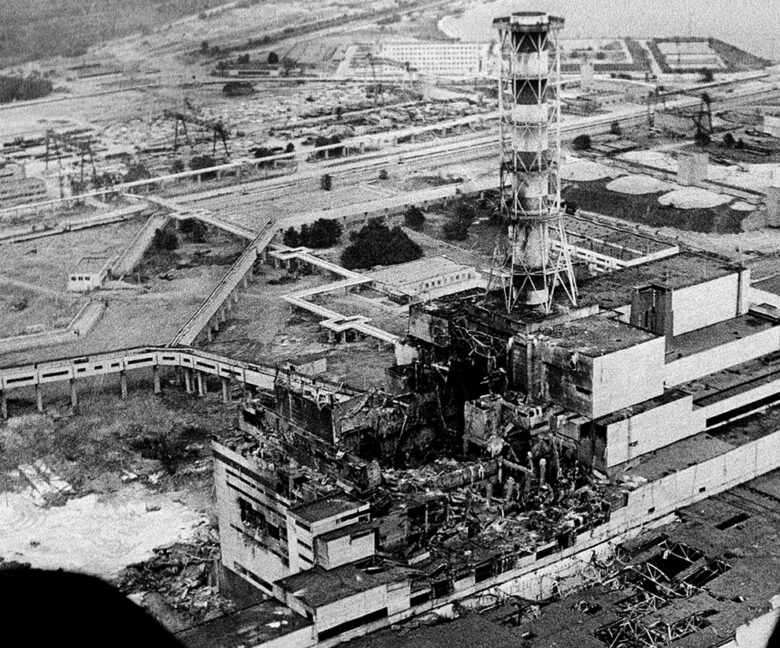 The Chernobyl nuclear power plant sits crippled two to three days after the explosion in Chernobyl, Ukraine in April, 1986.
On 26 April 1986, an explosion at the Chernobyl Nuclear Power Plant in Ukraine released a huge amount of radioactive particles in to the atmosphere. The incident was catastrophic and is considered the worst nuclear power plant accident in history. Half a million workers were involved in trying to contain the contamination. The official casualty count stands at 31 which is widely disputed. The long term effects on health are still being accounted for.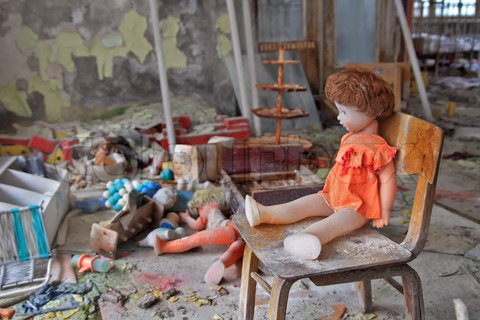 The doll in the kindergarten in the town of Pripyat, abandoned after disaster at the Chernobyl nuclear power plant in 1986
55. Zeebrugge Ferry Disaster (1987)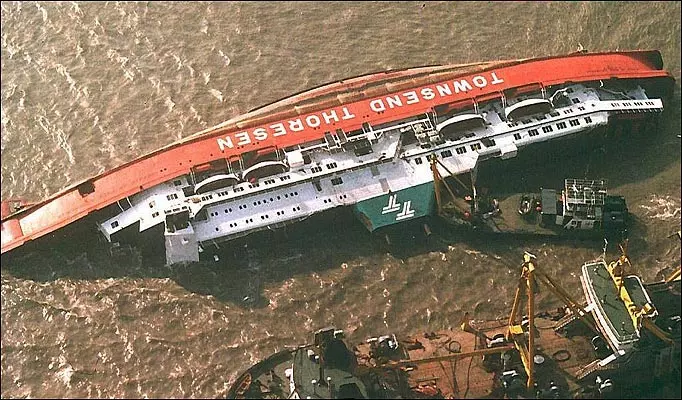 Britain's worst ferry disaster killed 200 people. Towsend Thoresen, Herald of Free Enterprise had left Zeebrugge in Belgium for Dover, England. A mile off shore, the car ferry capsized very quickly. It turned out the doors of the ferry had not been shut.
56. Lockerbie Pan-Am Jet Explosion (1988)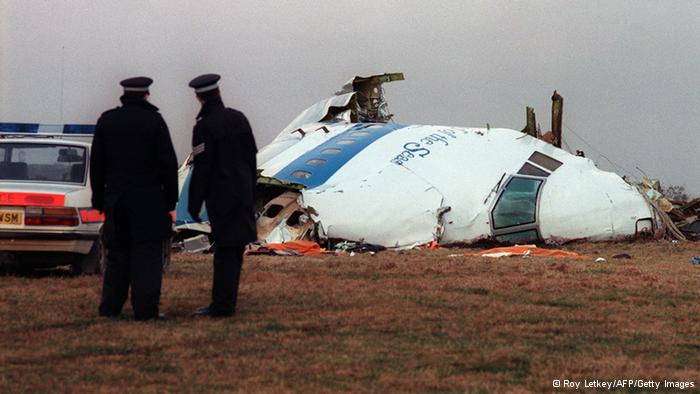 On December 21 1988, Pan Am flight 103 left from Heathrow airport to New York. Shortly in to its flight, the jet was destroyed by a bomb and it crashed in to the Scottish town of Lockerbie, killing all 259 its passengers and crew plus 11 people on the ground.
57. Hillsborough Disaster (1989)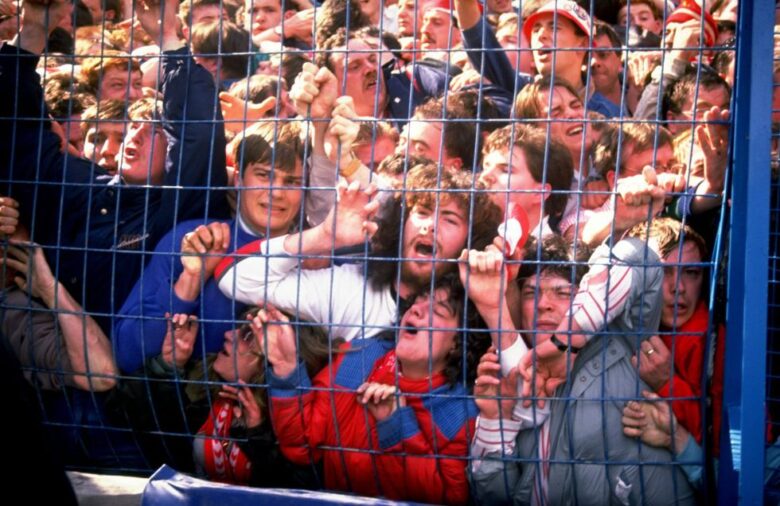 One of the iconic images of the disaster, as several girls are graphically seen crushed against the fence, unable to move a muscle, while dozens around them writhe in anguish
On 15 April 1989, a crush at the Hillsborough Stadium in Sheffield, England resulted in the deaths of 96 people and injuries to 766 others. It is still the worst stadium disaster in British history.
58. Exxon Valdez Oil Spill (1989).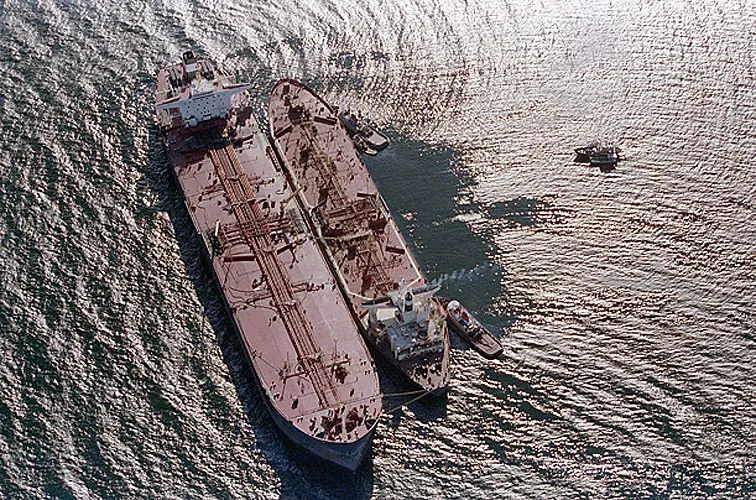 On March 24,1989, the oil tanker Exxon Valdez ran aground in Prince William Sound, Alaska spilling 750,000 barrels of crude oil.
59. Tiananmen Square Massacre (1989)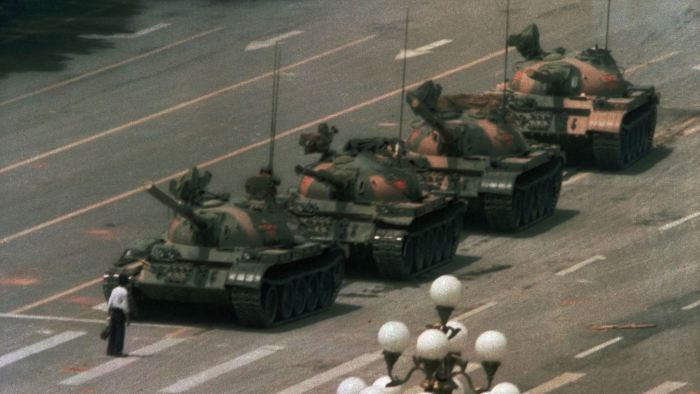 The famous photograph of the Tank man who stood alone in protest of hundred of tanks approaching towards him.
On June 4 1989, soldiers from the Chinese People's Army massacred hundreds of their own people.
60. Fall of Berlin Wall (1989)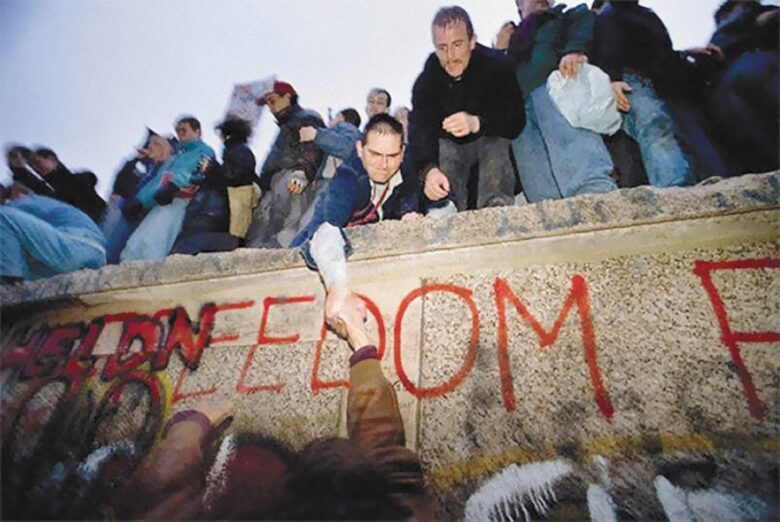 On November 9, The Berlin Wall was breached after nearly three decades of keeping East and West Berliners apart.
61. Romanian Dictator Overthrown (1989)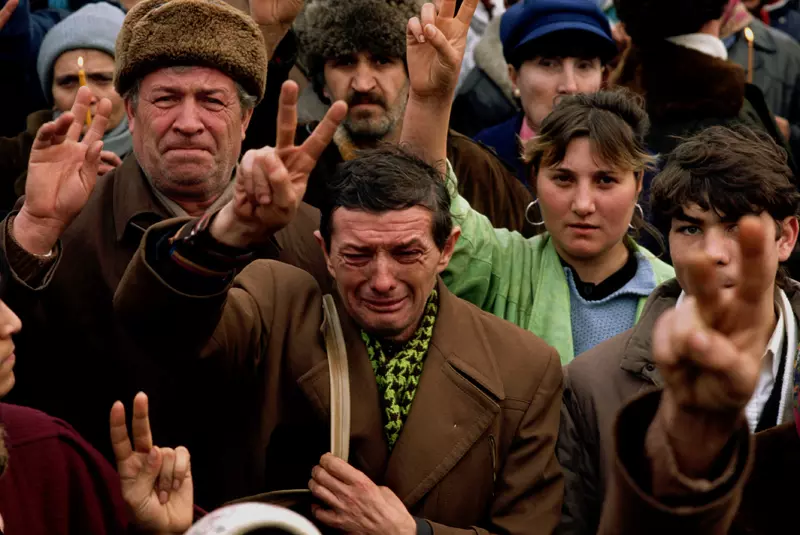 Romanians during the overthrow of the despotic Romanian dictator Nicolae Ceausescu. Bucharest, Romania, 1989
Nicolae Ceausescu is overthrown as the President of Romania. He and his wife are then executed by firing squad.
62. Nelson Mandela Released from Prison (1990)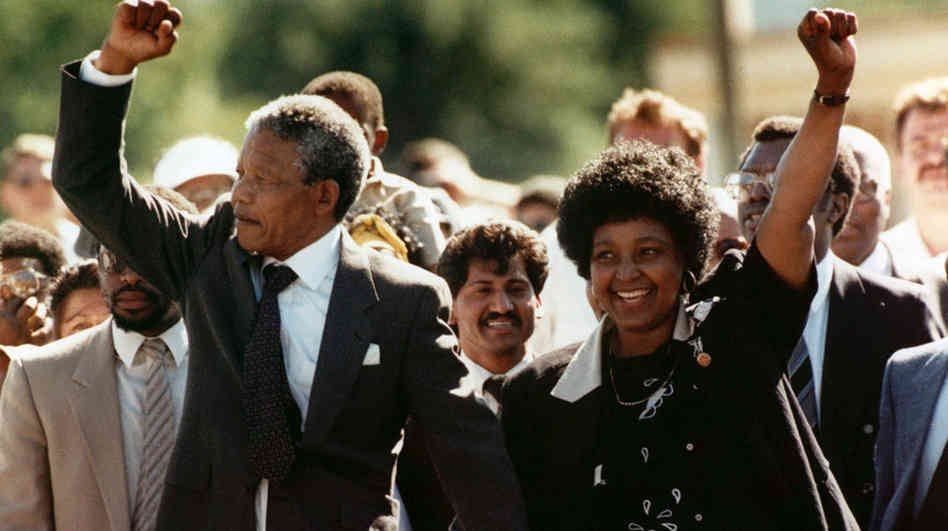 Nelson Mandela, with his wife, Winnie, walks to freedom after 27 years in prison on Feb. 11, 1990, in Cape Town.
On 11 February 1990, Nelson Mandela is released from Victor Verster prison after 27 years of confinement.
63. Operation Desert Storm – Start of Gulf War (1990)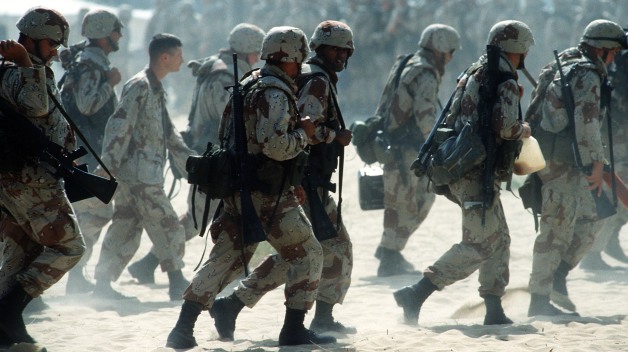 A U.N. authorized coalition force from thirty-four nations led by the United States, against Iraq in response to Iraq's invasion of the State of Kuwait.
64. Princess Diana Dies in Paris Car Crash (1997)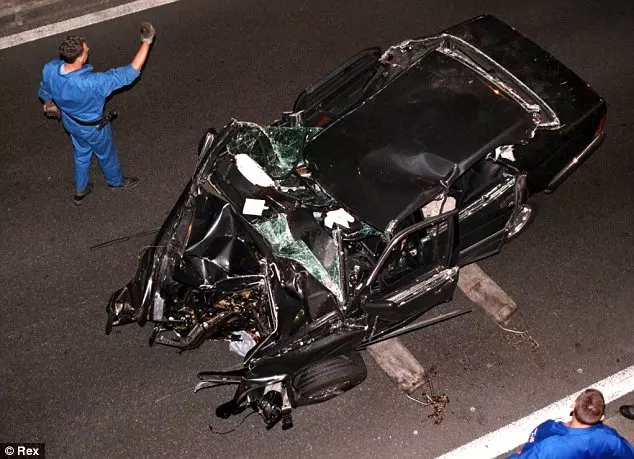 Diana, Princess of Wales died as a result of injuries sustained in a car accident along with lover Dodi al Fayed
On 31st August 1997, Princess Diana, aged 36, was killed in a car accident. The unexpected tragedy shocked the world.
65. Funeral of Diana, Princess of Wales (1997)
Princess Diana's funeral was watched by 2.5 billion people worldwide.
Princess Diana died on 31 August 1997, her funeral was at Westminster Abbey on 6 September 1997 and she was buried at her family home in the grounds of Althorp House in Northamptonshire.
66. 9/11 – A Day that Shook the World (2001)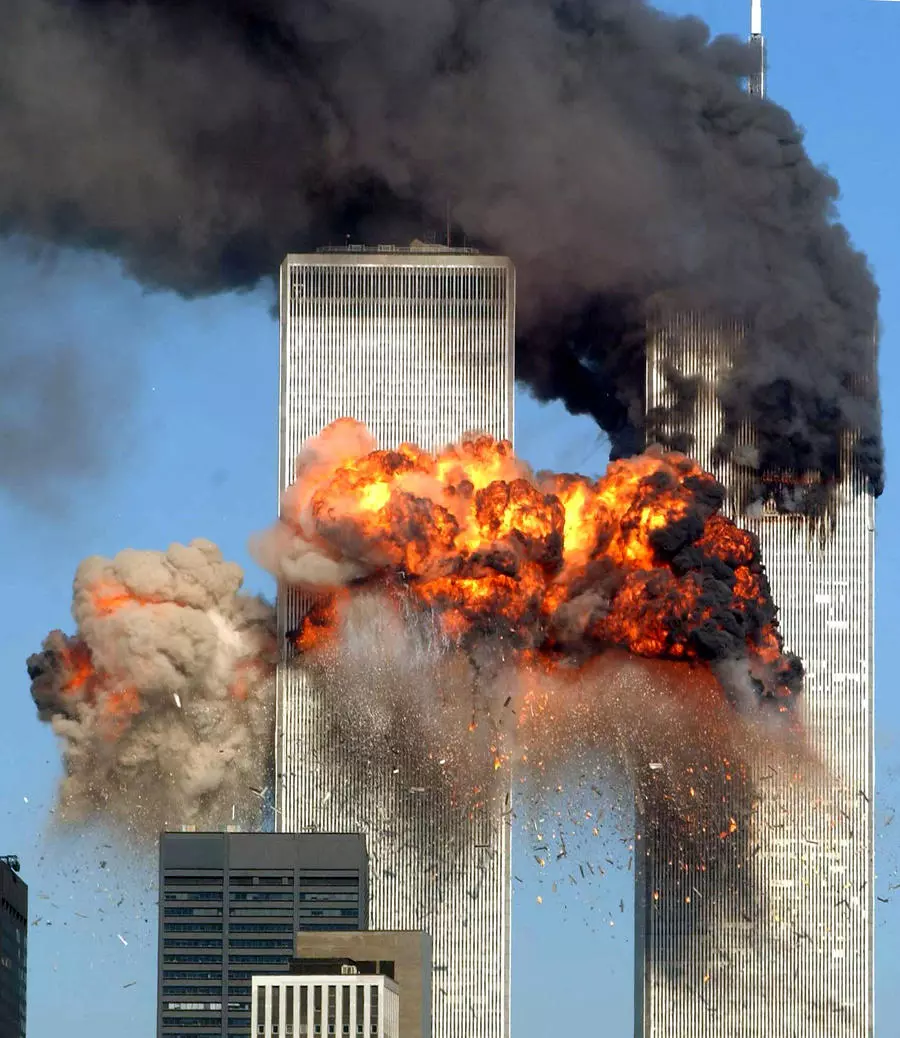 On September 11, 2001 at 8.46am, American Airlines flight 11 crashed into the North tower of the World Trade Centre. It was the start of four coordinated suicide attacks on the USA. Nearly 3000 people died on that day. It became a day that changed the world.
67. The Capture of Saddam Hussein (2003)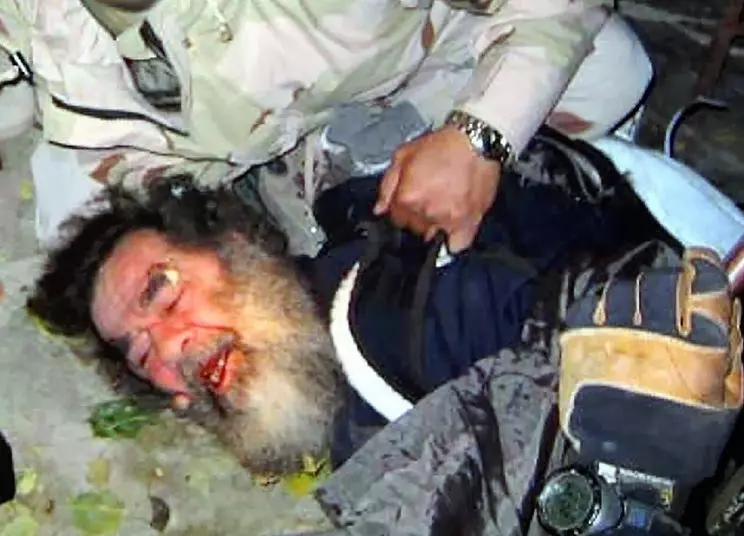 Saddam's last stand: The 'Ace of Spades' is finally captured by U.S. troops in December 2003 after hiding in a hole dug by Alaa Namiq
Operation Red Dawn was launched in order to locate and capture Saddam Hussein, who they believed was hiding in the town of ad-Dawr, Iraq, near Tikrit. The operation was conducted by 1st Brigade Combat Team, which included elements of Special Operations teams. Saddam was found with, a pistol and an AK-47 Assault Rifle along with 750,000 dollars in cash. He showed no resistance however.
68. Beslan School Massacre, Dramatic Scenes (2004)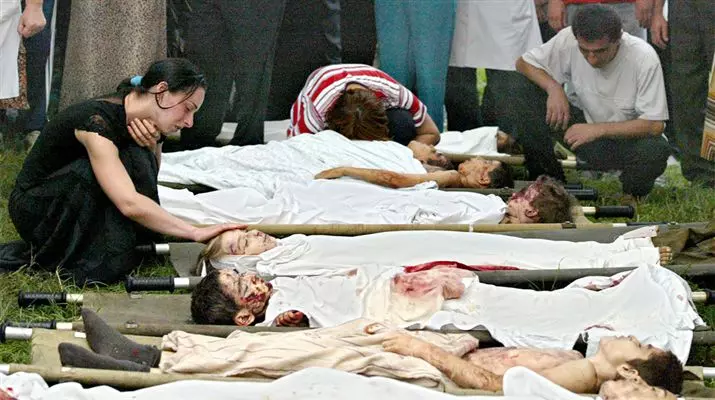 Bodies of children lie as relatives weep in grief over the loss of their children in the tragic Beslan school massacre of 2004.
On 1st September 2004, 32 armed and masked terrorists stormed School Number 1 in Beslan, North Ossetia-Alania (Russia). The terrifying ordeal lasted 3 days for 1200 adults and children. They were packed in to the school gymnasium where the terrorists had bombs and guns. 331 people died including 186 children. More than 700 were injured.
69. Facebook Founded (2004)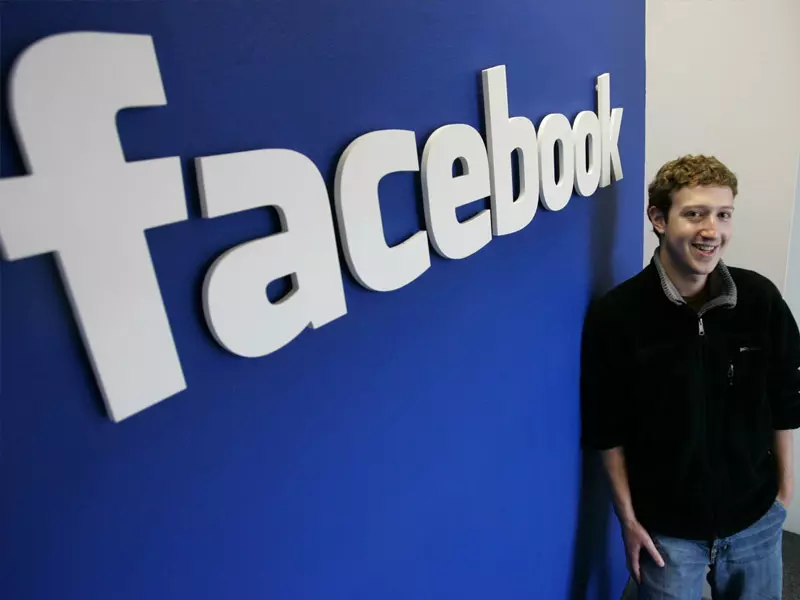 It was the beginning of the greatest social networking revolution that would hook on 1.3 billion active users all around the globe. Facebook was founded on February 4, 2004 by Mark Zuckerberg with his college roommates and fellow Harvard University students Eduardo Saverin, Andrew McCollum, Dustin Moskovitz and Chris Hughes.The founders had initially limited the website's membership to Harvard students, but later expanded it to colleges in the Boston area, the Ivy League, and Stanford University It gradually added support for students at various other universities before it opened to high-school students, and eventually to anyone aged 13 and over.
70. Indian Ocean Earthquake and Tsunami Disaster (2004)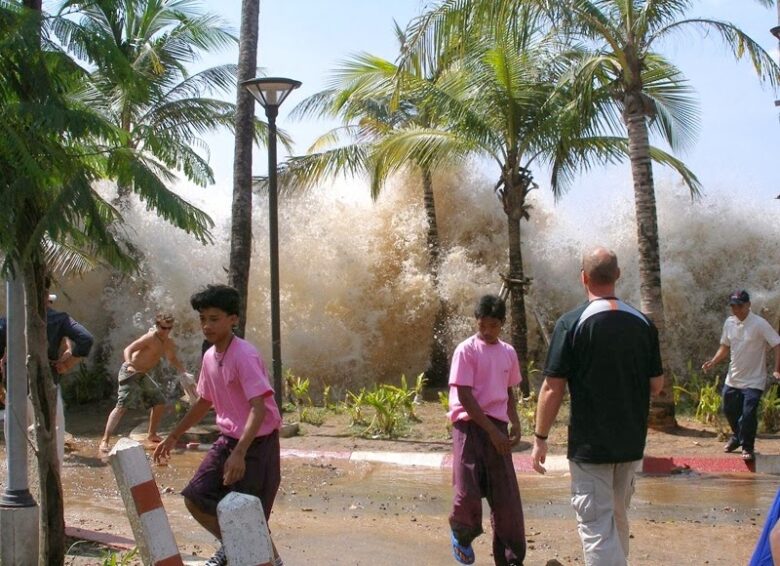 Killing more than 300,000 people, after an under sea quake off Sumatra, the Indonesian Tsunami of 2004, was one of the deadliest natural disasters in recorded history. Indonesia was the hardest-hit country, followed by Sri Lanka, India, and Thailand. It killed people over fourteen countries, and inundated coastal communities with waves up to 30 meters (100 ft) high. With a magnitude of Mw 9.1–9.3, it is the third largest earthquake ever recorded on a seismograph. The earthquake had the longest duration of faulting ever observed, between 8.3 and 10 minutes. It caused the entire planet to vibrate as much as 1 cm (0.4 inches) and triggered other earthquakes as far away as Alaska. Its epicentre was between Simeulue and mainland Indonesia.The plight of the affected people and countries prompted a worldwide humanitarian response. In all, the worldwide community donated more than $14 billion (2004 US$) in humanitarian aid.
71. Hurricane Katrina (2005)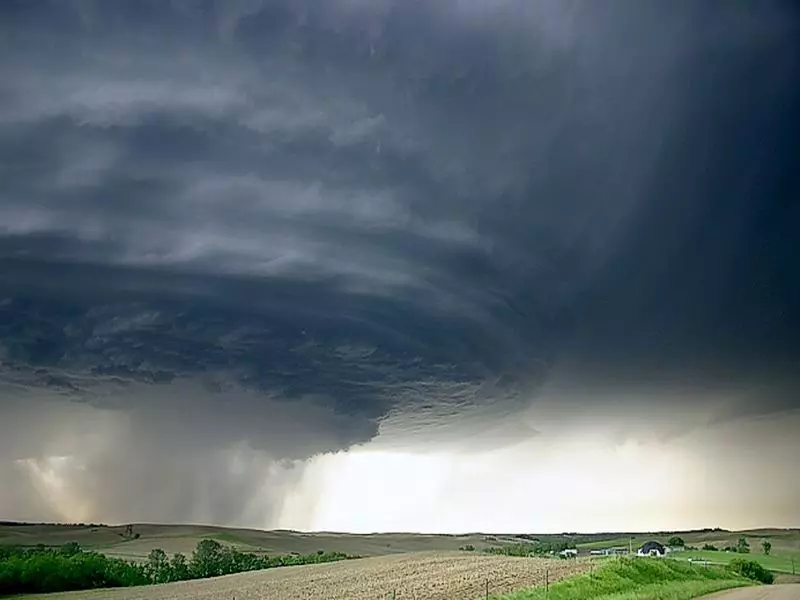 With the power of a nuclear explosion, Hurricane Katrina made landfall in Louisiana on the 29th August 2005. 125mph winds caused widespread devastation. When the hurricane hit New Orleans, many of the city's levees breached. Soon 80% of New Orleans was submerged in water. Thousands were stranded and many headed to the super dome for refuge. Food and water was in short supply and a national scandal ensued when relief failed to get through to the residents.
72. Apple unveils iPhone (2007)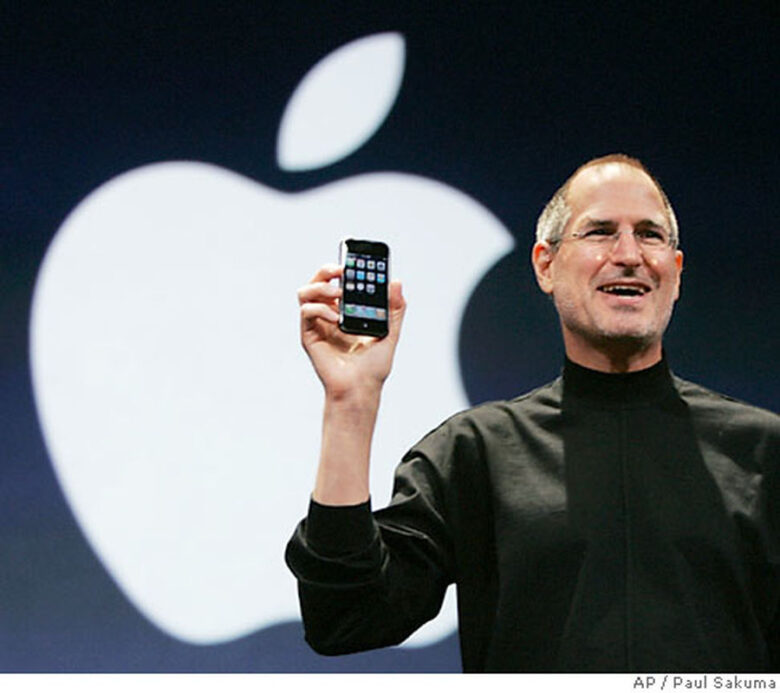 A phone that reinvented the 'phone' and created an almost instant worldwide brand bringing down the then leader Nokia and dominating the cellphone markets till today. It brought about the 'Touch Revolution' changed the world of software distribution, unified music and phones, addicted the world to motion and orientation sensors, shattered the myth that japanese consumers buy only japanese phones and all but killed the mobile gaming market.
73. Global Financial Crisis (2008)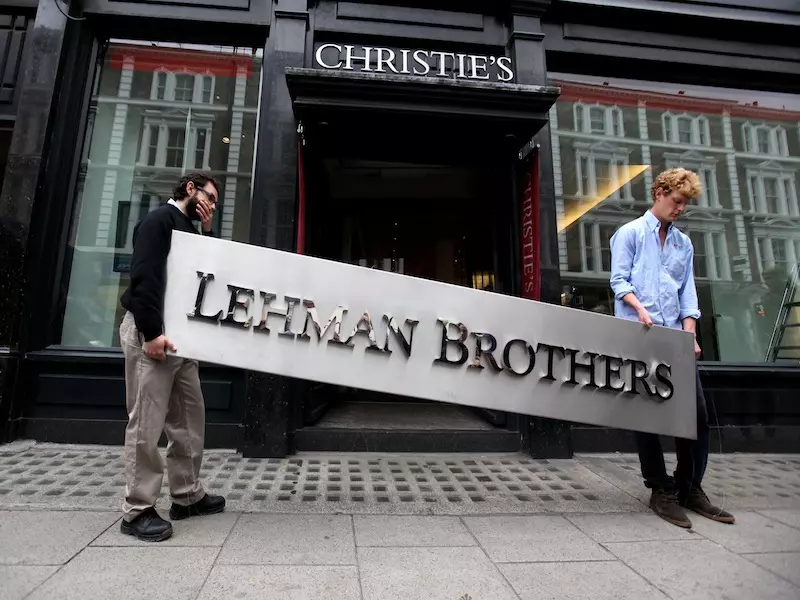 It is considered by many economists the worst financial crisis since the Great Depression of the 1930s. It resulted in the threat of total collapse of large financial institutions, the bailout of banks by national governments, and downturns in stock markets around the world. In many areas, the housing market also suffered, resulting in evictions, foreclosures and prolonged unemployment. The crisis played a significant role in the failure of key businesses, declines in consumer wealth estimated in trillions of U.S. dollars, and a downturn in economic activity leading to the 2008–2012 global recession and contributing to the European sovereign-debt crisis.
74. Barack Obama Elected as The First Black President of America (2008)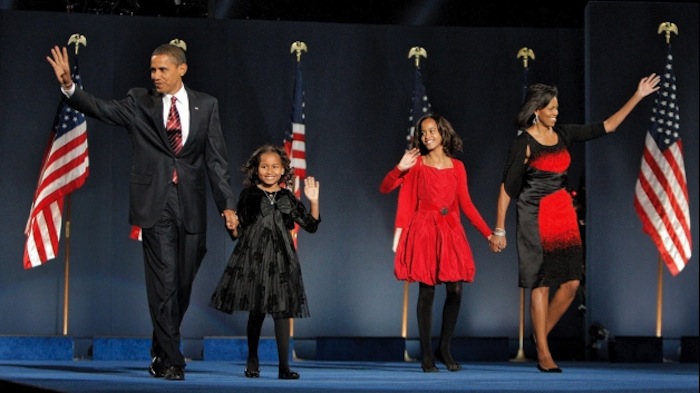 Barack Obama was elected as the president of the United States of America. Barack Obama is the first Afro -American who was elected as the president of the United States of America
75. Japanese Earthquake and Tsunami (2011)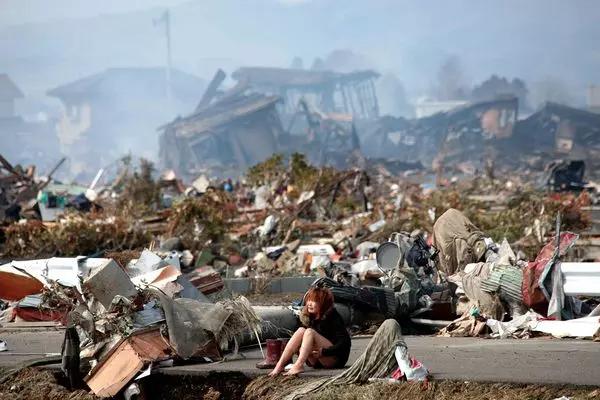 On 11th March 2011, a 9.0-magnitude quake and subsequent tsunami hit the east of Japan, killing over 15,000 and leaving another 9,000 missings. It was the most powerful earthquake ever recorded to have hit Japan, and the fifth most powerful earthquake in the world since modern record-keeping began in 1900. The earthquake triggered powerful tsunami waves that reached heights of up to 40.5 meters (133 ft) in Miyako in Tohoku's Iwate Prefecture, and which, in the Sendai area, traveled up to 10 km (6 mi) inland. The earthquake moved Honshu (the main island of Japan) 2.4 m (8 ft) east and shifted the Earth on its axis by estimates of between 10 cm (4 in) and 25 cm (10 in), and generated sound waves detected by the low orbiting GOCE satellite.
The tsunami caused nuclear accidents, primarily the level 7 meltdowns at three reactors in the Fukushima Daiichi Nuclear Power Plant complex, and the associated evacuation zones affecting hundreds of thousands of residents. Early estimates placed insured losses from the earthquake alone at US$14.5 to $34.6 billion. The Bank of Japan offered US$183 billion to the banking system on 14 March in an effort to normalize market conditions. The World Bank's estimated economic cost was US$235 billion, making it the costliest natural disaster in world history.
76. The Death of Osama Bin Laden (2011)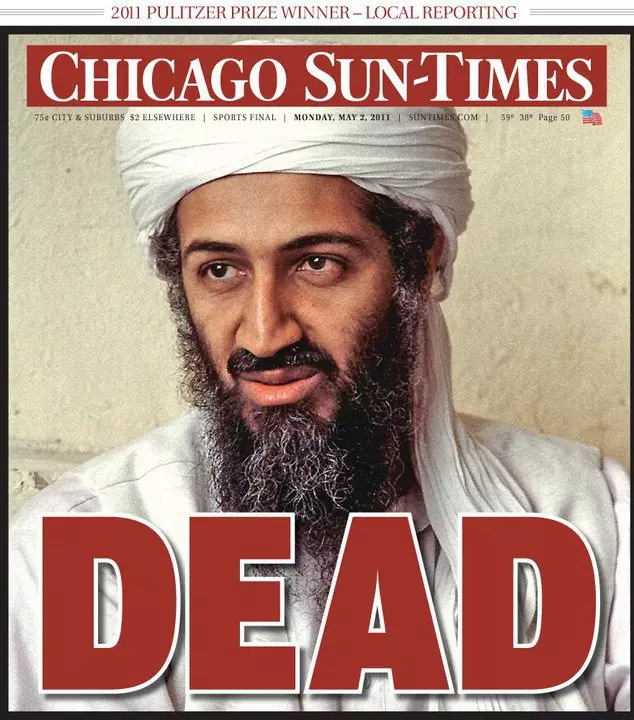 After a decade long search to catch the most wanted criminal on the planet, the pursuit came to an end on May 2 2011, when Osama Bin Laden, the man behind the deadly 9/11 attacks was killed in Abbottabad, Pakistan, shortly after 1:00 am local time by a United States special forces military unit. The operation, code-named Operation Neptune Spear, was ordered by United States President Barack Obama and carried out in a U.S. Central Intelligence Agency (CIA) operation by a team of United States Navy SEALs from the United States Naval Special Warfare Development Group (also known as DEVGRU or informally by its former name, SEAL Team Six) of the Joint Special Operations Command, with support from CIA operatives on the ground
.The raid on bin Laden's compound in Abbottabad, Pakistan was launched from Afghanistan. After the raid, U.S. forces took bin Laden's body to Afghanistan for identification, then buried it at sea within 24 hours after his death.The United States had direct evidence that the ISI chief, Lt. Gen. Ahmad Shuja Pasha, knew of Bin Laden's presence in Abbottabad, Pakistan.
77. Nelson Mandela Dies (2013)
On 5 December 2013, Nelson Mandela, the first President of South Africa elected in a fully representative democratic election, died at the age of 95 after suffering from a prolonged respiratory infection. He died at around 20:50 local time (UTC 2) at his home in Houghton, Johannesburg, South Africa, surrounded by his family. South Africa observed a national mourning period of 10 days. During this time numerous memorial services were conducted across the country. The official memorial service was held at FNB Stadium, Johannesburg, on 10 December. His body lay in state at the Union Buildings in Pretoria from 11 to 13 December 2013. A state funeral was held on 15 December 2013 in Qunu in the Eastern Cape province, where his body was buried.
78. Malaysian Airliner MH370 Vanishes Without a Trace (2014)
In what is regarded as the greatest aviation mystery of all time, Malaysia Airlines Flight 370 was a scheduled international passenger flight from Kuala Lumpur to Beijing that lost contact with air traffic control on 8 March 2014 at 01:20 MYT, less than an hour after takeoff. At 07:24, Malaysia Airlines reported the flight missing.The aircraft, a Boeing 777-200ER, was carrying 12 Malaysian crew members and 227 passengers from 14 nations. There has been no confirmation of any flight debris and no crash site has been found. A multinational search and rescue effort, later reported as the largest in history,began in the Gulf of Thailand and the South China Sea.The search has been laborious with just a few clues to carry on the mission. No debris or body has been found as of now.