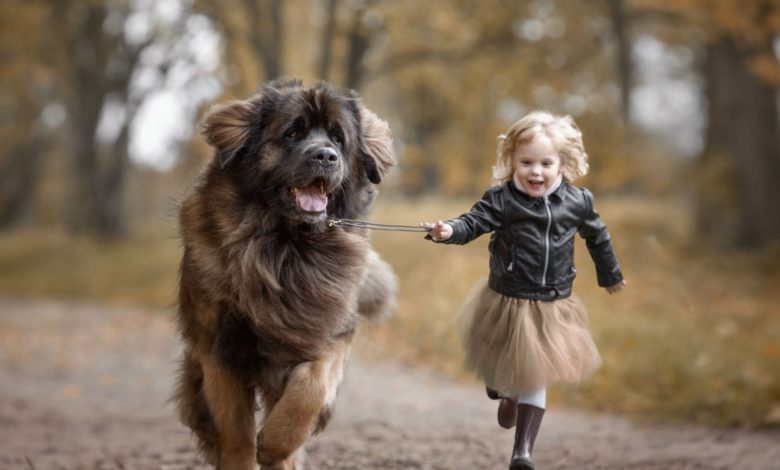 Kids
Relationship Between Dogs and Kids is Unexplainable But These 22 Adorable Photo Stories Explain Quite A Lot
When you don't have them, you strive for them but when you have them, you sometimes forget to cherish them. However, kids love them unconditionally just like they love you no matter what.
1. Best friends for life.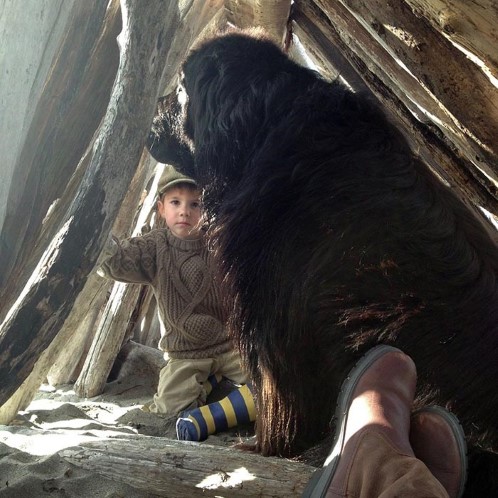 Stasha Becker
Max and Julian were born in the UK and they have been BFFs ever since. Julian's mother loves to click the adorable couple at every opportunity that she gets. In this photograph, Max peeps through the shelter on a sunny day.
2. Owen found inspiration in Haatchi.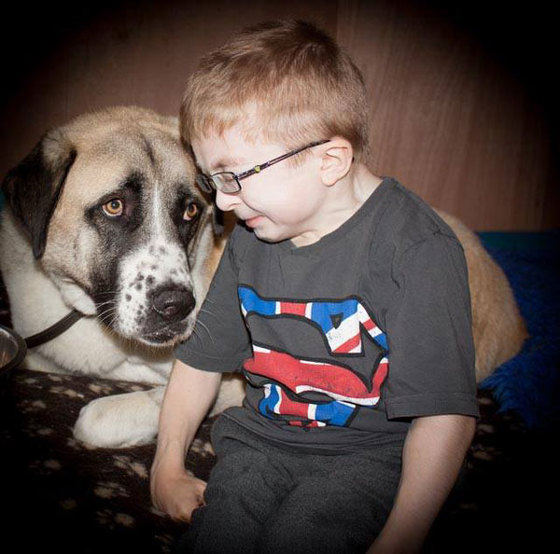 Colleen Drummond
This adorable dog Haatchi had to suffer a lot in life. He was left tied deliberately to a railway line in England and had noone to help. Finally, he was rescued by the RSPCA but by then, he had lost one leg as a train hit him. Owen's parents adopted the stranded dog. Owen suffers from a rare genetic disorder called Schwartz-Jampel syndrome and he found inspiration in his three-legged best friend, Haatchi.
3. And some kids are meant to love animals unconditionally.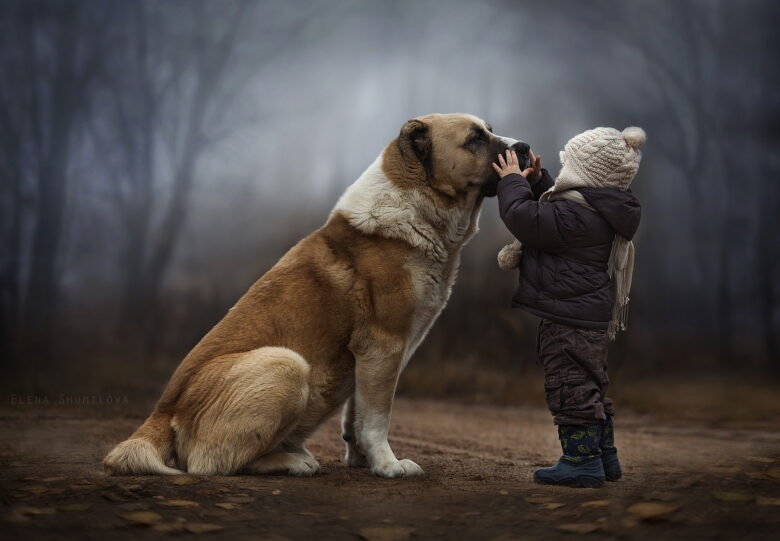 Elena Shumilova
Elena began photographing her kids Yaroslav, 5, and Vanya, 2, in 2012 with her first professional camera. She captured the captivating love that her sons displayed for dogs and animals, in general.
4. Live, laugh, love and WAIT together.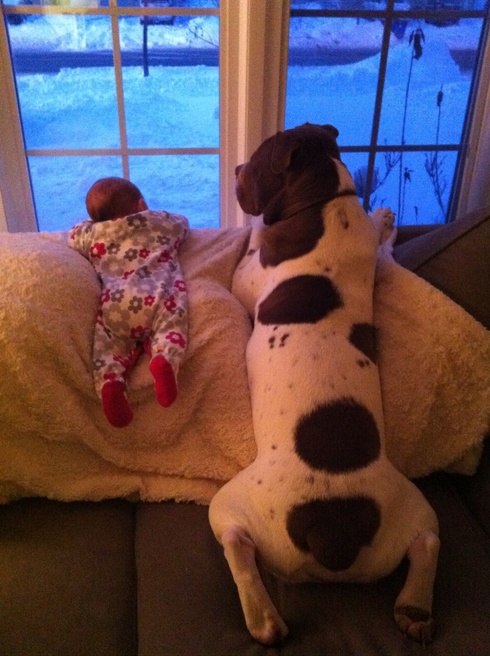 Heather Oliver
"Waiting for daddy."
5. The love story between the two little ones.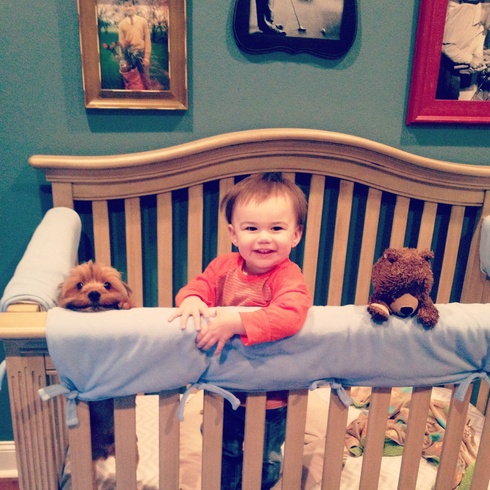 Andee Smith
Bogey and Hogan. "They both love each other to pieces and have since day one."
6. Infant Joey finds comfort in Penny.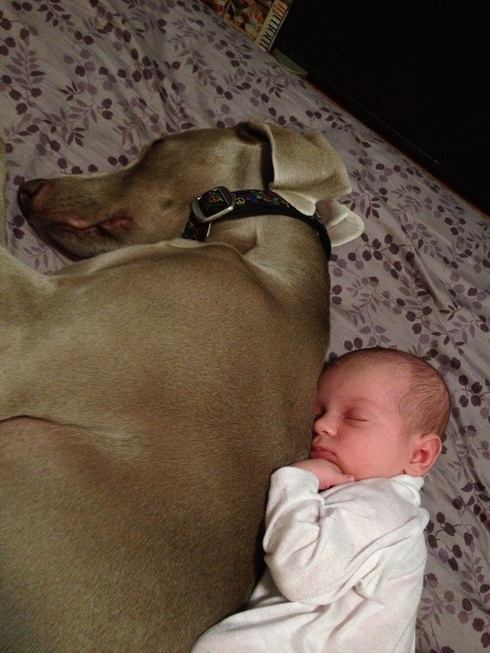 Anne Petraro
"Penny and infant Joey resting. Since Joey came home from the hospital, Penny has been very maternal and his protector."
7. The tale of the endless brotherhood.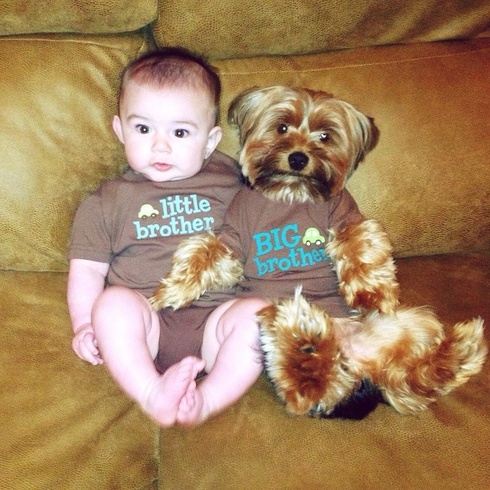 Andee Smith
"Little brother & big brother, Hogan and Bogey, love each other so much. They are best friends and will be fore a lifetime!"
8. What are best friends for? To experience each and every special moment together.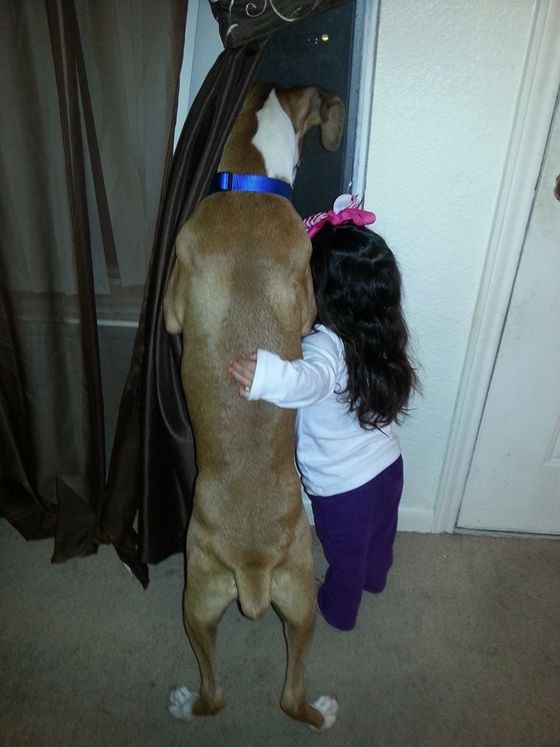 Cassie
Rachel and Thor look forward to what Santa has in store for them this year.
9. Pamper each other forever.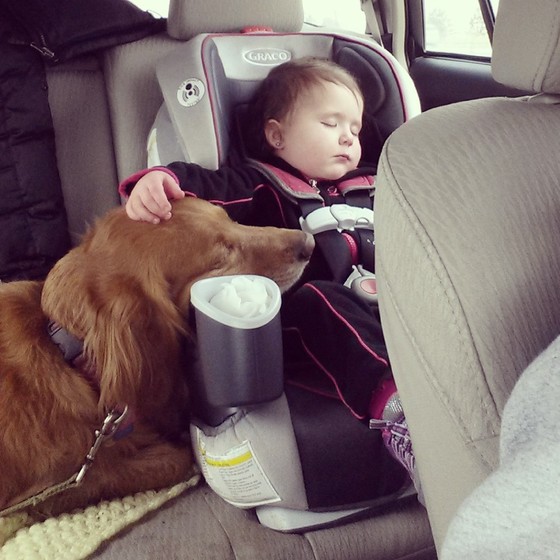 Cori
"My two girls knocked out on the way back from the dog park."
10. Partners in crime.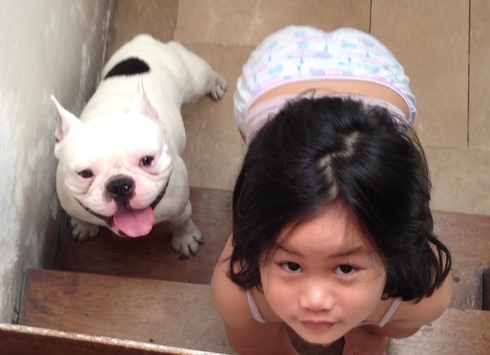 Genjie Kirsten Tolentino
Duke and Jake look at what's happening upstairs.
11. "You'll always come first for me."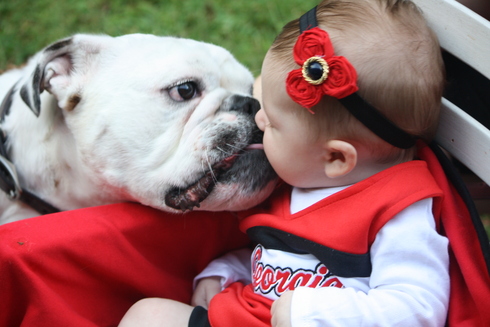 Gina Kurtz
"We were told by many that we should get rid of Munson, our English bulldog, before our daughter was born because of the breeds recent bad press for attacking children… She's now 3 1/2 months old and he's 2 years old in a week and has protected her from day 1. He even offered her his favorite toy (that he NEVER shares) when we first brought her home and she'd get upset and cry. He's constantly checking on her if we have company & they're playing with her or holding her. He thinks she's his so we were surprised when he snuck this kiss and we were glad that we were already taking pictures to capture such a sweet moment. I'd say it's safe to say that he loves her."
12. They know exactly when to be gentle, no matter how hyper they are otherwise.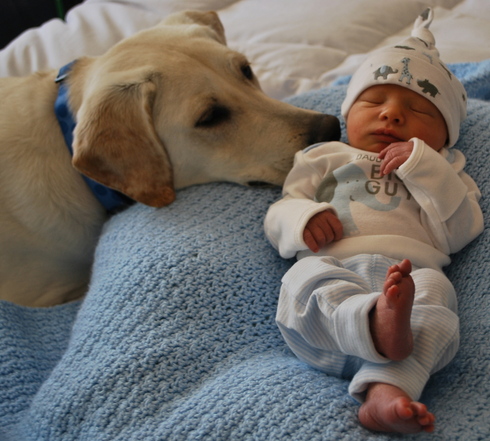 Jennifer Ray
"Bodie, our otherwise crazy, hyper 11 month old Yellow Lab, was unbelievably gentle when we brought Dylan home from the hospital. Their bond was immediate."
13. Cuddle partners for life.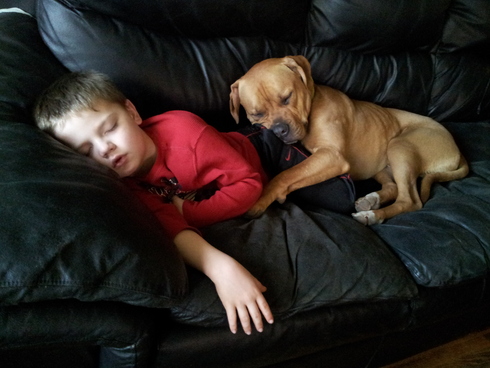 Karen Sullivan
Adorable nap pose.
14. Never-ending games and never-ending hang out sessions.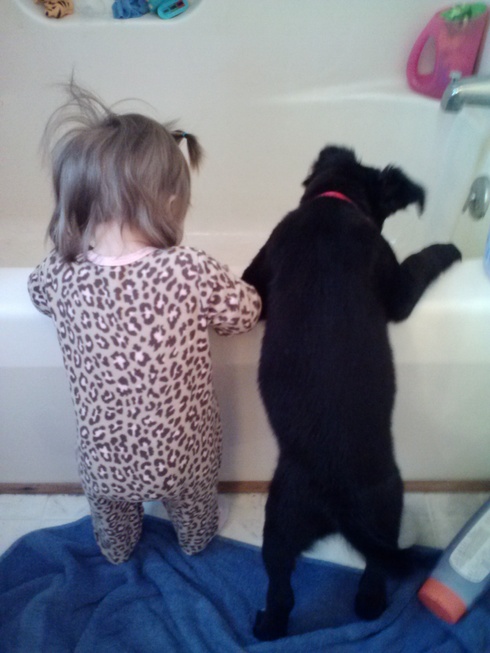 Lauren
Smokey and Cayleigh investigating why water was running in the tub.
15. And the investigations never end.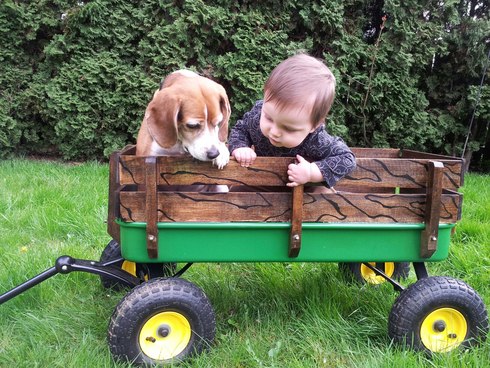 Callie
What can be SO interesting in the grass?
16. It's love, if it's unconditional.
Nora
"Lulu is a mixed breed, her mother died in a car crash, we adopted her when she was a baby… now my daughter and Lulu are very good friends."
17. Maternal instincts.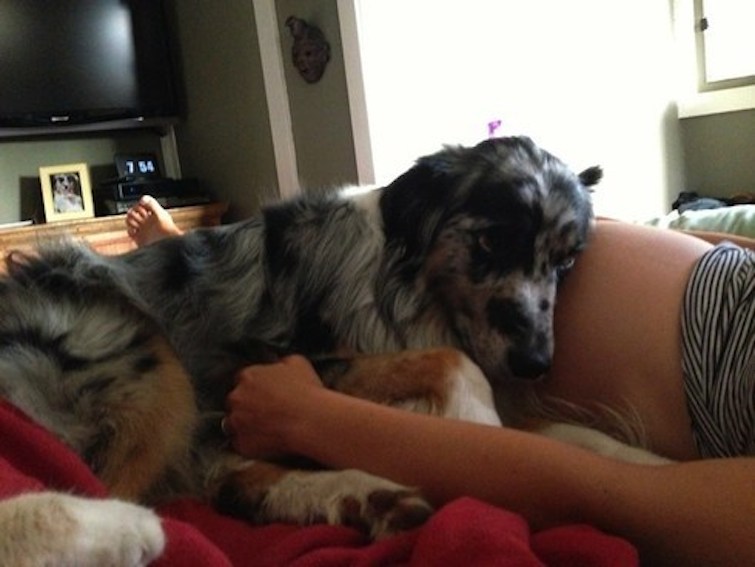 Nic Restrepo
4-year-old Bohlin waits eagerly for the soon-to-arrive baby in the house. Bohlin listens carefully to all the sounds that the baby makes from inside mummy's belly."My wife is 8 months pregnant now….This has been his favorite hangout for last 3 months," says Nic, who clicked this photo at the right moment.
18. Big brother gets emotional.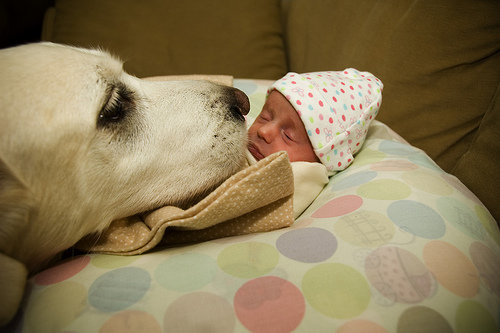 reddit
"This is my dog, Yogi, also known as my first born. He was 10 in this photo (he's 14 now). That little itty bitty is my daughter at just under 2 weeks old. Preemie twin, hence her itty bittiness."
19. Jim's best friend and babysitter.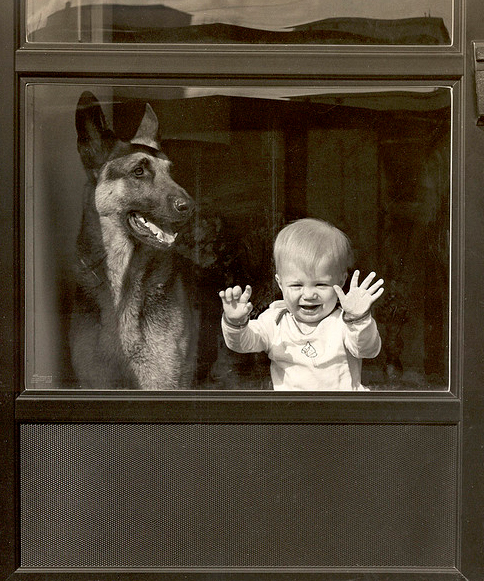 Jim Yex
"Before Jimmy was born, the grandparents (and others) warned us "you'll have to get rid of the dog". We didn't, and Baron quickly became Jim's best friend and babysitter."
20. Fitness and friendship come first and together.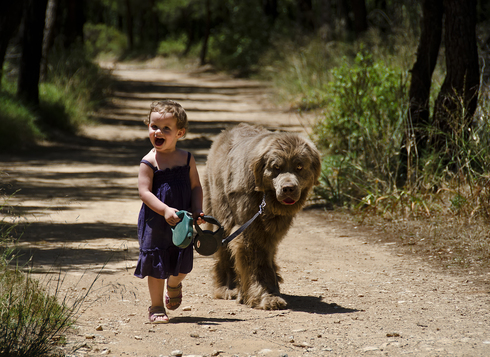 Natassa Kost
Hellas and Fedra taking a friendly walk.
21. "I'll always be around whenever you need me."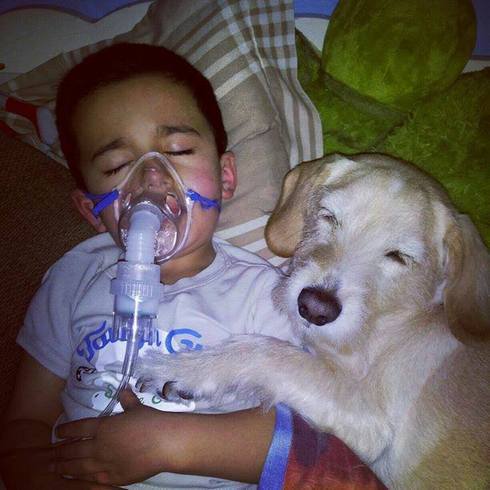 Kelly Charron
Prada was a rescue dog but she soon became a huge part of Kelly Charron's family."Prada is a rescue. I rescued her 1 year ago at the age of 4, since then she never leaves my side. This picture was taken when my son Mason was sick…I left the room once he fell back asleep…when I returned to my son's room, this is what I found…Prada next to Mason hugging him asleep also."
22. Endless love and affection.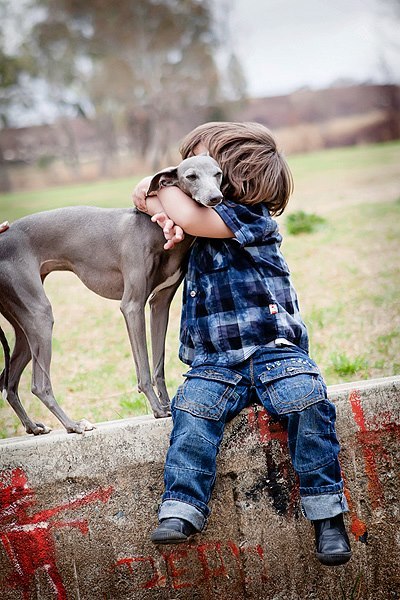 Sonia
Leandro hugs Lola affectionately in the park.