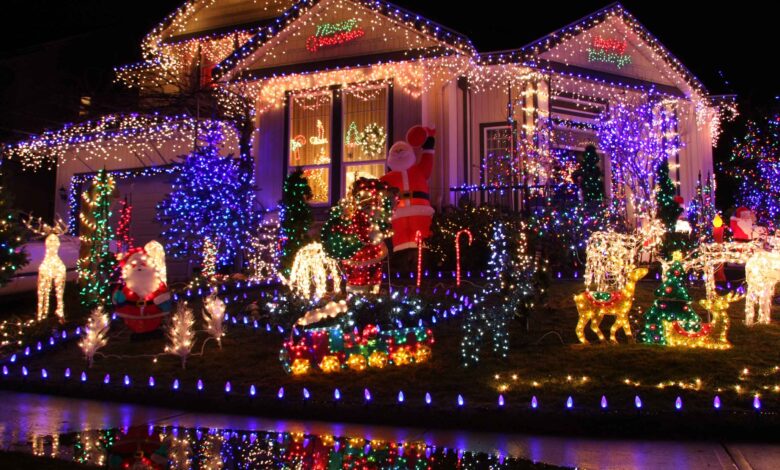 Home & Garden
Year-Round Cheer: Pros and Cons of Leaving Christmas Lights and Decorations Up
Christmas, while celebrated on the 25th of December every year, is hardly a one-day festival. In fact, it is a complete season of festivity, with its merriness, warmth, love, and decorations. Every year, families worldwide deck up their houses with Christmas trees, ornaments, stockings, decor, and lights in preparation for the festival.
However, taking down the decoration and lights and storing them safely after the festivities can be tiring. Taking out the tangled mess of lights and sitting for hours to detangle them can be more burdensome. This is probably the reason why it is suggested to invest in permanent led Christmas lights.
While leaving up the Christmas decor and lights may be looked down upon by a few since, per tradition, some consider leaving Christmas decorations up as bad luck. However, in the modern, fast-paced world, only some have the time to spend decking up their house.
People would instead enjoy their rare chance at a holiday to spend time with their family or rest rather than struggle with the traditional lights. Therefore, nowadays, people prefer leaving their lights and few decorations up, giving their home a lively and warm vibe all year.
However, there are advantages and disadvantages to leaving your Christmas lights and decorations up all year long.
Pros Of Leaving Christmas Lights And Decorations Up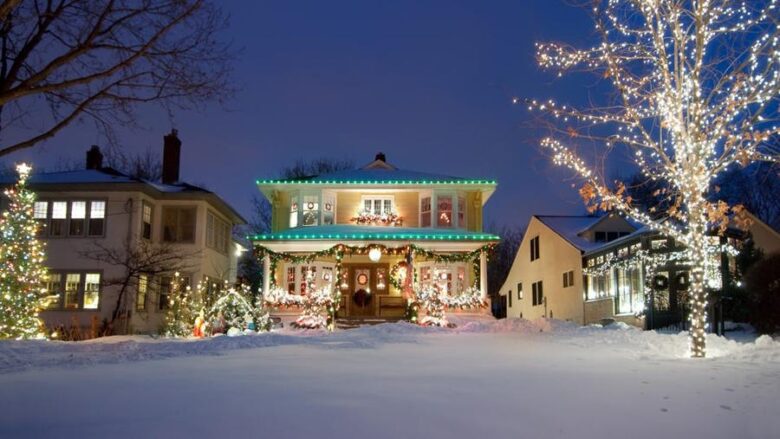 If you have a loaded work schedule and look forward to the Christmas holidays for relaxing and enjoying, you probably would not want to spend the first couple of days of your holiday decorating your house, especially if you live alone or as a small family.
However, you will also want to experience Christmas decorations and lights' warmth and festive vibe. If so, consider leaving them up all year long. In fact, you can use the fairy lights as an aesthetic addition to your interiors and exteriors. For this purpose, it is best to use permanent LED lights.
You can also invest in having them built-in into the house's exterior. However, remember that these are not meant for over-the-top decorations like reindeer. Instead, they are used to line your home and rooftop, so they are not visible when turned off.
In addition, choose your Christmas decorations, so they are not too loud when the season has passed. They should be able to mingle well with your interiors.
Following are the pros of leaving your Christmas lights up all year long:
1. LED Lights Are Color-Changing
If you invest in permanent LED lights, you can change their color according to the occasion. For example, you can go for a red and white combination during Christmas and turn them warm white for any other day – such as a house party or any other celebration.
2. Cost-Effective In The Long Run
Leaving up your decorations and lights prevents them from getting damaged while in the boxes. You also avoid any loss that may occur when you put them up or take them down every year. Moreover, the permanent lights last longer and will eventually be cheaper than replacing the traditional Christmas lights every year.
3. Time-Saving
As discussed above, you save precious time when avoiding tampering with your decorations and lights. In addition, by having permanent lights, you do not have to waste the initial days of your time off struggling with lights.
Moreover, you will not have a load to take down the lights after coming back from your office once the season is over,
4. Safe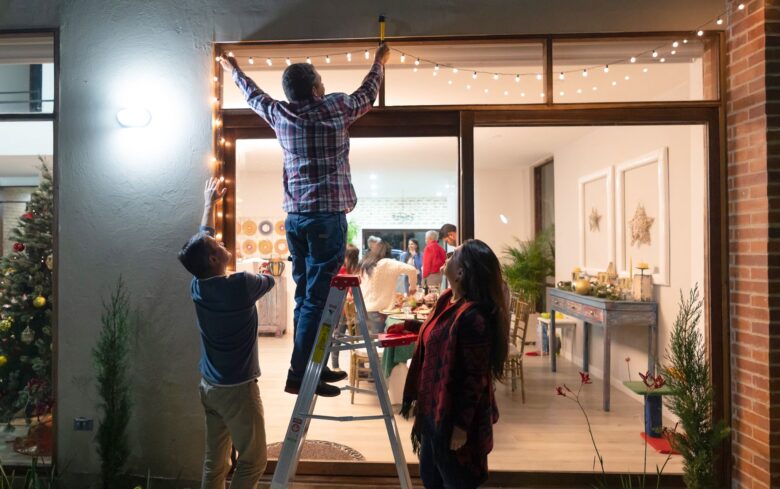 If you choose permanent LED lights and leave your decor up, you also avoid the risk of falling from your ladder while hanging or taking down the decorations or getting ill from working outside in the cold months.
You can also mitigate the risk of electrical shock from any loose wire or wrong connection with the extension cords.
5. Multipurpose
If you have your Christmas lights and decor up all year round, you will save a lot of time and money while setting up your house for any other party. You can also use them as fairy lights for any day that you feel relaxing under the warm glow of the lights.
Cons Of Leaving Christmas Lights And Decorations Up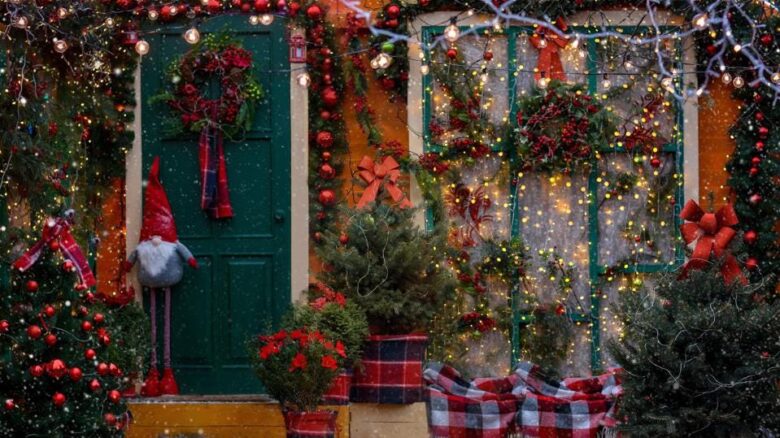 There are a few disadvantages of leaving Christmas lights and decor up, some of which include the following:
1. Heavy Cost
Leaving your Christmas lights up can increase your electricity bill all year round. Even if you keep them off at most times, having the option of using them at parties and other occasions will ride up your bill.
Moreover, if you invest in permanent LED lights, you will have a high one-time cost. Furthermore, they are difficult to change, and in case they do not suit your liking or get damaged, the price and time taken will again be high.
2. Risk
If you leave your lights and decor up, you must ensure they are weatherproof and stable. Moreover, the decor may interfere with your daily routine. If it is not secure enough, it may fall due to wear and tear, causing injuries.
If the lights are not weather-suitable, you may also risk an electric shock or overload. In addition, rodents may chew on the wires, creating a fire hazard. Therefore, they need to be checked regularly.
3. Brightness
LED Christmas lights are the only option when you want your Christmas decor to be up all year round. These, however, can be very bright compared to traditional incandescent bulbs. So while you can change their color, their brightness may not be able to create the same Christmas vibe.
4. Acceptance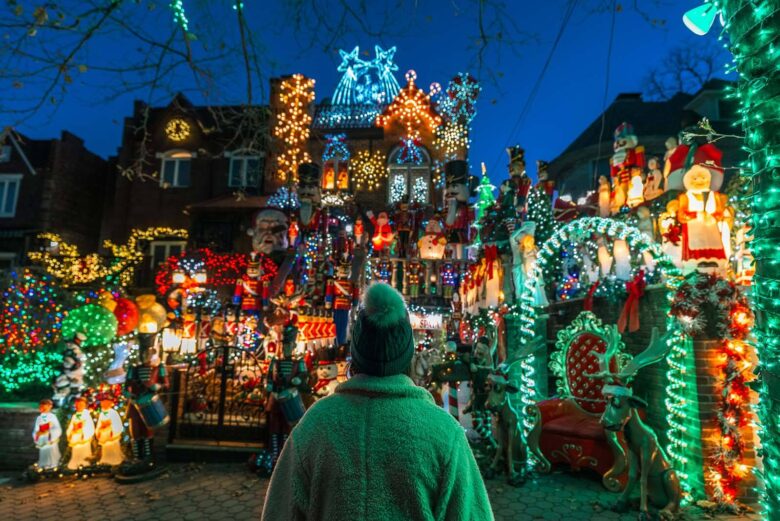 While you may be comfortable leaving your Christmas lights and decor up, your neighbors may not be on board with the idea. Living in the bright sparkle of your LED lights all year round can irritate them.
It also changes the aura of the surroundings, making your house stand out in the neighborhood, which all may not well accept.
Conclusion
Christmas decorations and lights are a source of joy and happiness for all while the community is in the festive spirit. However, putting them up and taking them down can be either an activity one enjoys doing with their family or something that one detests.
Whether you want to leave up your decor and light all year round is a personal preference since both have advantages and disadvantages.