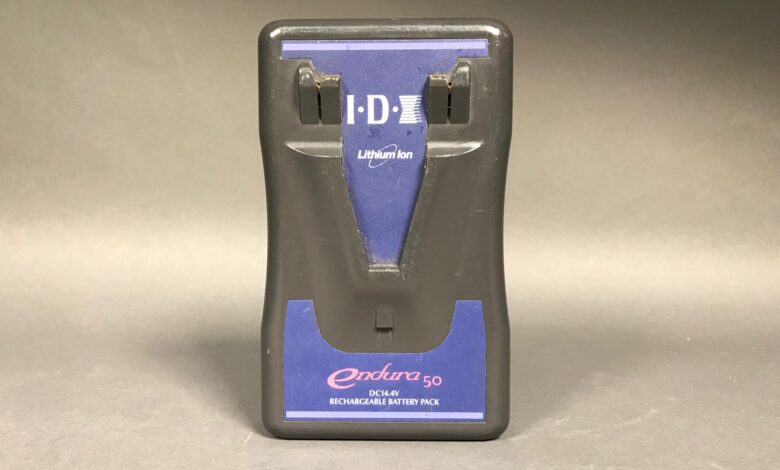 When you research what is v mount battery, you will see that these units are used to power devices including monitors, microphones, and high-end cameras, amongst other things, and they have extremely high capacity. They are a practical option for all those who need extra power on the go and who need to do their business away from the outlet. However, these devices can cost even ten digits, and most of them come around the five thousand dollar mark. Not many of us can afford devices like this, so does that mean that you need to give up on your pursuit of the best career or shut down your hobby? The short answer is no, and here we are going to help you choose the right device for you without breaking the bank. Keep on reading to find out what is the best budget v mount battery for 2023.
1. IDX IMicro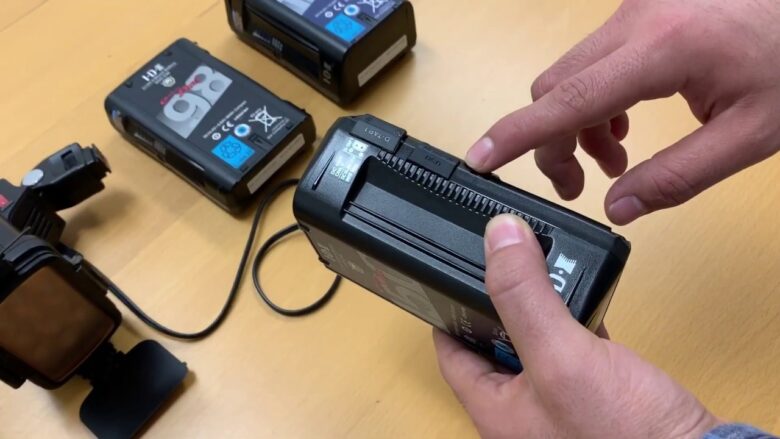 The first unit we are going to talk about may not be on the cheapest side, but it is definitely worth looking into if you are looking for a stable battery that is going to help you get the best out of your money. The number one thing you need to know is that it is a device that meets the regulation requirements for aircraft and it is easy to carry and store.
It has a capacity of 145Wh and can handle loads up to 14A which is a lot considering the price and the type of device we are talking about. It comes with circuit protection which means there is no risk of any of the most common issues that might happen with these devices.
It is compatible with most devices as well as chargers, so you don't have to worry about having to buy additional equipment and cables to be able to charge your units. It is recyclable, as well as environmentally safe, and it comes with a price tag of around 350 dollars, depending on the store and seller you choose.
2. Neewer V Mount
This is one of the most popular devices for those who need long-lasting support that is going to fit their budget. It is compatible with most cameras and LED lights that come with a v-mount, and you should not have any issues when it comes to connecting and disconnecting it.
The device offers a D-tap along with USB outputs so you can easily connect a variety of devices and charge it without any problems. One of the best features is the protection that is going to make sure that there is no overcharging or overcurrent, so you don't have to be worried about the usage or your safety.
The is said to be one of the preferred high-capacity v-lock batteries for those who don't want to spend too much and this unit comes with a price tag of just south of 200 dollars.
3. Moman Power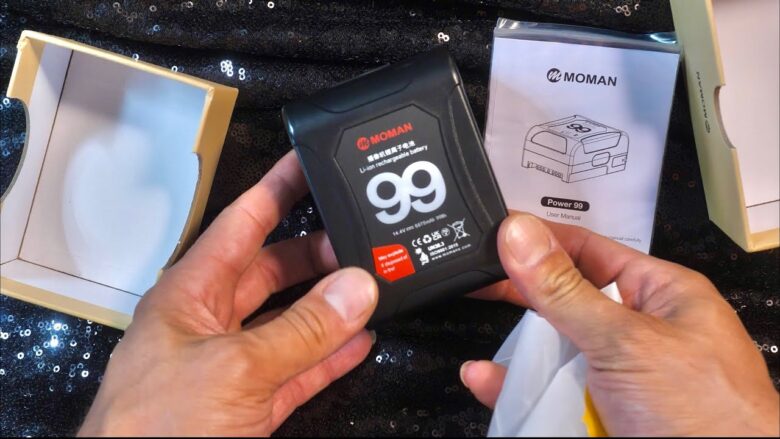 The Moman v power battery is the best option for those who want to combine quality, price, and portability. It is one of the best options when it comes to v mount battery airplane models and it can be taken to an aircraft without having any problems with security.
The unit is extremely compact and portable, and it can fit in your palm, but you should know that just because this device is small it does not mean that it is not powerful enough to charge your equipment. It is large enough to give power to 200 Watts devices, and the current can go up to 15 A. It is also one of the lightest devices on this list, weighing just above 500 grams or about 1.1 pounds.
The Moman v-mount battery will cost you about 150 dollars which is an amazing deal for a device with this capacity and features.
4. ANDYCINE Mini
As the name suggests, this unit is pretty compact, easy to carry around and store pretty much in any bag of your choosing. It features a high capacity of 6400mAh and it can be used to power most of the equipment with standard plates.
The whole device is pretty intelligent and you can read the battery level via the monitor, and it also features protection against overcharging or overheating. The only negative side of this unit is that it usually does not come with a charger, so if you are on the lookout for a v lock battery and charger, then you should continue looking.
The price is great nevertheless, so even if you need to invest a bit extra for the additional components it will not break your bank. It will cost you about 139 dollars which is great news for those shopping with a tighter budget.
5. SHAPE Full Play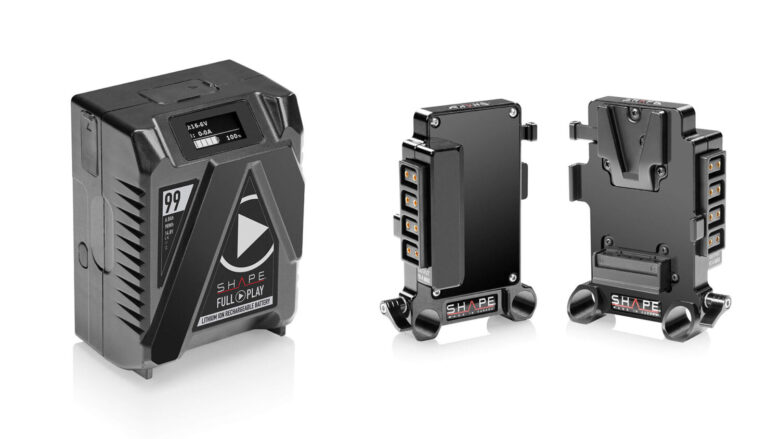 Finally, we have the SHAPE unit which is one of the most expensive ones on this list, but it is still a great deal compared to units that come with a price of four and even five digits. This model will cost you about 230 dollars and it features a compact design along with 98Wh.
You can easily use it for your camera, phone, and your LEDs among other devices that it supports and it is made in the shape of a box, so you can easily store it anywhere you want.
The four-segment LED meter will allow you to check the remaining capacity, so you know what to expect from your device. Overall, it is a great deal for a great device in its category, and it is definitely worth checking out.
As you can see, there are a lot of options when it comes to the best budget v mount battery and you don't have to spend even more than 200 or 300 dollars to get a powerful piece of equipment. Keep in mind that all of these units come with their positive sides as well as their drawbacks, and not all of them are going to offer the same capacity and features. You can choose to get a compact v mount battery or you can opt for something larger that you can still transport in your backpack. No matter what you choose to go with, make sure you set your budget beforehand, make a list of preferences, and understand that sometimes you have to compromise on one thing or another to get the best piece for your finances.