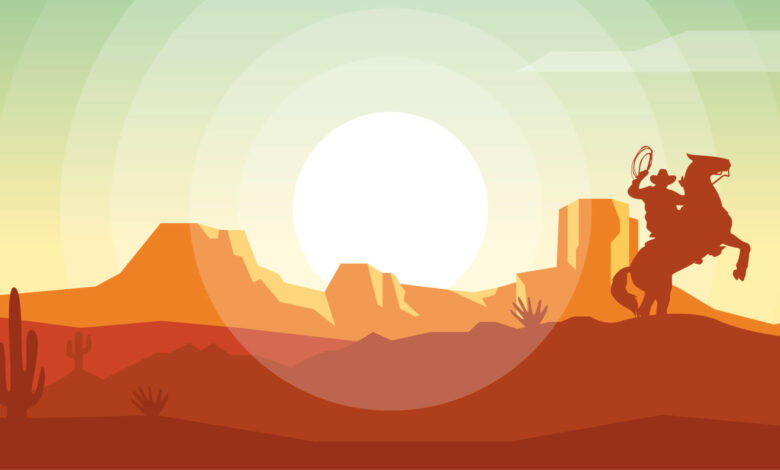 Gamble
5 Great Wild West Themed Online Slots in 2023
Hollywood doesn't make many westerns these days, and we think that's a shame. From the 1950s to the 1980s westerns were among the most popular of all the various movie genres, and many of us were raised on the adventures of Clint Eastwood in the American Old West. We were enthralled by the stories of battles between cowboys and Indians, and once we were done watching a western, we went outside and played cowboys and Indians with our friends instead, re-enacting the scenes we'd just seen.
By the 1990s, the popularity of the genre had waned, and even when westerns were made, they tended to be of poor quality. The Will Smith film "Wild Wild West," which unsuccessfully tried to blend the western genre with science fiction, probably has a lot to answer for in that respect. Even Will Smith himself knows how bad it was, and still finds himself apologizing for making it twenty years later.
While movie studios aren't making westerns anymore, the genre lives on at online slots websites such as Dove Casino. Thanks to advances in technology, online slots games exist in almost every genre imaginable in 2023, and the western theme is one of the most popular. In fact, there are so many western-themed online slots that it's difficult to know where to start with them. We've played plenty of them, and we'd like to think we know a good online slots game when we see one, so here are five of our favorites!
1. Mustang Gold – Pragmatic Play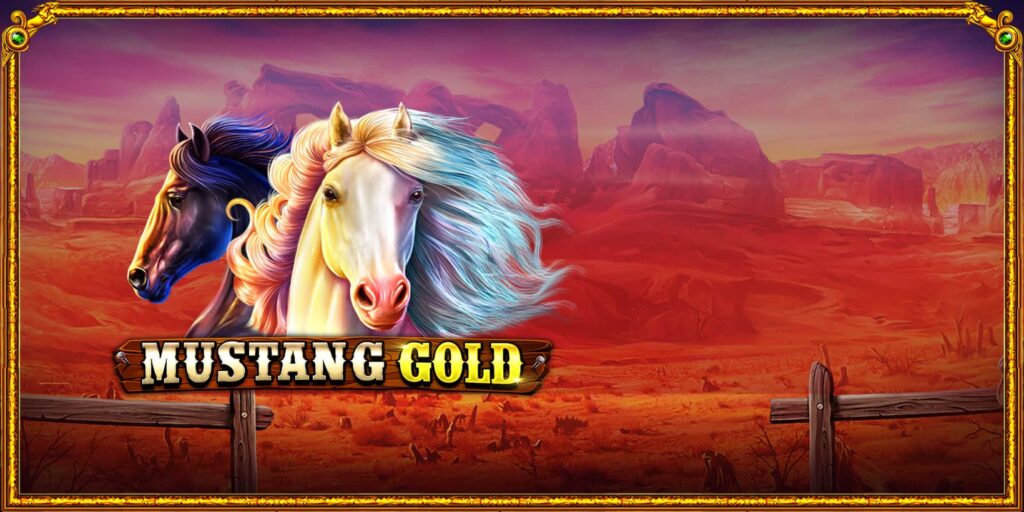 The highly successful and respected online slots developer Pragmatic Play released this slot in 2019 as a sequel to their award-winning "Wolf Gold," and we're pleased to say their standards didn't drop between the two games. This is a good-looking, easy-to-play slot with some nice features and rewards. The RTP is a healthy 96.53% with 25 paying lines, and there are free spins to play with along with a 'money collect' feature that banks cash every time you land a combination of horseshoe symbols and the 'collect' symbol on any individual spin. With both a cowboy and cowgirl character (along with their horses) and some appropriate background scenery, it's as atmospheric as it is enjoyable. The maximum jackpot is 12,000 your bet.
2. The Good, The Bad, and the Ugly – Gluck Games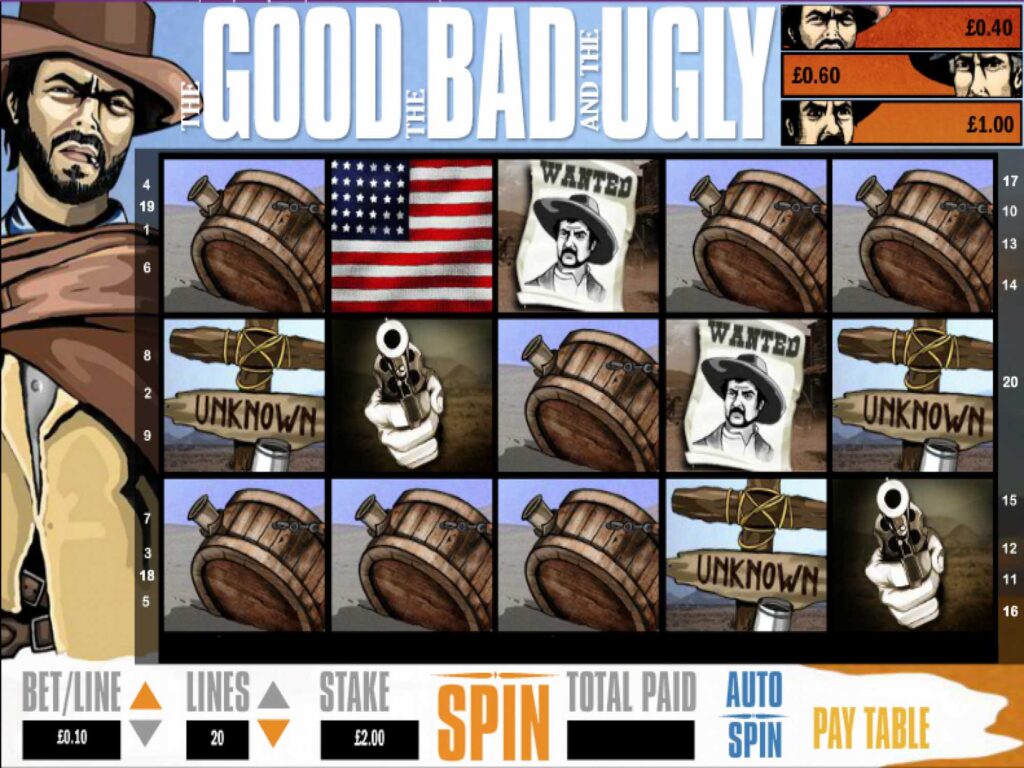 "The Good, The Bad, and the Ugly" is a fantastic film from the 1960s that encapsulates the western genre at its best. Making a game of any kind based on it must have been a risky endeavor, but Gluck Games have done the title justice with this September 2023 release. It's a five reeled treat of a slot with 95% RTP and ten fixed paylines. That means there's a focus on classic and traditional gameplay, blended with some great visuals and the chance to win up to five thousand times your stake as a maximum reward. As an added bonus, the slot comes with three bonus features; a free spins feature with sticky wilds, a free spins feature with theoretically infinite spins and multipliers (so long as you continue to progress to the next level), and a randomly-occurring instant cash prize of up to 100x your stake. There's nothing ugly about that!
3. Wild West Gold – Pragmatic Play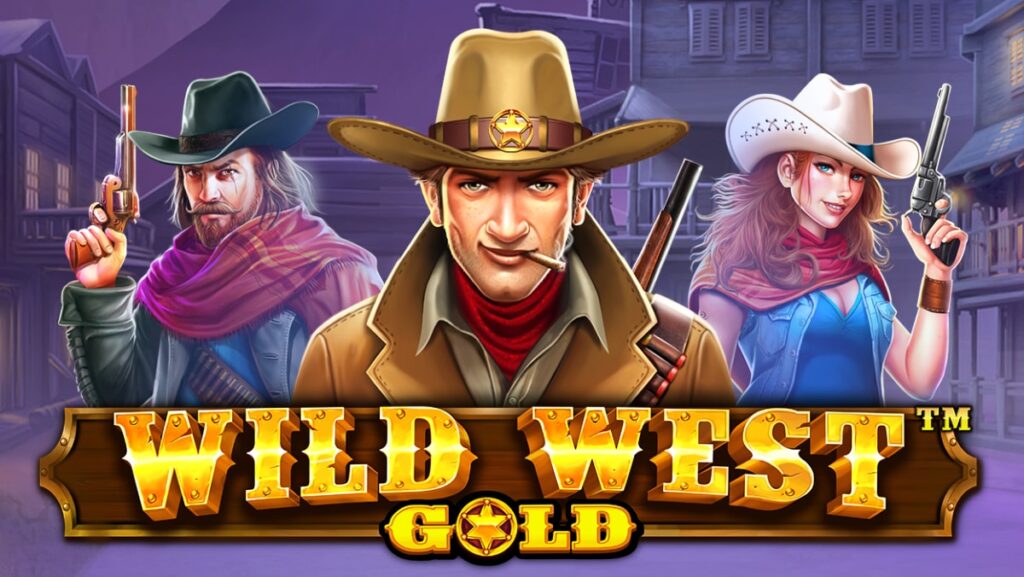 The California Gold Rush gets mixed up in the western genre quite a lot when it comes to western-themed online slots, but we don't mind that when the slots are this good. This is another Pragmatic Play creation (they do very well with the western theme) and was released in March 2023. There are forty ways to win, and RTP is 96.51%, but do beware of the volatility. It's on the high side, so if you prefer a more even-handed slot, this might not be the one for you. On the plus side, there are multiplier wilds that can significantly boost the value of your wins even in the base game, and during free spins, those wilds become sticky and remain in place for the duration of the feature. Also during those spins, it becomes possible to win the game's maximum payout, which is ten thousand times your line bet. As is the case with almost all Pragmatic Play slots, it's a well-drawn, well-animated slot to boot.
4. Dead or Alive – NetEnt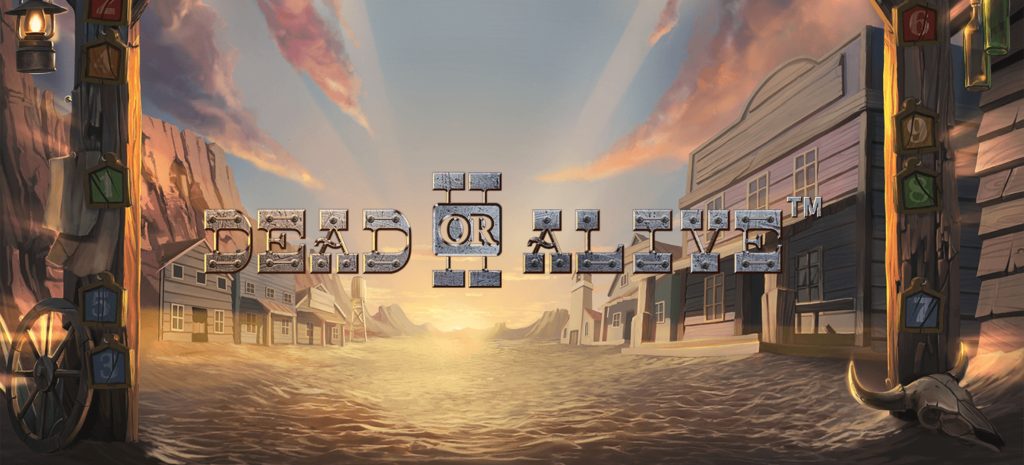 "Dead or Alive" is the motto you'll see printed on many of the "wanted" posters in western films, and it's also the title of this enormously popular online slots game by Swedish developer NetEnt. As it was released at the back end of 2013, it's getting a little long in the tooth now, but that doesn't take anything away from the joy of playing it. A combination of free spins and sticky wilds means there are great rewards to be had when your luck is in, and with an RTP of 96.82%, you've got a fair chance of finding those rewards, too. You might have to stick at it a while to pull a win off though – the volatility is high, so dry spells can go on longer than you'd ideally like them to. This is a 5×3 slot with nine paying lines, so gameplay is fairly traditional. The maximum jackpot here is three thousand times your line bet.
5. Bounty Raid – Red Tiger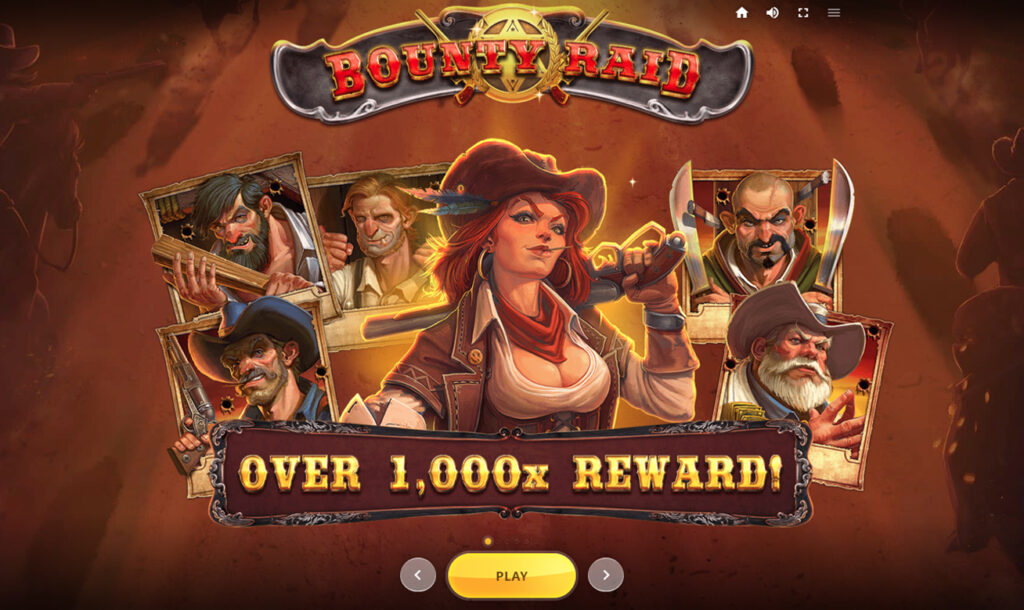 "Bounty Raid" is still a new kid on the block in online slots terms, having been released in June 2023. It's quickly found a large audience, though, and we wouldn't be surprised to see it stick around for a while because it's a brilliant slot. Don't be put off by the comparatively low RTP of 94.72% – the RTP is variable and can be boosted by your actions while playing. Every time a scatter symbol lands, every bandit symbol on the 5×3 reel set locks into place, and respins are awarded. During those respins you can land gold coins, which means instant cash prizes of up to 50x your stake. The sheriff symbol instantly awards you the combined value of every bandit symbol in view whenever it lands. The jackpot might not be especially high at one thousand times your line bet, but smaller prizes turn up with pleasuring regularity, so that shouldn't worry you too much. It's a fine addition to the genre.