Gamble
Branded Slot Machines: Successful and Popular in 2023
When you step into any major casino in Las Vegas, you'll notice that there is a large space dedicated to slot machines. These come in many shapes and sizes, from classic pieces with familiar symbols on their three reels that would've stood their ground in Charles Fey's time (he was the inventor of the slot machine) to flashy, modern takes on the game with more reels, more lights, more attractive graphics, and more jackpots to win.
Slot machines have evolved a lot since 1895 when the Fey, a San Francisco mechanic, built the first one capable of automatic payouts and could even tell a fake coin from a new one. The themes of slot machines have evolved a lot, too – from simple machines with horseshoes and stars on their reels, they have grown into games with themes, side games, and appealing visuals. And many of them are bearing the likeness of popular products of popular culture.
Today, there is a slot machine for every taste. If you like cars, exotic animals, high-fantasy creatures or supermodels, there is a slot machine for you.
Some of the most popular examples of slots are, in turn, those inspired by popular movies and TV shows – and sometimes, celebrities. Joe Exotic, the star of the Netflix true-crime series "Tiger King", for example, may soon see his face on the reels of a slot machine: his name, turned into a brand, is registered at the US Patent Office for use on everything from toys to gambling games. If you are unfamiliar with the antics of this exotic character, you can read more about him at the All Jackpots Casino blog.
Branded slot machines are extremely popular – and they have been used for longer than you might expect.
Coins or candy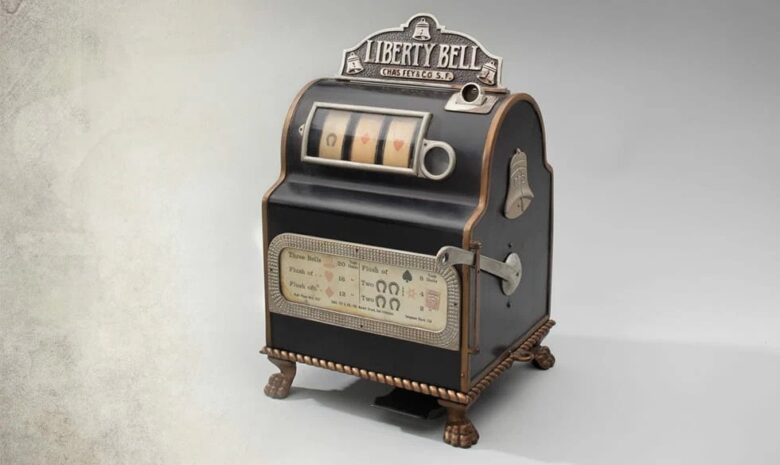 Charles Fey was the inventor – and perhaps the first manufacturer – of slot machines but by far not the only one. Seeing his success, several other entrepreneurs copied his design, building their own machines and selling them across the US. The first copycat to produce a replica of Fey's "Liberty Bell" was Herbert Mills, who opened his workshop in 1907. Later, he added a new twist to the game: a gum-vending attachment that gave out fruit-flavoured gum if the combination of symbols on the reels was the right one. Actually, some of the most-used fruit symbols on the reels of the slot machines have become popular – and traditional – around this time.
Brands and Vegas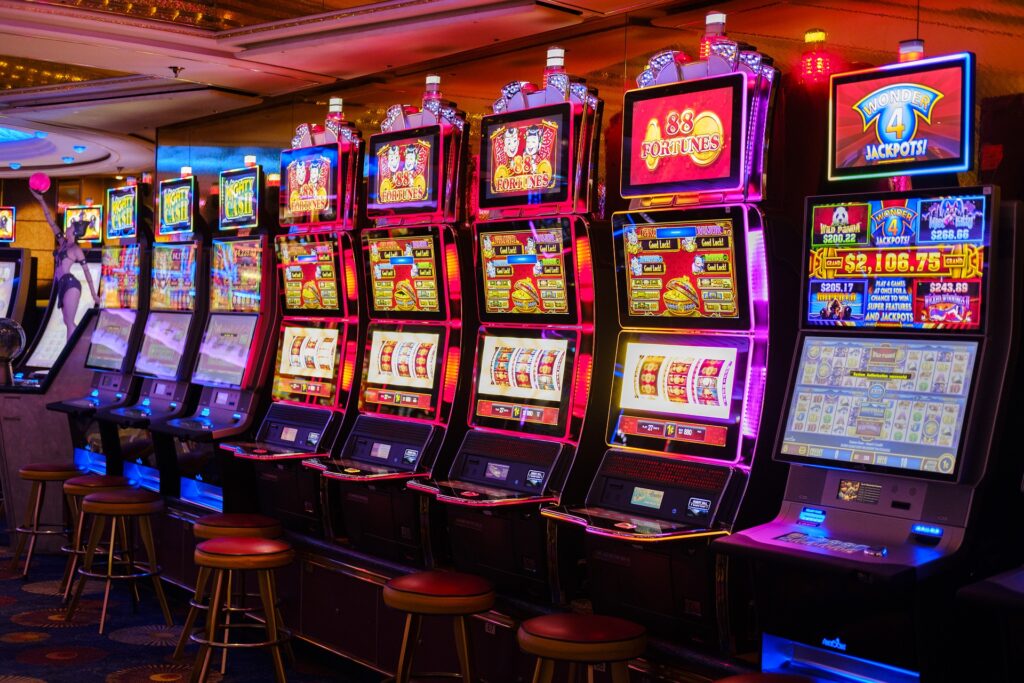 Las Vegas is a veritable gambling Mecca – it has more than 130 casinos and, in a normal year, it welcomes tens of millions of tourists that visit its shows, its night clubs, its restaurants, and its gambling facilities. And while many of them are equipped with "traditional" symbols like the above-mentioned fruit (especially cherries), horseshoes, and lucky sevens, there are quite a few that have borrowed their looks from pop culture.
IGT, one of the biggest providers of slot machines and other gaming equipment for casinos across North America, has quite a few branded machines available. Among them, you find games inspired by popular game shows like Jeopardy!, TV series like Charlie's Angels, Baywatch, and Sex and the City, movies like Jurassic Park and Ghostbusters, and even celebrities like singers Adam Levine or Blake Shelton.
These are all well-known and popular – and most importantly, conspicuous – brands that will immediately stand out and look familiar to anyone crossing a casino's gates. And the fans who stumble upon these will most likely try them, even if only as a tribute to their favourite movie, series or singer.
Brands, in turn, have a life of their own – and sometimes, their careers as attractions in Sin City ends abruptly when they change hands. A recent example is the Star Wars brand: many Vegas casinos had slot machines with themes inspired by the original trilogy, released between 1977 and 1983. When Disney took ownership of all Star Wars intellectual property, the use of these slot machines was discontinued across North America because they didn't fit the owner's family-friendly brand.
Branded slots online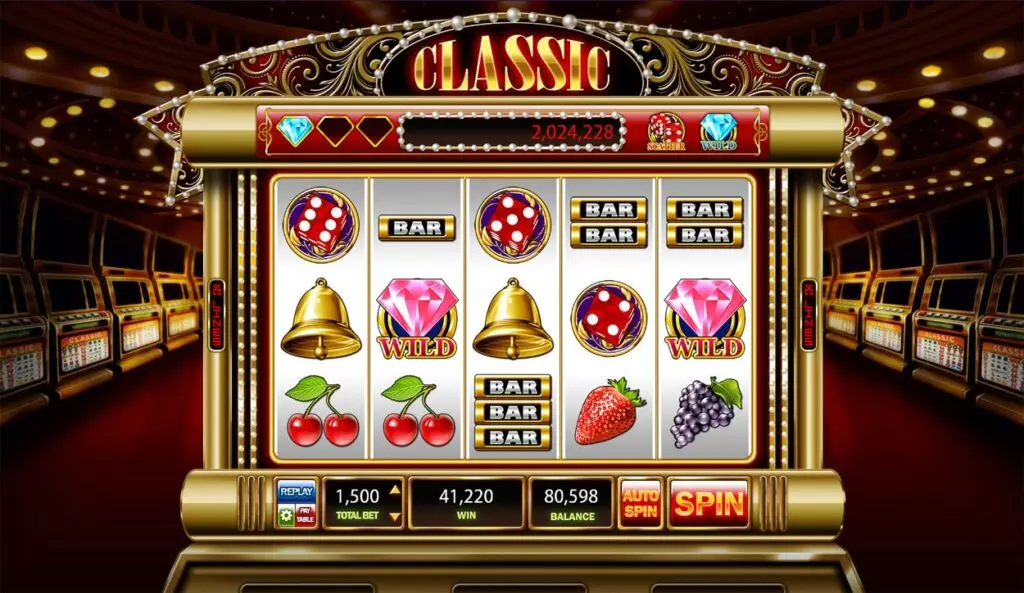 Progressive jackpot slot machines are probably the most-played ones at online casinos – no wonder since they are the ones that promise the highest payout to their players. And branded slots come second.
Online casino game developers often sign collaboration agreements with studios to build slot machines based on their products – popular movies and TV series. And they don't even have to be recent.
Microgaming, the oldest and most widespread provider of casino software has released many branded slot machines over the years, covering everything from TV shows (like the 2004 reimagining of the sci-fi series Battlestar Galactica), movies (like the romantic comedy Bridesmaids or James Cameron's insanely popular Terminator 2: Judgment Day), and even video games (like the popular Hitman slot machine, inspired by the shooter game with the same name or the Lara Croft: Tomb Raider series).
Swedish game developer NetEnt released its beloved "Aliens" slot machine in 2014 – the game won several awards and became the most-played title at several NetEnt-powered casinos. It was not the only major brand that emerged from the studios of the company, though: NetEnt released a series of games inspired by classic Universal monster movies (like the Creature from the Black Lagoon or Frankenstein), music-focused games inspired by the works of Ozzy Osbourne, Jimi Hendrix, and Guns 'n' Roses, and popular franchises such as Jumanji, Vikings or Narcos.
These branded slot machines are very popular among players, both casual ones and seasoned ones. No wonder there are so many of them.
In most cases, these branded slots are not aimed at seasoned casino players – they are less interested in what a slot machine looks like and more interested in payout percentages. They are much more attractive for those who play for fun, especially online. Most online casinos have a "practice mode" where players can use virtual funds to play, much like they would at a social casino. The games are there for anyone to try, they are successful and popular.