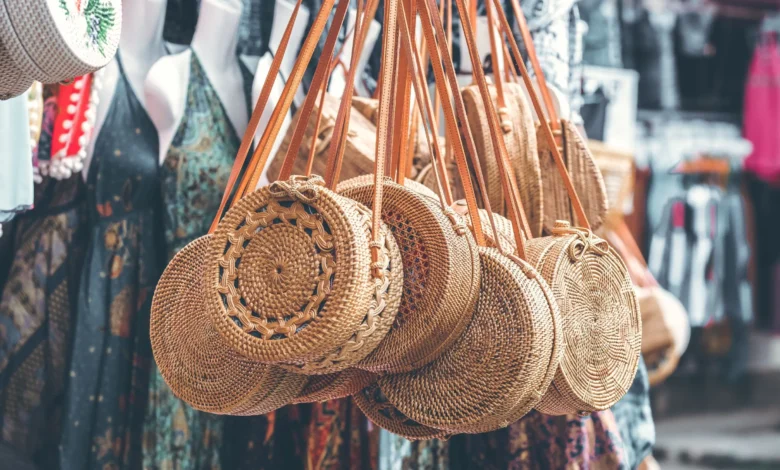 Style
The Art Of Styling Straw Bags: 4 Tips And Tricks For Making Them Work For You
Straw bags have been a long-standing summer essential, but it's only recently that they've become a timeless accessory that transitions from season to season effortlessly. Whether you're dressing them up for a formal occasion or styling them for everyday errands, straw bags are here to stay and you can make sure you look absolutely fabulous in them.
Types of Straw Bags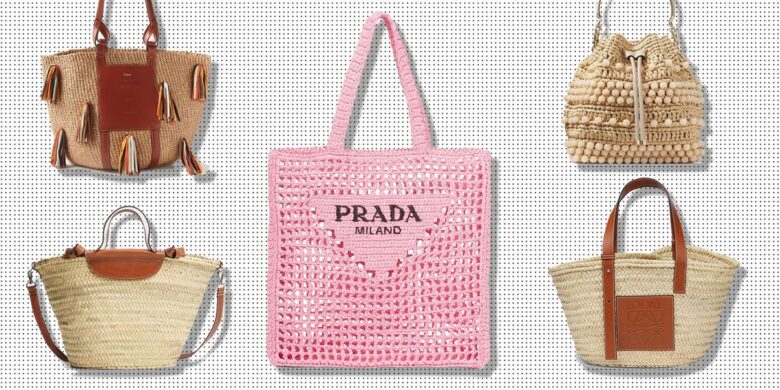 They come in a variety of styles and sizes, so it's important to know what type of bag suits your body shape, lifestyle, and needs. They have unique characteristics that make them stand out. Whether you prefer round or rectangular-shaped straw bags, there is a style for you.
Round: These are perfect if you want something roomy yet stylish. They usually have drawstring closures and often feature woven straw details like braids or pom-poms. They look great with casual summer outfits and can be dressed up with the right accessories for a night out on the town.
Rectangular: Rectangular bags come in various lengths and widths depending on how much stuff you need to carry around. They are often unlined and have long shoulder straps for hands-free convenience. You can combine this style with contrasting leather details to make it even more perfect for everyday use.
Clutch Straw Bags: These are sleeker than the two aforementioned types of straw bags but still provide plenty of space for your essentials like phone, keys, and wallet. These bags look great as an evening accessory since they come in sophisticated shapes like squares or rectangles with intricate straw details that elevate any outfit instantly!
To keep your straw bag in the same condition that you purchased it, be sure to follow the care label that came with the item, which may recommend treating the item with water-resistant elements. For instance, you can spray the outside and lining of the bag with a waterproofing spraying solution or apply a beeswax-based polish, available at hardware stores and home goods retailers.
Choosing the Right Model for Your Outfit
When it comes to choosing the right model for your outfit, there are several factors to consider. The size of the bag should be proportional to the amount of clothing you're wearing. For example, a small bucket model would look great with a mini dress and flats, while a large circular tote would look great with an ankle-length dress or wide-leg trousers. The color of the bag should also match your outfit or at least complement it with a neutral hue.
The shape of the bag is also something you'll want to take into account when choosing the perfect model for your look. Circular shapes tend to be classic and timeless while square or rectangular shapes give off an edgy vibe that will add interest to any ensemble. Even if you opt for an unconventional shape such as an hourglass or ladder weave, make sure it's in proportion with your body type—otherwise, it won't flatter you no matter how stylish it is!
Accessorizing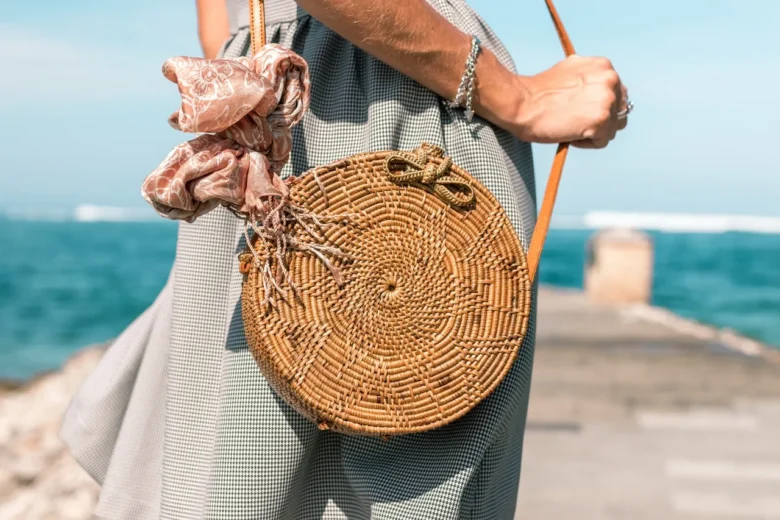 Whether you're packing for a beach trip, running errands on a hot summer day, or heading out to dinner with friends, straw bags are always an appropriate choice.
Styling doesn't need to be complicated. Here are some tips and tricks for making your straw bags work for any occasion:
Make sure your makeup matches your bag. If you're carrying a natural-colored one, opt for lighter-toned makeup such as blush and nude eye shadows/lip colors to make sure you don't overwhelm the natural look of your bag. Add brighter colors if you want to make a statement – just remember that less is usually more in this case!
Choose prints and patterns that stand out against your straw bag – go bold but still respect the subtlety of the bag's design.
Balance size when pairing one with an outfit – small bags can get lost regardless of color or pattern if paired with bigger looks such as maxi dresses or fuller skirts!
Experiment with different types of straps such as crossbody straps to add an element of fun without compromising on style or comfort levels.
Styling Tips
Making a statement with your outfit starts with thinking outside the box. Whether you're embracing the latest trends or creating your own signature look, adding a straw bag to your wardrobe is an easy way to set yourself apart from the crowd. From fun and flirty styles to timelessly chic designs, here are some helpful tips for making straw bags work for any occasion.
Mix-Up Textures: If you love wearing neutrals, try pairing an all-white outfit with a model in vivid colors and prints. This look is perfect for summer and can be dressed up or down depending on your plans. And don't think all textures have to clash — natural wood, canvas, suede, and bamboo all work together to create an effortlessly cool style.
Choose Timeless Styles: Just because it's trendy doesn't mean it won't be stylish in three months! When picking out a new bag, be sure to stick with classic shapes and silhouettes you know you could wear throughout multiple seasons.
Add Topstitching: If monochromatic looks are more your speed, consider adding delicate topstitching details to give your bags added dimension without overdoing it on color or pattern. Topstitching also helps keep the fabric and leather straps in place as well as providing extra control when carrying heavier items.
Try Experimenting: Don't be afraid to take some fashion risks! Go for unexpected details like tassels or fringe for whimsical flair — these fun elements help add texture and personality that will last through the decades without sacrificing function or practicality.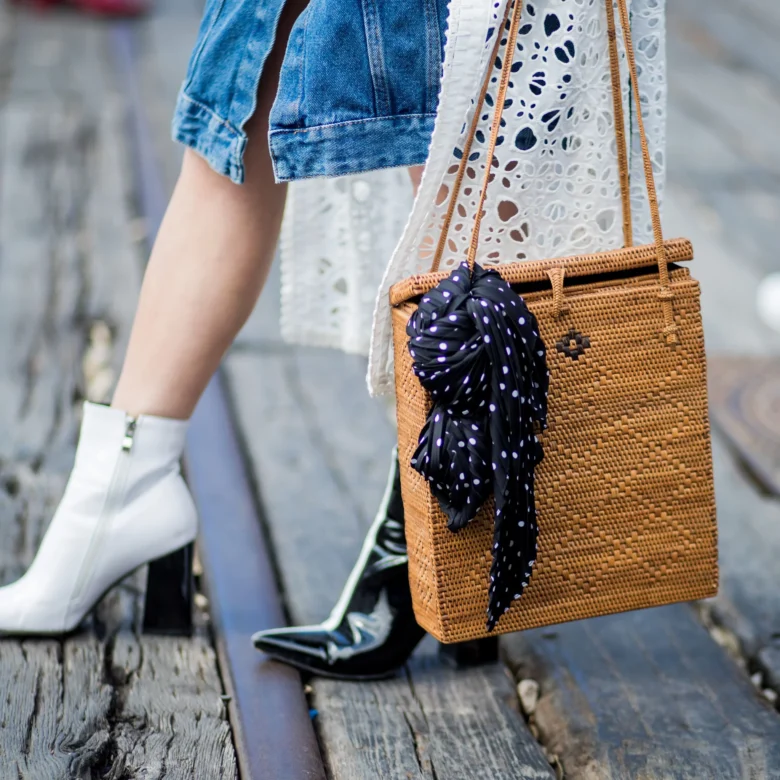 Conclusion
Styling straw bags can be a fun and creative way to add a touch of fashion to any attire. There are several different types of models available, with both natural and synthetic materials, so there is something for all preferences. Moreover, styling these bags can be quite simple — try pairing them with all-black for an edgy, urban look, or be adventurous by adding a retro flair to your outfit. You can also continue to switch up the look by varying the size and color or trying new details like florals or stripes.