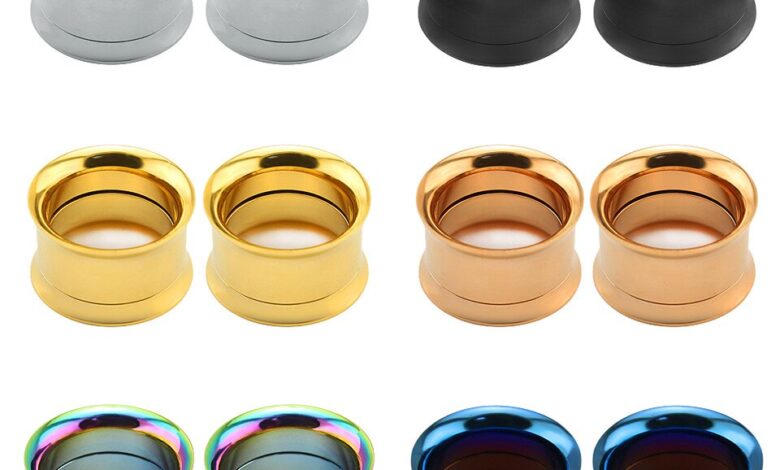 Style
5 Best Faux Plugs and Tunnels in 2023
Faux plugs and tunnels are trending and new in body modification and ear stretching. These earplugs are made from different materials such as wood, stone, glass, acrylic, silicone, steel, and synthetic steel. These fake plugs create a cool look, and a stretched ear look without stretching. These earplugs come in engraved and non-engraved forms. The general sizes available are from 3mm to up to 52mm.
If you love the look of a cool plug adorning your ear, fake plugs and tunnels give a body modification that is cool and gorgeous. You can get creative with fake plugs.
Fake plug- what is it?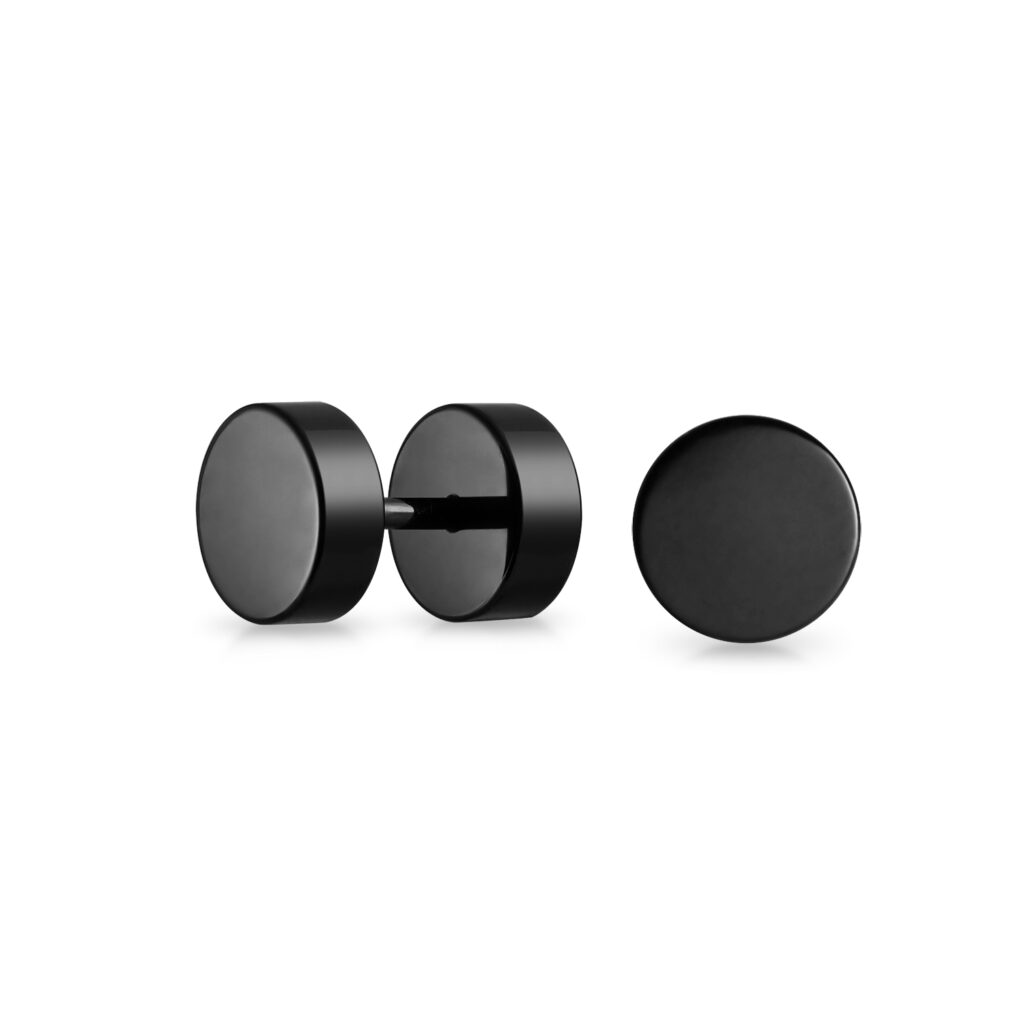 These are also called illusion earplugs or earrings. They fit a standard piercing of the ear but appear like a flesh tunnel of the ear. They provide a stretched ear look. These are worn as they are convenient to handle, stylish, and an alternate to a real earlobe stretch. The Faux plugs usually come 1 or 2 mm diameter. There are screw threads that link the plates and bridge. Plates are in the 4-12mm range. They create the illusion.
Fake plugs are ear studs with an attractive design and shape. They are trending in the piercing. They come in different materials, with customization choices and in flat and curved shapes. One of the designs called O-rings gives the appearance of stretched ear lobes illusion. Both tunnels and earplugs come in different sizes and shapes.
The variation between the plug and the tunnel is the appearance. A tunnel, as the name suggests, is hollow inside. The highlighted jewelry is visible through the cavity. In contrast, a plug is solid and fills the cavity. A tunnel is a sheet that is coiled up while a plug is filled up solid.
Here we will take a look at some interesting tunnels and faux plugs that are popular in this market, based on their material:
1. Acrylic/Silicone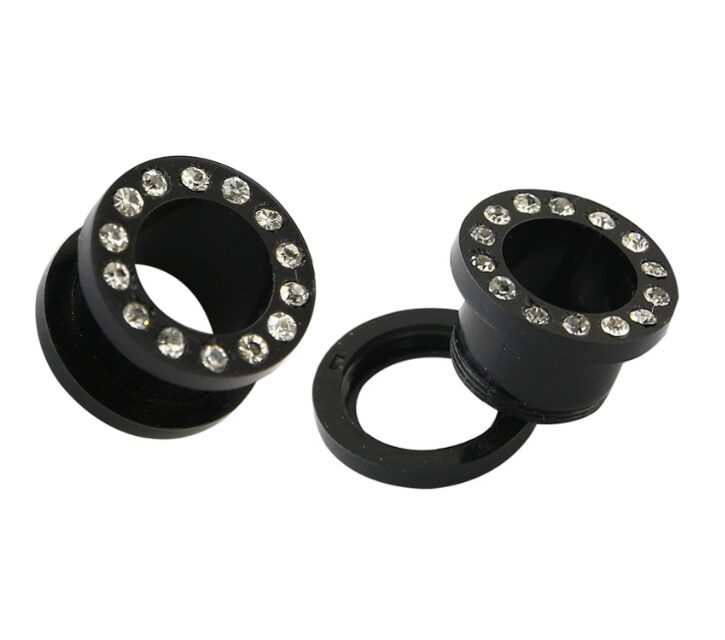 This is good for healed piercing and ears. It is, however, not recommended for fresh/new ear stretches as well as piercings, or else it can result in skin irritation.
Primary features
It is light in weight
It is an inexpensive plastic
It is used for different body jewelry and plugs
It is bright
It is colorful
It mimics the appearance of stone and glass.
It is very affordable.
It is a porous material.
It is ideal for healed piercings and stretching
These plugs are customized by placing images or graphics below the acrylic. These custom plugs are popular for different patterns and designs. They are even available as radium jewelry that glows in the dark and is a value addition. It is fragile and tends to break easily, so care has to be taken.
2. Glass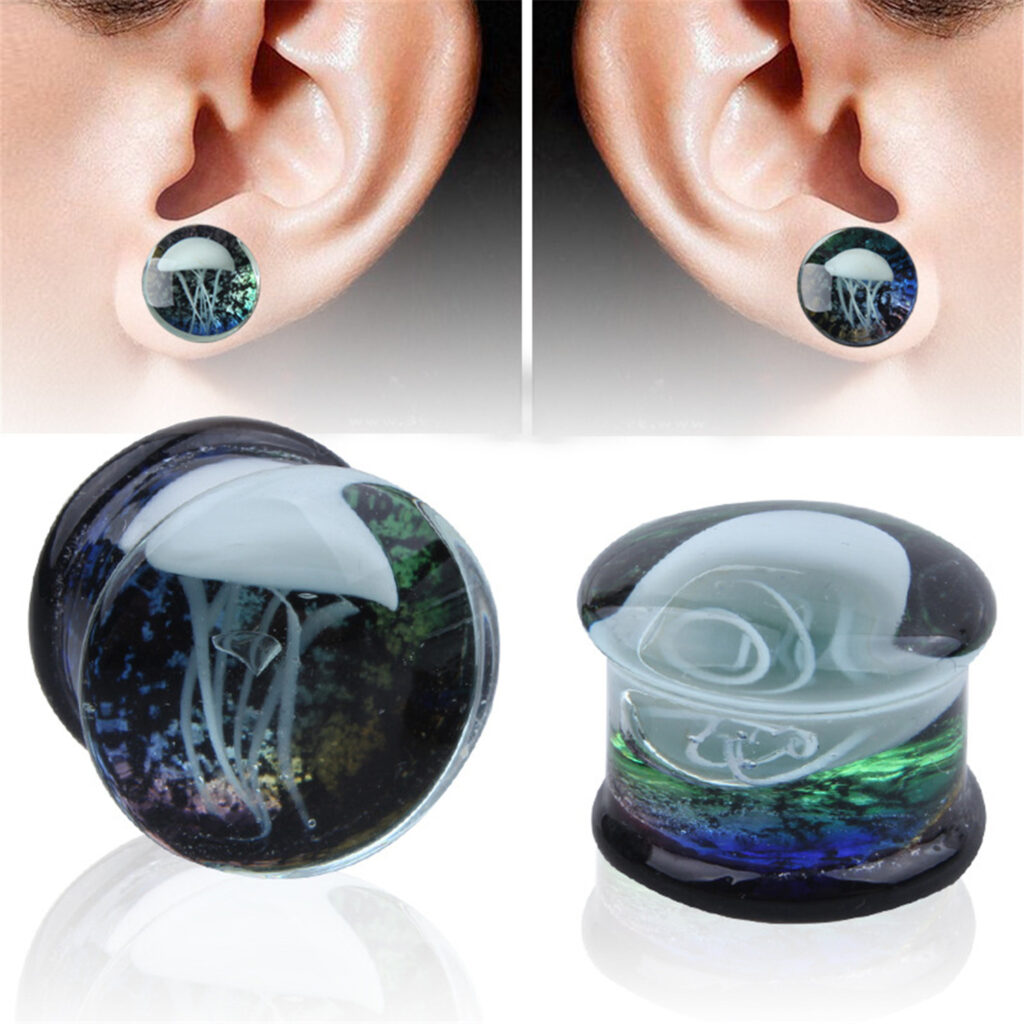 This material is good for fresh ear piercings and stretches. Ideal for healed piercings and ears.
Primary features
They are the right alternative to metallic plugs.
It is a non-porous material.
It is safe and autoclaved for healing tissue.
Available in brilliant designs and colors
Sturdy
These faux plugs look similar to stone. However, they do not have a weight of it. These do not break like stone and are strong.
3. Metal/Steel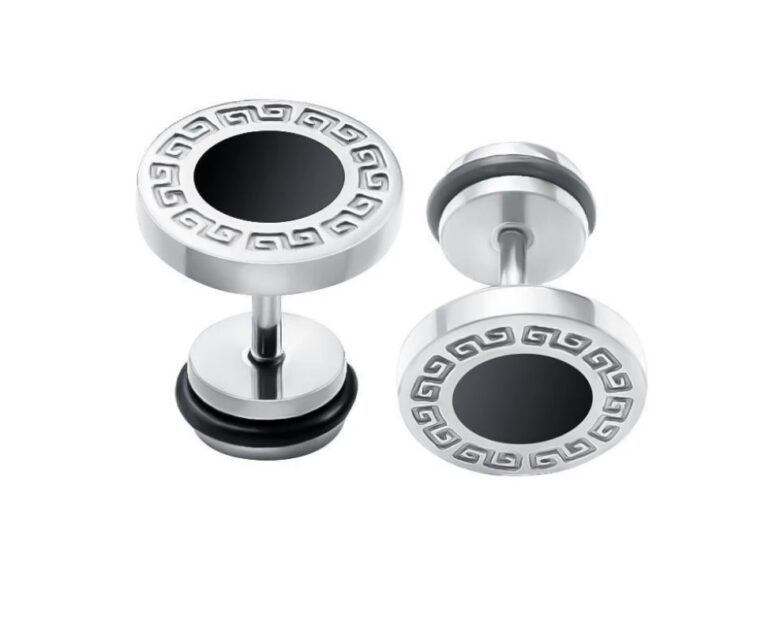 These are ideal for healed piercings and ears. They are recommended for fresh ear piercings, and ear stretches.
Here we will see two types of stainless steels used in these plugs:
316L steel is used
Can be autoclaved
It is a non-porous material
It permits skin healing
It consists of a nickel addition with fine chromium oxide layering. This allows the skin to be no contact with nickel directly and so no allergic reaction.
4. Implant grade F138 steel
This is higher quality steel with lesser addition of nickel. This grade steel is one of the biocompatible alloys of steel. Since it is biocompatible, there is no harm to the living tissue.
These faux plugs and tunnels are simple and stylish with inlays similar to gems in different patterns and designs.
5. Wood and Stone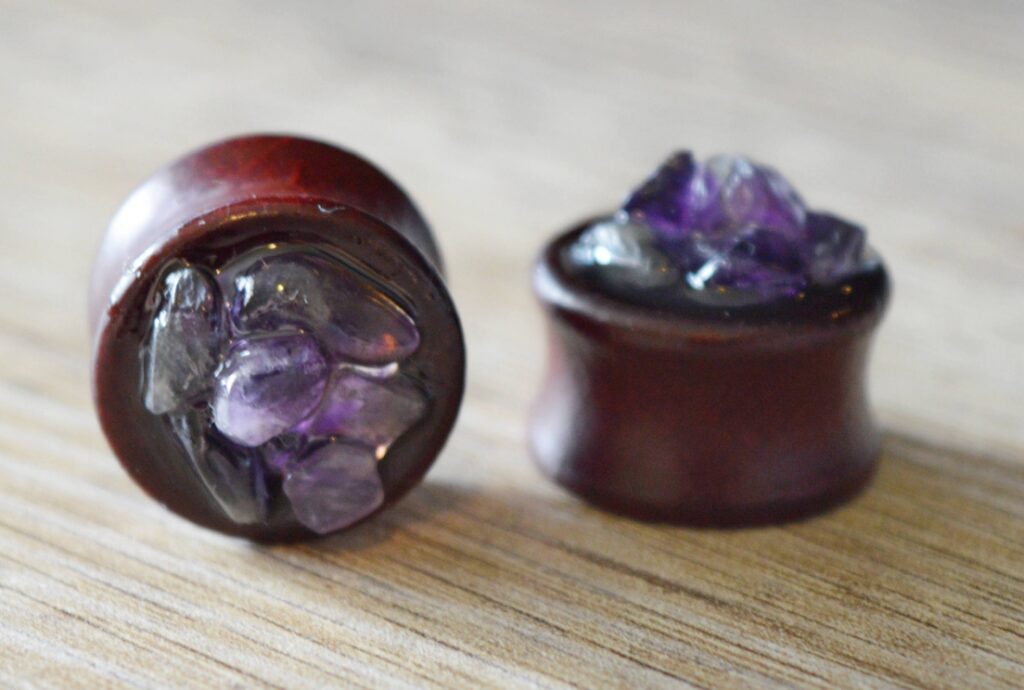 These earplugs are ideal for healed piercings and ears. However, they are not recommended for fresh ear piercings, and ear stretches.
Primary features
Organic and natural material
Light in weight
Decorative choice
Porous material
Colorful choice and appealing
This material can be blended with other materials like stone, metal, or glass with engravings and carvings. These plugs are not safe for new piercings or healing tissue. This material harbor bacteria result in infection and irritation to fresh piercings. This is because they are not water friendly. So, extra care and dryness is essential.
The other materials used for these custom plugs are Silicone and synthetic stone. They come in several shapes. Some of the common shapes are Full Plug, Teardrop, Circular, Tunnel, and Screwback. They come in convex, concave, faceted, Flat Face, Double Flare, Dangle, and Flat Flare filters.
Some of the examples are:
Black Silicone Tunnel
Glass opalite Gauge
Rose quartz Plug
Double Flared -Black Steel and Rose Gold Steel Tunnel
Amethyst and Black Onyx Gauge/Plug
Sono teardrop abalone and Black Ebony in Convex Filter Plug
Dangers of fake plugs which are not made of hypoallergenic materials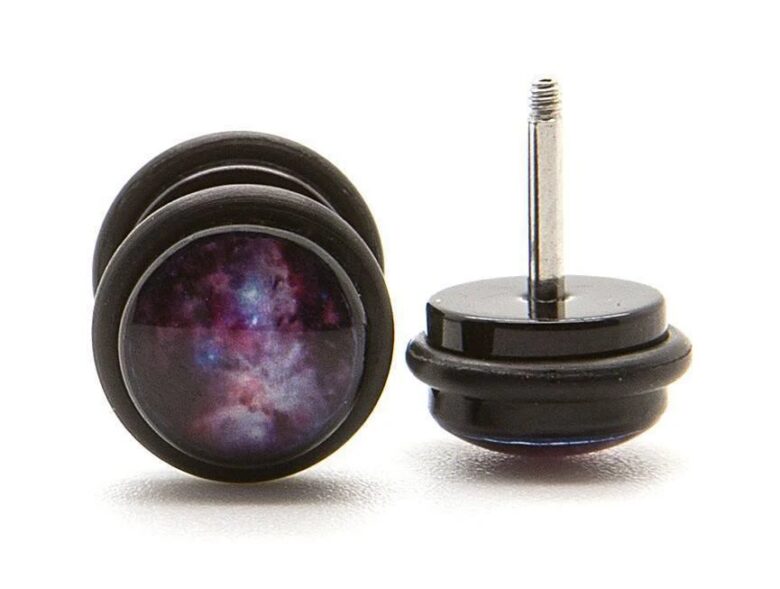 Hypoallergenic materials do not react with skin and safe to use. Naturally-derived jewelry without much chemical processing is always safe. It is easy to take care of. They do not harm nature and our skin as well. Resin and plastic can be worn as piercings after the tissue is adequately healed. However, natural skin pores need to breathe. A porous material gives your skin breath/flow of air. In turn, the skin remains healthy even with prolonged wear. So, these earplugs should be made of skin-friendly materials to avoid infection. If you want to see more of these you can check out customplugs.com.
Conclusion
Faux plugs and tunnels are the current trends in ear piercings. They offer style, look, and ear stretch that many are looking for. These plugs should be hypoallergenic as they are skin-friendly. They come in various sizes, shapes, and colors. They are made from different materials such as stone, wood, synthetic, metal, and glass. Each of the materials offers customization of design and patterns. These are ideal for creating an illusion of ear stretch. Best Faux Plugs and Tunnels are available in the current market, which is sturdy, high in quality, reliable, skin-friendly, and affordable from the leading companies.