Style
Best Micro-Modal T-Shirts in 2023
One of the most exciting recent fashion trends is the rise of the modal and micro-modal tees. Modal is a very soft, silky, luxurious and eco-friendly fabric that elevates the everyday garment to another level and provides undergarments with a high degree of comfort.
With the summer season and warm weather almost here, it's always a good idea to upgrade the wardrobe with a few new pieces, and we're here to help you find the best micro-modal and modal tees on the market!
Perofil Modal T-shirt
Perofil has come out with a super comfy, stretchy and soft modal tee that you'll want to wear every day.
It's simple yet feels and looks luxurious, and that's precisely what makes it a total must-have this summer season. Besides the comfort and a contouring cut, the fabric of this tee is biodegradable, helping you feel confident in your choice and doing your part for the environment.
Ethan Micro-Modal Stretch Tee
We fell in love with this tee right away as it's so soft, lightweight and stretchy, perfect for both active weekends outside and lazy afternoons on the couch.
This classic crewneck tee also has a flattering shape which means you can wear it as an undergarment or with your favourite shorts or trousers.
Ethan brand is known for its high-quality and subtle designs, and it also is proud of this tee with thermostatic properties. The micro modal fibres help regulate your body heat, making it an ideal garment for warm and cool temperatures.
Lastly, their signature Basel micro modal fabric crafted from a unique blend of micro-modal from sustainably forested European beech trees is environmentally friendly and carbon neutral.
Hanes Men's Modal Elevated Tee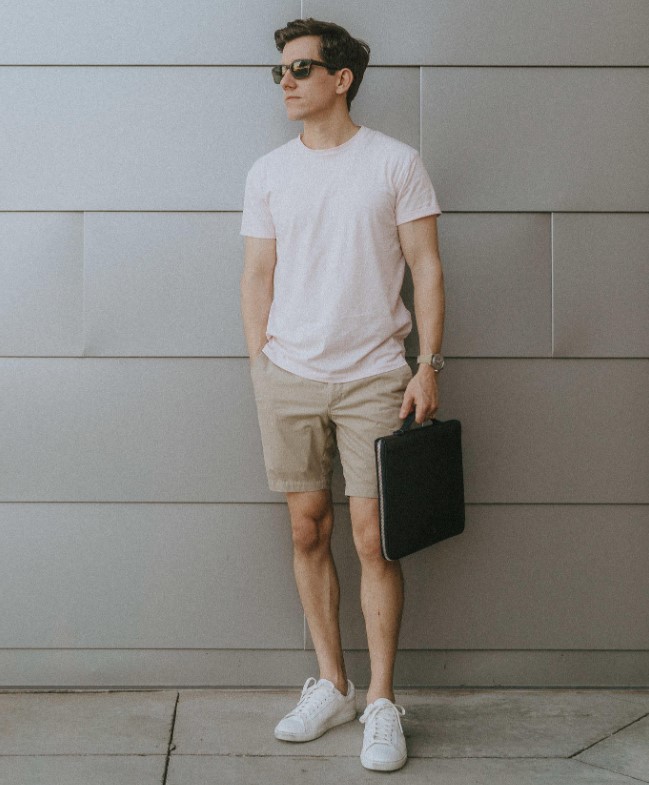 Want something durable and comfy? Then don't miss out on the Hanes jersey tee made with soft modal, ring spun cotton and polyester. It fits and feels luxurious!
It's very soft and comfortable, has great texture and drapes beautifully without being clingy. Guys also love the more athletic cut that's not boxy and squared-off, as it works for most casual and even smart casual styles.
The tee is also very durable and wrinkle, shrinkage resistant and available in fashion-forward colours.
Ejis Essential Anti-Odor Micro Modal Undershirt
Ejis Essential Anti-Odor Micro Modal Undershirt with silver-infused, anti-odour technology comes in a flattering slim fit cut and re-defines comfort with a great fit and premium materials.
It's light and breathable, and the silky-smooth micro modal fabric feels up to 50% softer than regular cotton. It's also stretchy and flexible, making it perfect for any activity.
We also love their anti-odour technology, allowing you to stay fresh all day. It works thanks to silver ions embedded in the shirt that fight odour-causing bacteria to keep you looking and smelling your very best.
David Archy Men's Soft Micro Modal V-Neck
It's another gorgeous and soft undershirt we love, but it's even more than your basic layering piece! You can wear it under your formal dress shirts, workout shirts, polos and sweaters or on its own.
Ths micro modal tee more than delivers on comfort and softness; it's also lightweight and breathable and feels like the second skin.
The tee is suitable for both underwear and outerwear and comes in various colours, so you'll be able to choose based on your style and preference.
Calvin Klein Men's Ultra Soft Modal Crewneck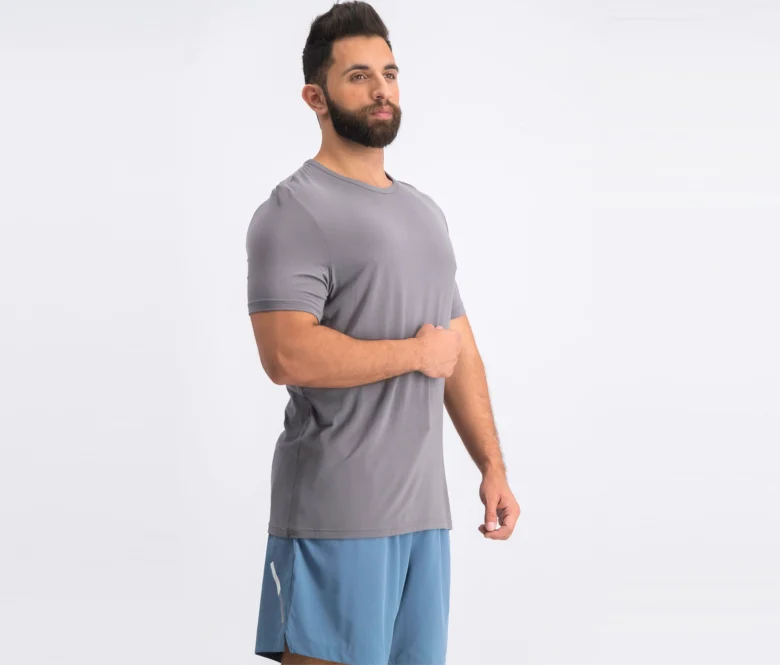 Calvin Klein is the king of undershirts, and they more than deliver with this ultra soft modal stretch. It has a sleek, luxurious hand feel, doesn't pill and feels like you're almost not wearing anything.
While the tee is form fitting, it doesn't feel tight anywhere. The thin and soft modal also allows your body to regulate its own temperature naturally.
The t-shirt fabric has a lovely sheen, making you feel luxurious and comfortable.
Calvin Klein delivers with this eco-friendly modal blend and the lightweight feel with breathable comfort.
Tommy John Second Skin Lounge V-Neck T-Shirt
We think this may be the most comfortable and soft t-shirt out there! Tommy John combines the natural comfort of Pima cotton, the softness of modal, and the stretch of spandex.
We love the taping on shoulder seams and the back of the neck to help prevent chafing.
The fabric is durable, pill, wrinkles and shrinkage resistant, and the colours don't fade for a long time. The fit is also not your grandpa's boxy tee, so you'll be able to show off your gym gains!
Tommy Bahama Cotton Modal Crew Neck T-Shirt
Many guys have been wearing Tommy Bahama clothing with joy for years, and their modal crew neck is also destined to become one of the ultimate must-haves.
The tee is comfortable and ultra soft and has a classic fit.
It's also lightweight and breathable, which means it's perfect for summer and hot days!
MeUndies Men's Modal Crew Tee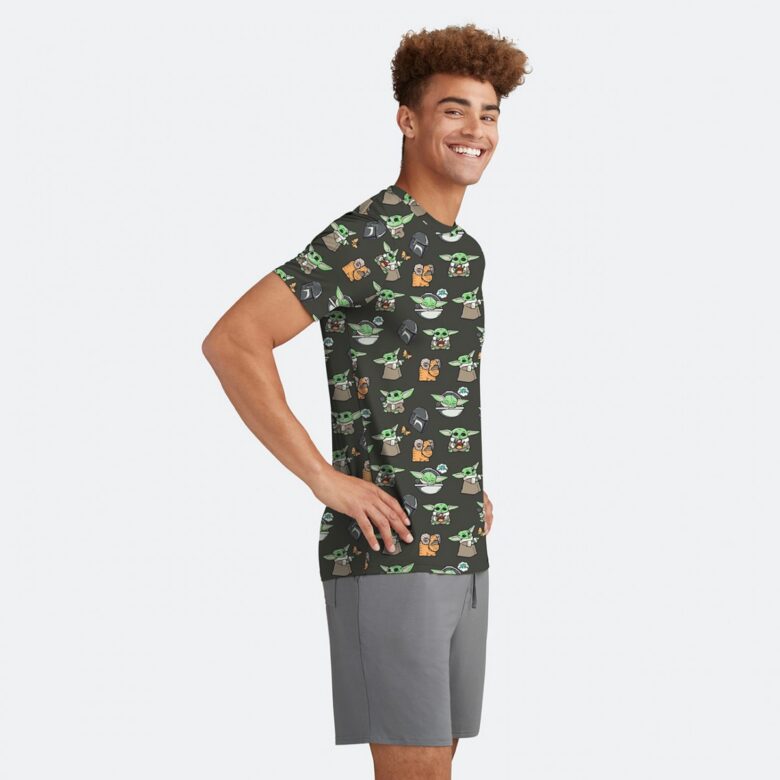 MeUndies have stormed the market with amazing undergarments, and their modal crewneck tee is no exception. It's incredibly soft and made from premium MicroModal.
MeUndies is an excellent choice for the environmentally conscious. Their fabric is sustainably sourced from beechwood fibres spun into yarn to create a natural textile that's taken the world by storm. It's breathable, static-resistant, cosy and makes you want to wear it all the time.
The tee has a classic cut and a straight hem.
Fresh Clean Tees
Fresh Clean Tees have treated guys to amazing tees for a while, and now they've outdone themselves again with their eco-friendly collection and t-shirts made from organic cotton and renewable modal.
This special line aims to eliminate microplastics that end up in our waterways and destroy our environment.
This cotton and modal blend is soft, durable and comfortable, and the beech trees are sourced from sustainably managed beech tree plantations certified by the Forest Stewardship Council, making them a sustainable choice.
What we love about their crewnecks and V-necks is that they're not only comfortable and stylish but also very affordable and high-quality.
Jockey Supersoft Modal Crew T-Shirt
The Jockey Supersoft Modal Crew T-Shirt is light, luxurious, breathable, and extremely soft and comfortable.
These tees are ideal for the summer because they're enhanced with Staycool+ technology that wicks and evaporates moisture, so you feel cooler, drier and more comfortable!