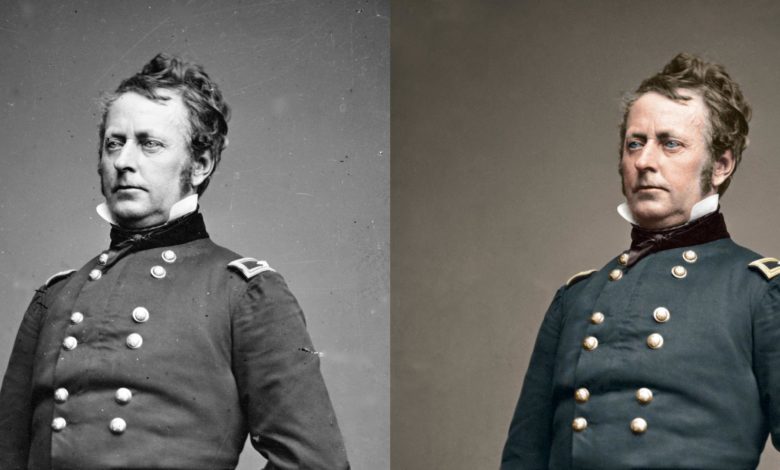 Bizarre
27 Legendary Historical Images That Look Unbelievably Real When Colorised
These historical images look unbelievably realistic and they let you relate to history like it was just yesterday. After seeing these images, you'll know that colours can do wonders.
1. Abraham Lincoln, 1865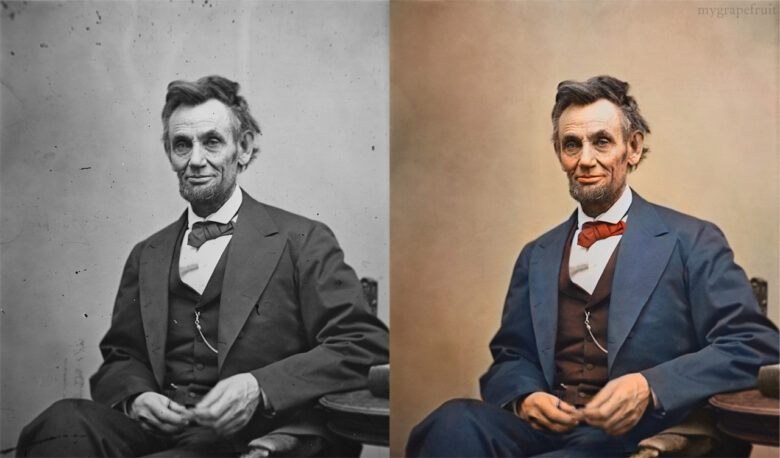 This is from the same year the United States of America lost its 16th President but this image makes it seem like it was just yesterday.
2. Albert Einstein and David Rothman in Long Island, 1939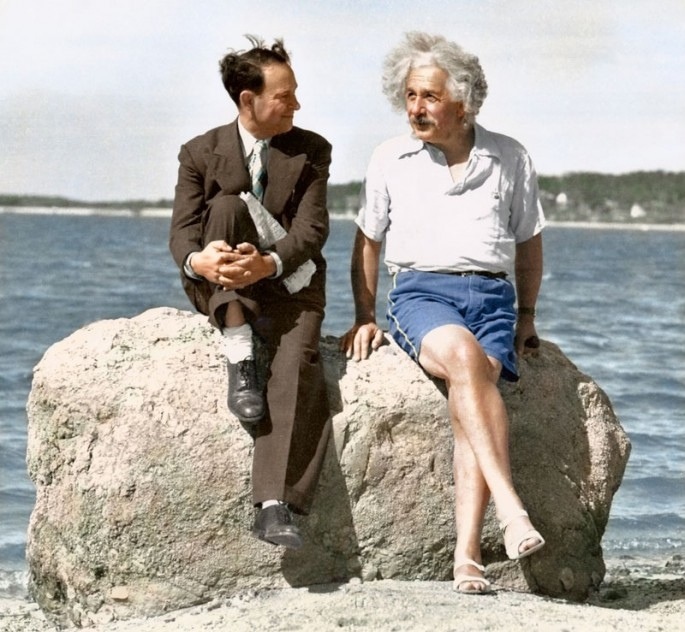 In this picture, Rothman came to see Einstein a day before he left the East End. Einstein presented Rothman with a new biography that he had inscribed in german. It was called "Einstein: The Maker of Universes" and he said to Rothman, "You know, this has been one of the most beautiful summers of my whole life…".
3. Theodore Roosevelt, 1900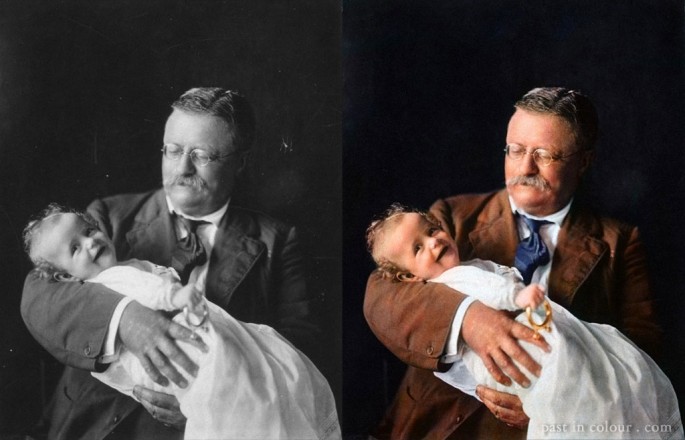 "I tell you, Kermit (son), it was great comfort to feel, all during the last days when affairs looked doubtful, that no matter how things came out the really important thing was the lovely life I have with Mother and with you children, and that compared to this home life everything else was of very small importance from the standpoint of happiness." – Theodore Roosevelt
4. Elizabeth Taylor, 1956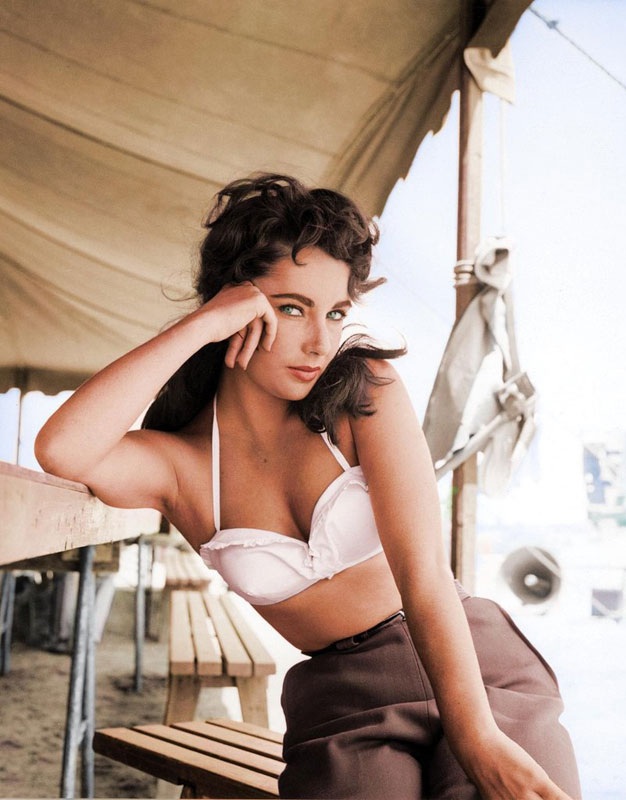 Elizabeth Taylor poses on the set of her film Giant. "If someone's dumb enough to offer me a million dollars to make a picture, I'm certainly not dumb enough to turn it down."—Elizabeth Taylor
5. Unemployed Lumber Worker and His Wife, circa 1939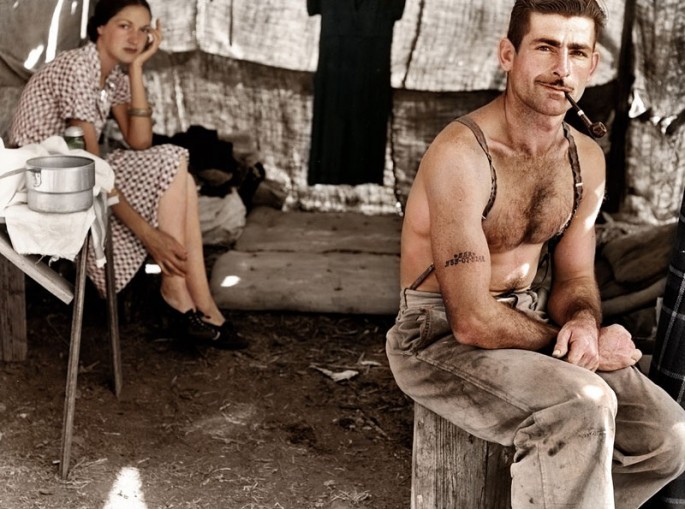 Notice the social security number on the man's arm, an unemployed lumber worker, who accompanied his wife to the bean harvest in the United States.
6. Anne Frank, 1942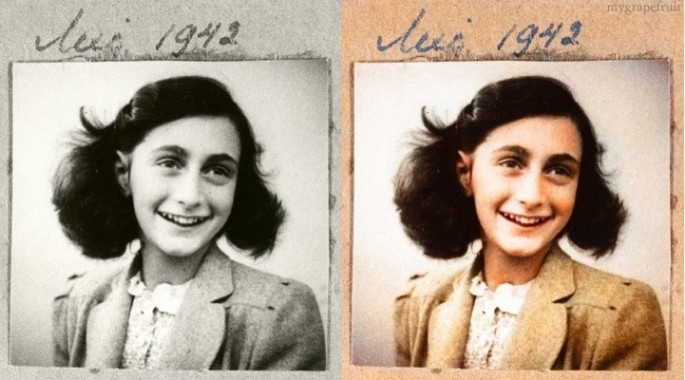 Anne was gifted a diary on this day for her thirteenth birthday. Although Frank died in the Bergen-Belsen concentration camp from typhus in March 1945, her father published her diary that dictated her life from 1942-1945.
7. Baltimore Slums, 1938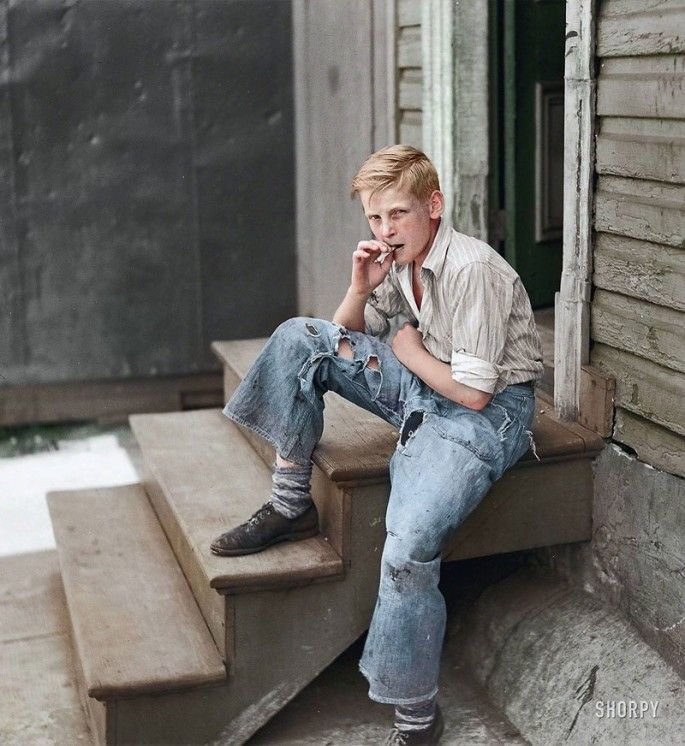 A young boy posing in Baltimore slum area.
8. Olympic Auditorium, Los Angeles, 1953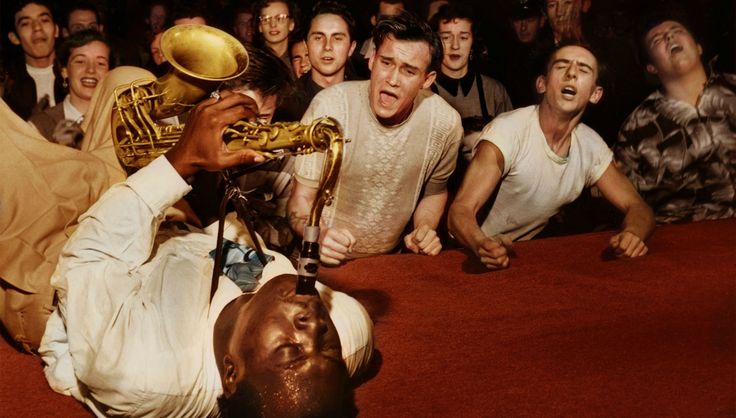 Big Jay McNeely driving the crowd crazy with his Saxophone solo performance.
9. London, 1939
British troops brace themselves while heading towards the front lines during World War II.
10. Charles Darwin, 1874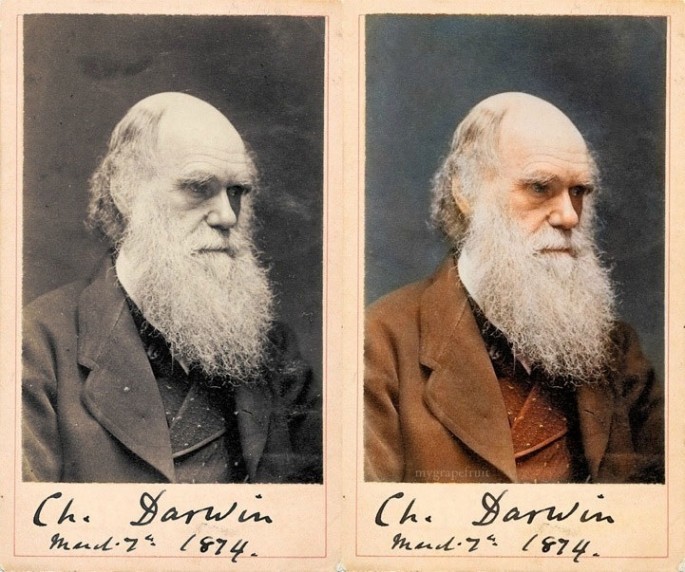 Sanna Dullaway, the artist who colourised this photograph, has done a great job at showing the world how Charles Darwin actually looked.
11. Operation: Crossroads Atomic Detonation, Bikini Atoll, 1946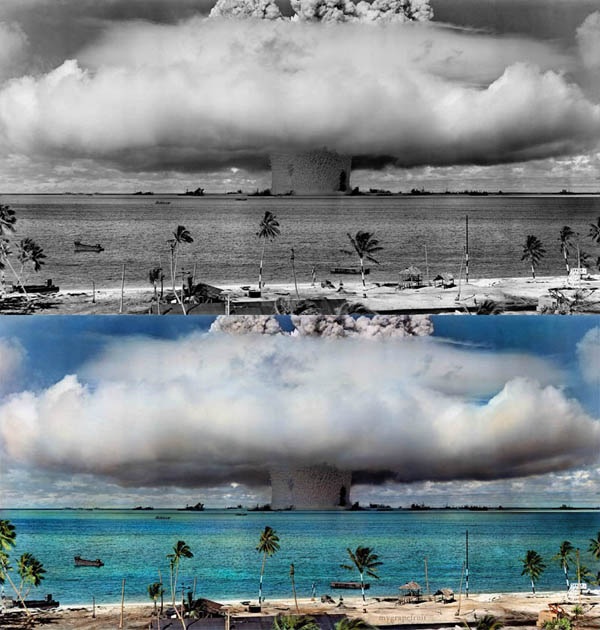 This was shot in the aftermath of an Atom bomb test in the USA. Clearly, adding colour to this picture does not hide the nightmare of a disaster that was. However, it does add clarity to the image undoubtedly.
12. London, 1945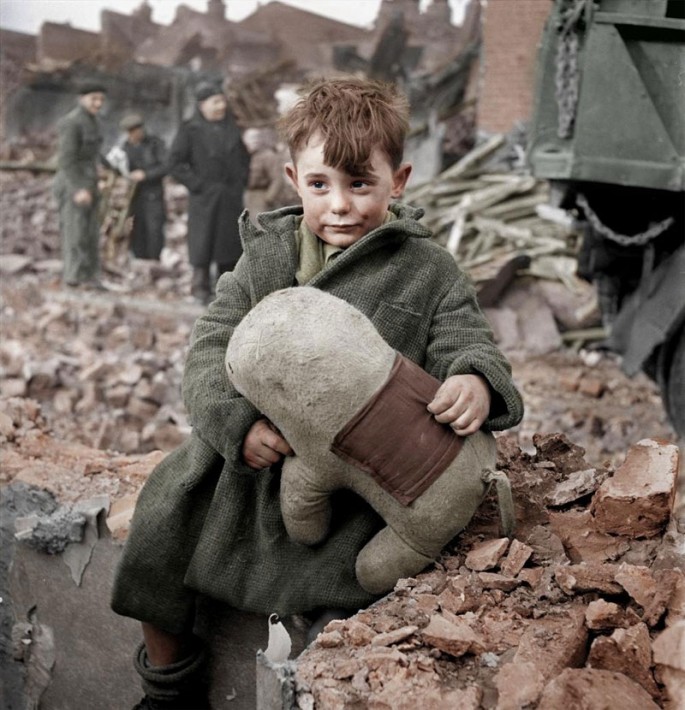 Abandoned boy in London, with a stuffed animal.
13. New Jersey, 1937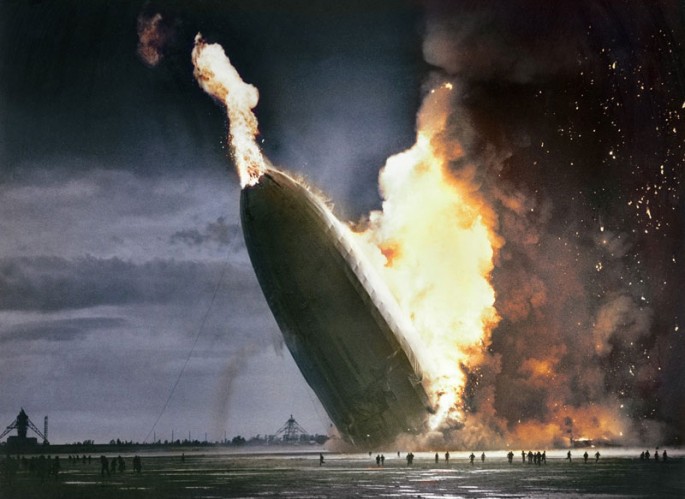 Hindenburg Disaster.
14. Louisville, Kentucky, 1937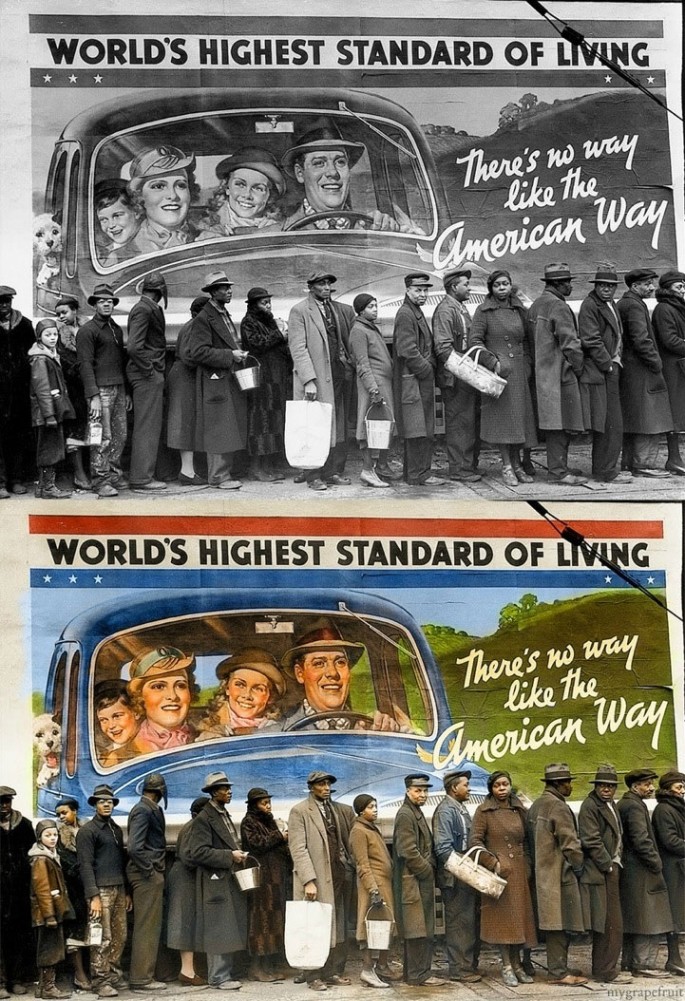 Adding colour to this image is an eye-opener. It was a shot taken at a Bread Line during the Louisville flood, Kentucky 1937. The coloured image clearly displays that there is perhaps a limit to what 'who' can achieve in America.
15. Mark Twain, circa 1900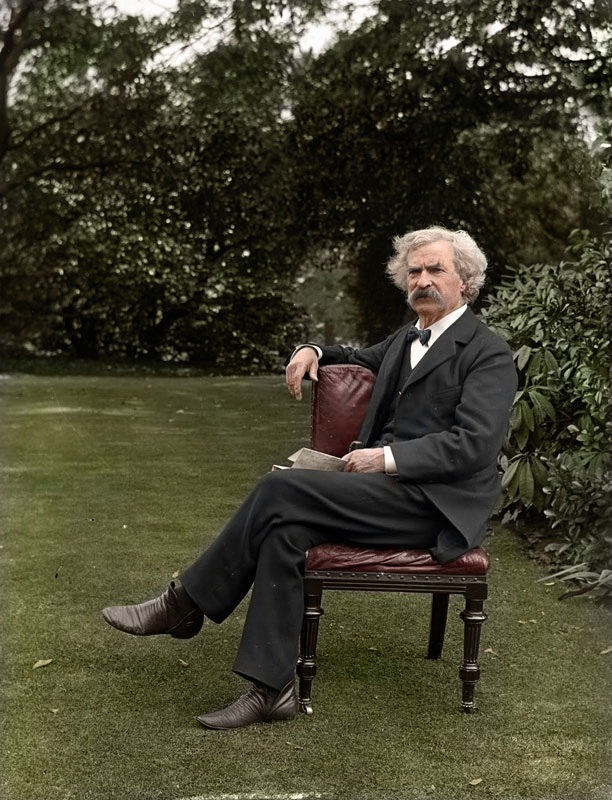 Mark Twain looks legendary sitting in the garden with a note in his hands. Adding colour to this image adds class to this historical photograph.
16. Joseph Goebbels, 1933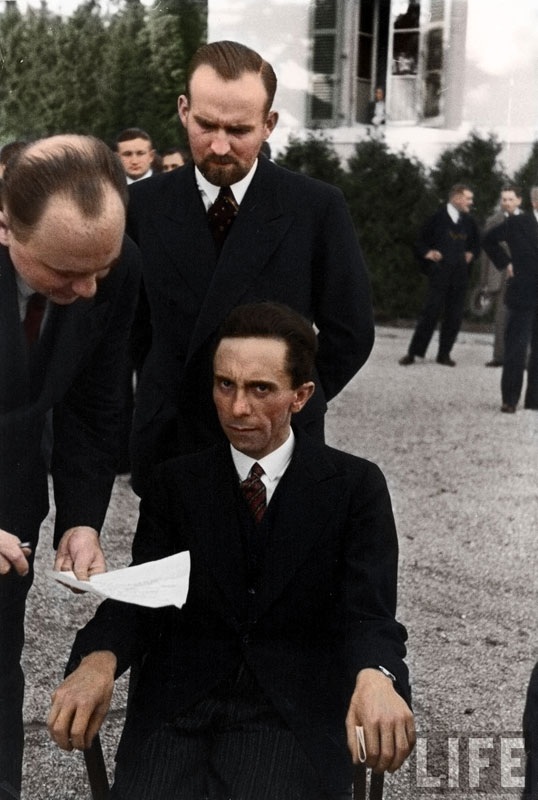 Nazi Minister of Propaganda, Joseph Goebbels, reacts when he realizes that the photographer is jewish.
17. Nicola Tesla, 1890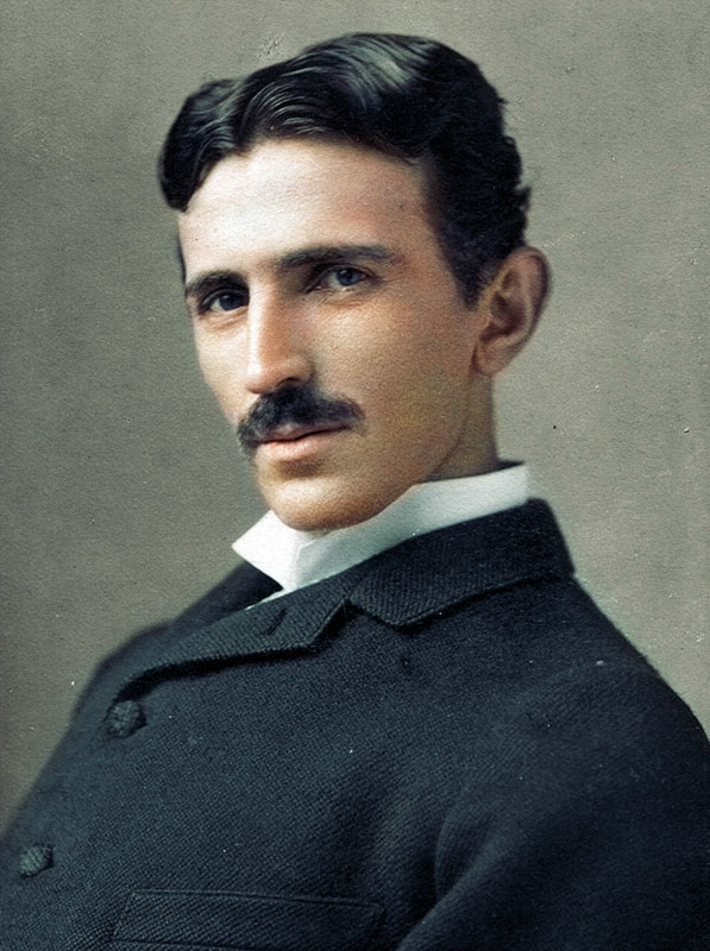 Nicola Tesla is 34 years old in this photo. He looks even younger in the coloured photograph.
18. Old Gold Country store, Gordon, North Carolina, 1939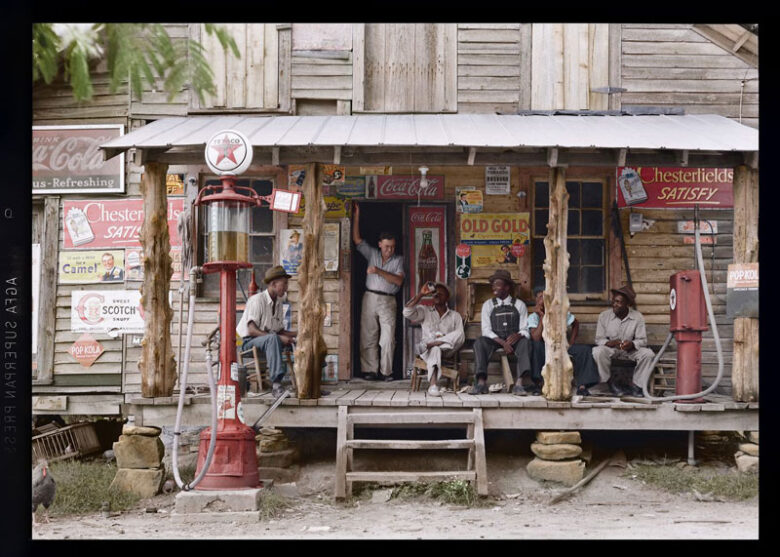 Country store on dirt road.
19. Oscar II, King of Sweden and Norway, 1880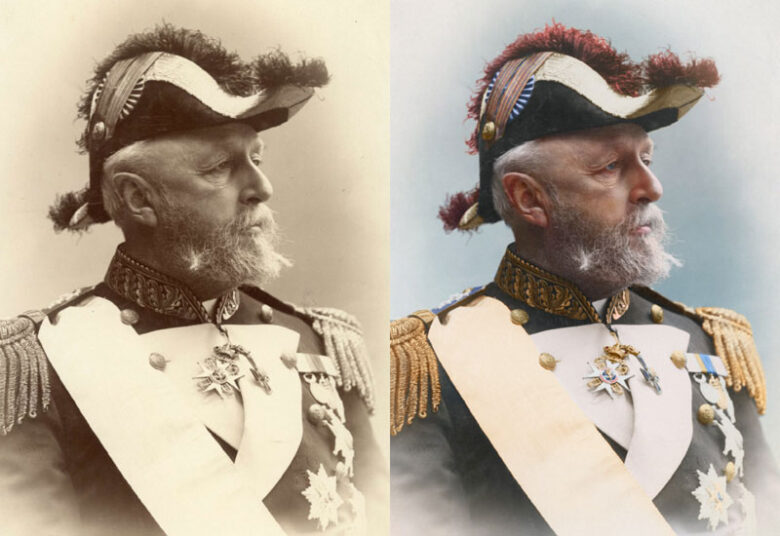 20. Thich Quang Duc's self-immolation, 1963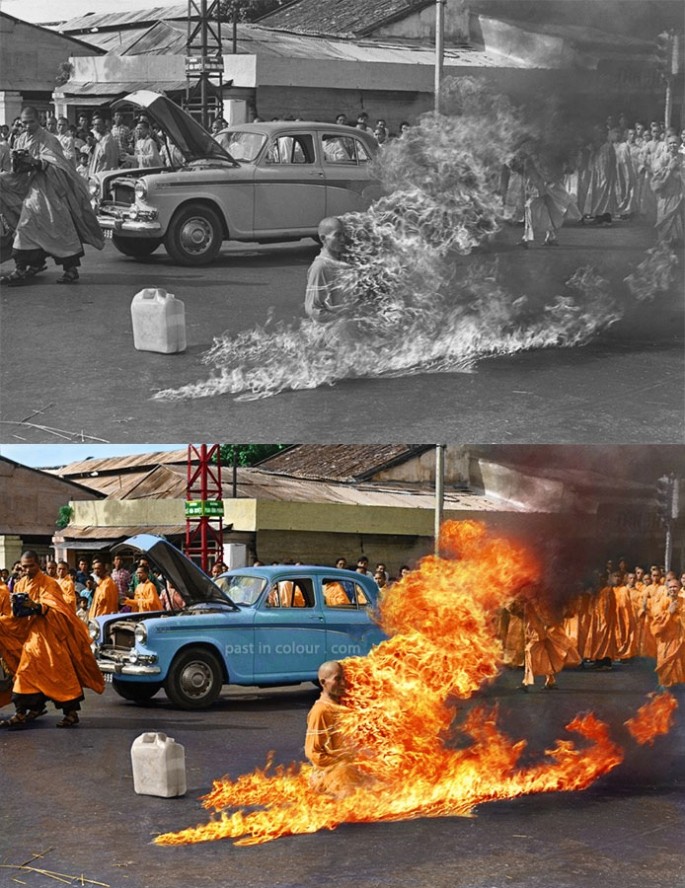 'The Burning Monk' was protesting against the Vietnamese President's pro-Catholic doctrine. As real as the flames look in this image, it is as unreal to the eyes.
21. Audrey Hepburn (Date unknown)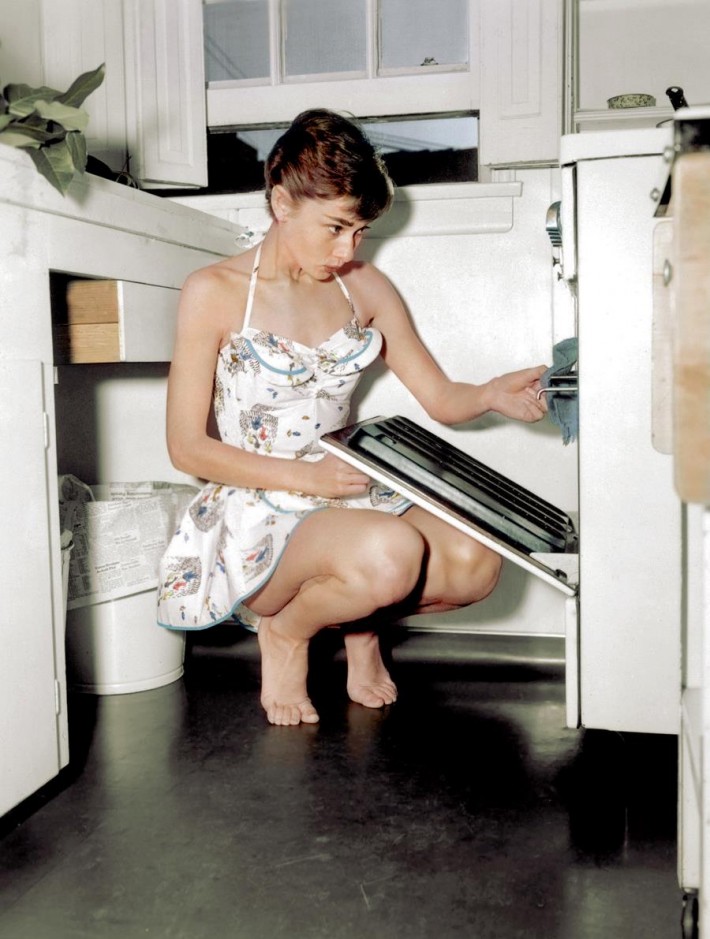 "The beauty of a woman is not in the clothes she wears, the figure that she carries or the way she combs her hair." – Audrey Hepburn
22. Japan, circa 1860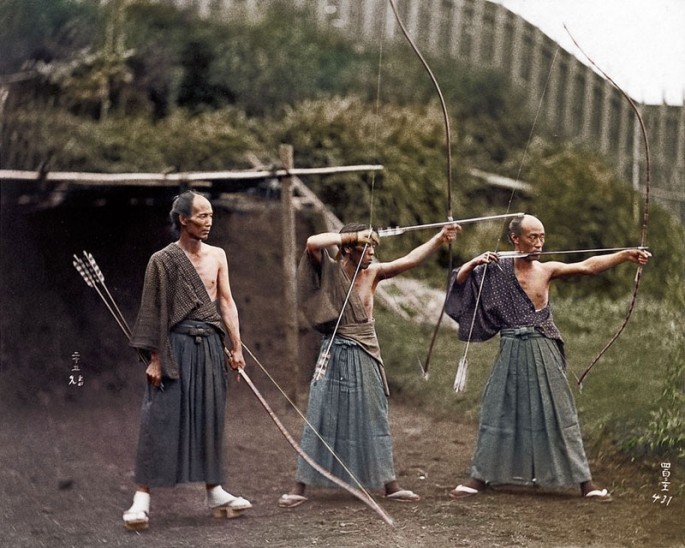 Japanese archers.
23. Nashville, Tennessee, 1864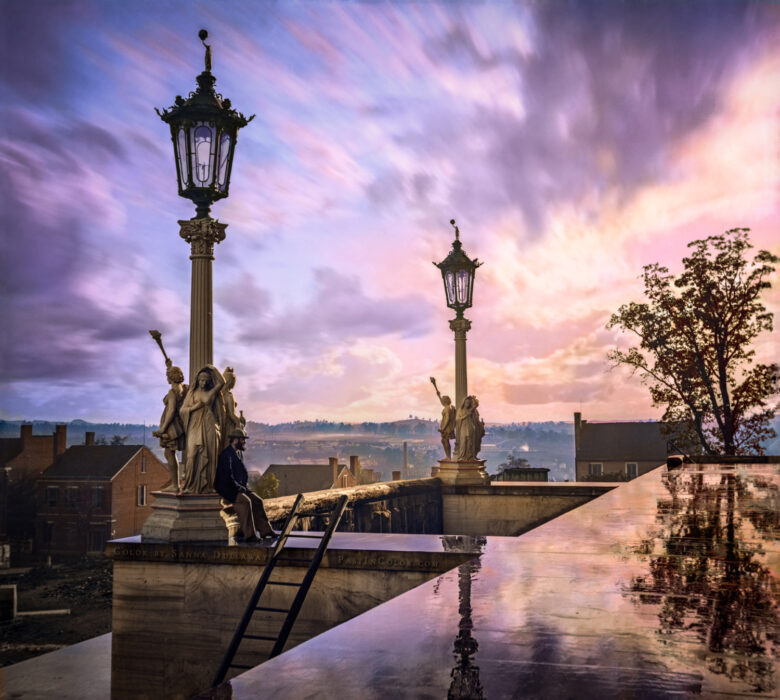 View from the Capitol Building.
24. Walt Whitman, 1887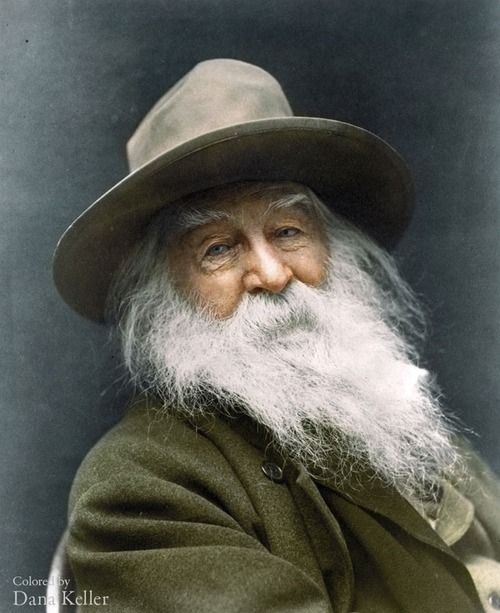 25. Washington D. C., 1921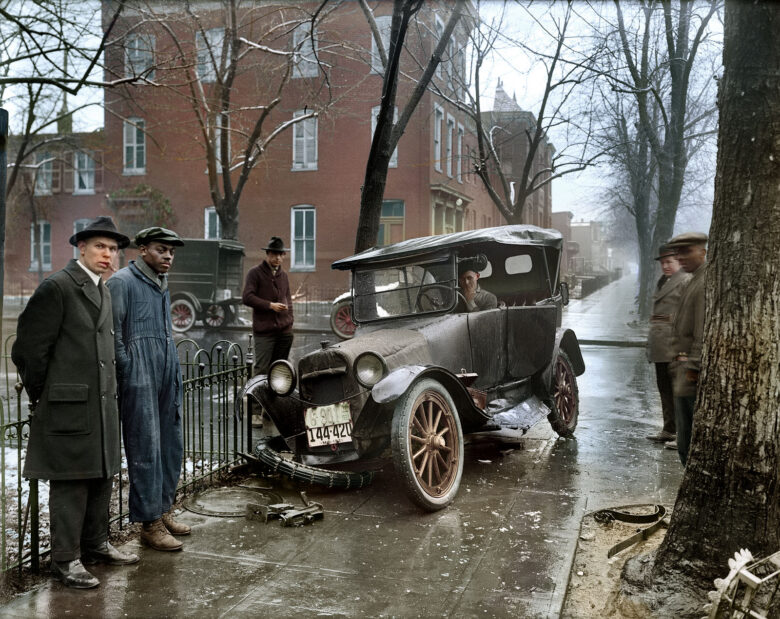 Auto wreck – Vehicular mishap on the streets of Washington D.C. in 1921.
26. Charlie Chaplin, 1916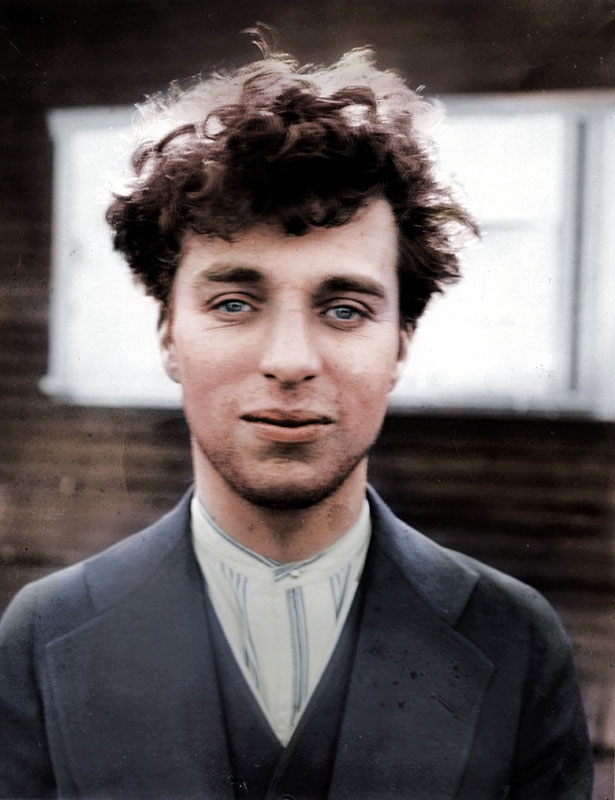 Via
The good looking Charlie Chaplin at the age of 27.
27. VJ Day, Times square mall, NYC, 1945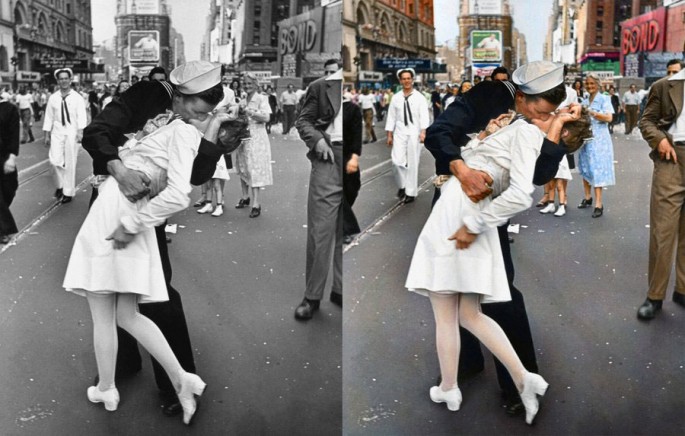 Via
After Japan surrendered to the allies in World War II on August 15, 1945, it came to be know as the Victory in Japan (VJ) day. This shot was taken at Times square mall, NYC when a sailor kissed a nurse celebrating the victory. It is one of the most famous celebration shots from VJ day.