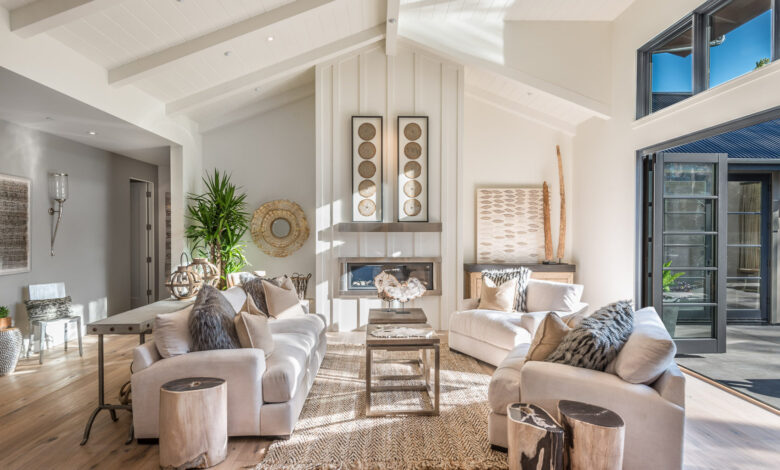 For many of us, the way our kitchen looks may be necessary to a point where we research many things on the world wide web to give us somehow ideas as to what is "fitting" to add to our kitchen dreams.
Popular these days are "farmhouse" style kitchens. People's flashy and vivid-colored kitchen rooms somehow shifted to farmhouse style for a variety of reasons. And this kitchen style might suit your liking.
There are plenty of things to put and add to make that "Farmhouse Kitchen Style" be part of your reality. One thing to consider is to choose the appropriate decorations. Here are the top tips to guide you on that.
Cover your kitchen with "Neutral colors."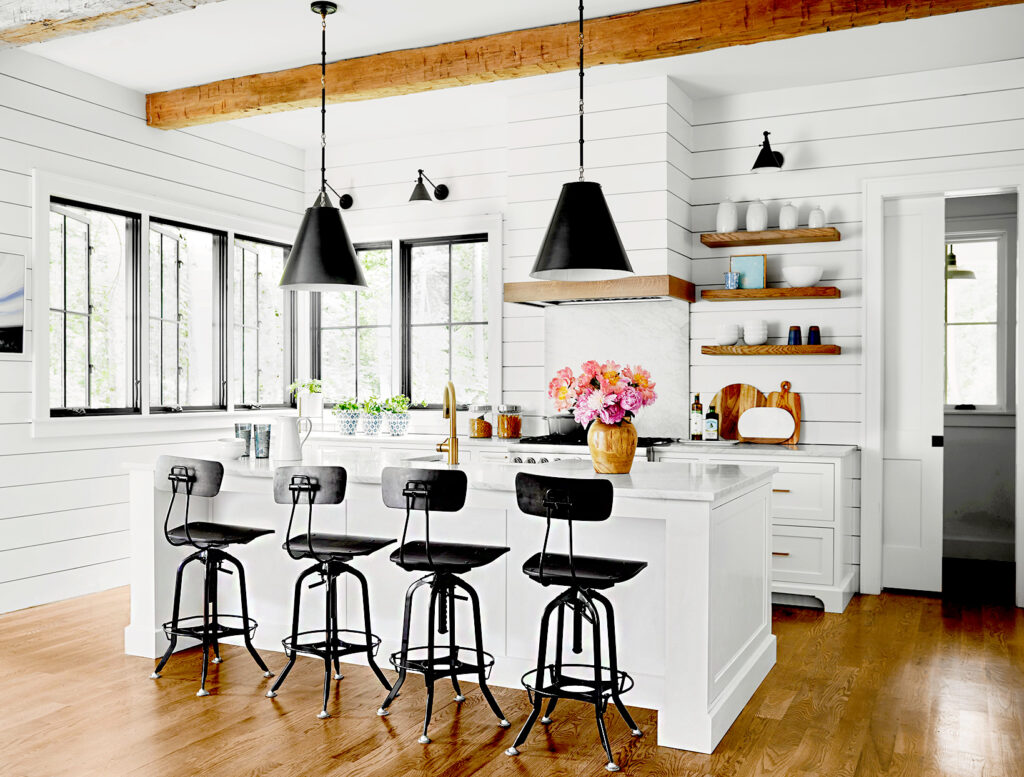 One of the significant "theme-setters" of any space in the house is the color selection. Colors just set the tone, mood, message, and almost the totality of the area. When you like to achieve farmhouse kitchen style, beige, cream, and grayish tones are good choices. These color tones blend well with other colors, and they set that country-side living vibe. Make the walls' colors uniform or dominant, combine them well in the sides, and lower portions and other parts where your eyes witness "farmhouse feels" kitchen.
Put touches of vintage elements and incorporate modernity as well.
One good way to depict "farmhouse feels vibe" into your kitchen is when you mix both modern and old elements in one room! This way, it's like you will be working in your kitchen at different timelines. Try to use unusual things that will serve as a piece of equipment in your kitchen. Anything rustic but functional will aid you in achieving this. For example, an old flour sifter is your flower vase alternative. Or a silver-colored faucet into a tray holder. These are minor details, but when made present into a kitchen, it would definitely give you that farmhouse-like kitchen.
Skip with the flashy, bright colors this time.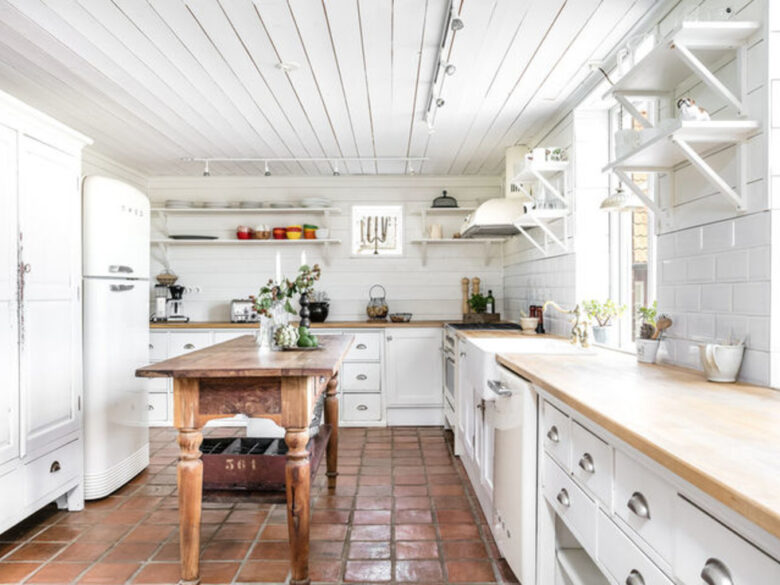 Bright colors are excellent choices, but if you like to achieve a "farmhouse style" kitchen, these tones might not fit that kitchen style. Colors like purple, pink, red are the colors you should avoid using even on the accents and decorations. However, if you insist on using those tones because they are your favorite colors and want to achieve a farmhouse kitchen, then you might keep the usage at a minimum and sparingly.
Using wire baskets to achieve "rustic" vibes
When you add this type of basket, this will give your kitchen a "rustic" look. Perhaps it's the simple way of achieving that look because, especially nowadays, this type of basket has multiple purposes. This can be a container of books, rags, pillows, plants, and all other applicable purposes which you would like this basket to perform. They are recommended to be placed on the walls and hang.
Get some wood!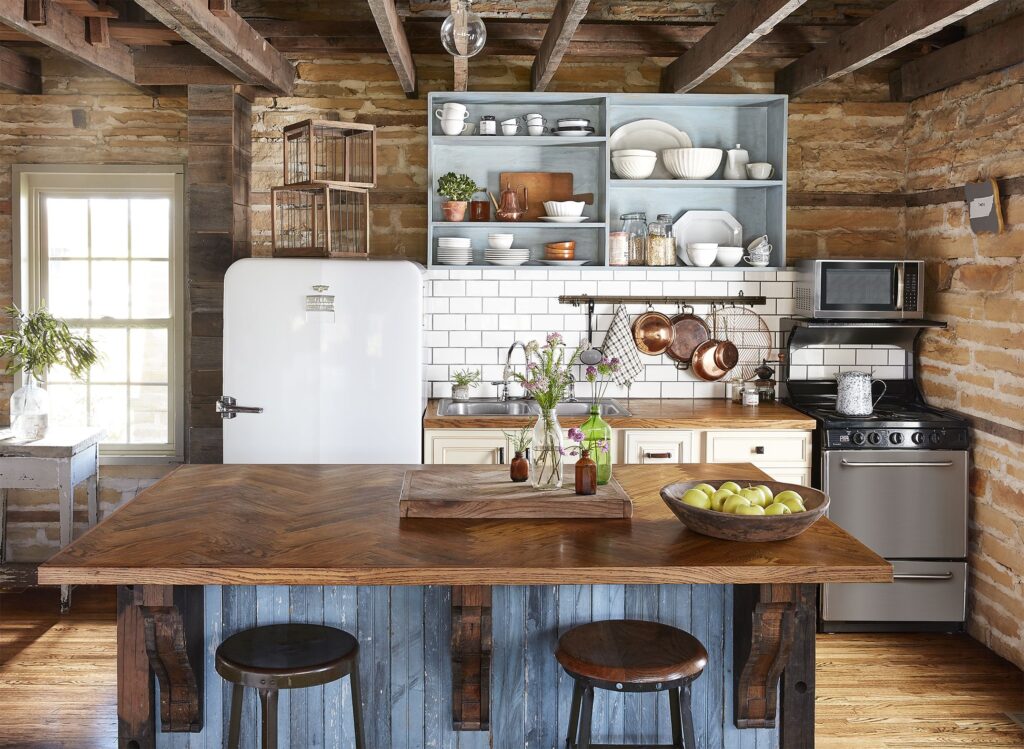 You cannot complete that farmhouse kitchen-style dreams of yours without the existence of wood in your kitchen! Of course, most real farmhouses are made of wood, and this should therefore comprise at least 3/4 of your kitchen to achieve a well-defined farmhouse-style kitchen. Wood represents and depicts texture most effectively, and this is such a good move you could make. And it doesn't need to be newly purchased wood. Wood scraps, barn wood, or some old chunks of wood you have in your place are good elements for your farmhouse-style kitchen.
Add a specific kind of "Light" fixtures.
As in any kitchen, light fixtures are of the essence more than as a decorative thing. Farmhouse-appropriate light fixtures should definitely be gigantic to illuminate those farmhouse accents in the surrounds of the kitchen. Lights are also tools to set the mood of any space.
Paint creates something "new" from something "old" effectively.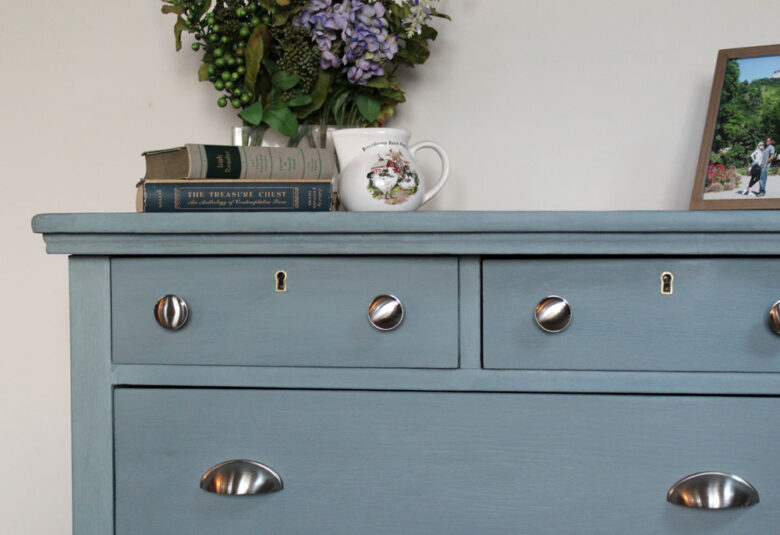 As mentioned earlier, one way to achieve a farmhouse kitchen style is to collaborate both old and new to create something good. You can make this happen when you freshen up old furniture with paint. Again, it is preferred to use neutral colors to paint old furniture. When you do this, the vintage stuff will display modernity significantly, which, when placed collectively, will create an atmosphere similar to living in a farmhouse.
Never throw overused, distressed furniture.
It may seem to be garbage to you, but distressed or almost trash furniture in your attic or garage could be of good use to your farmhouse-style kitchen. You have to try to look for ways to make it a decorative piece and a purposeful one. Damaged doors, defective doorknobs, old chairs are some things that you should check. Apply paint to beautify and partially restore its original form.
There's no need to purchase expensive materials.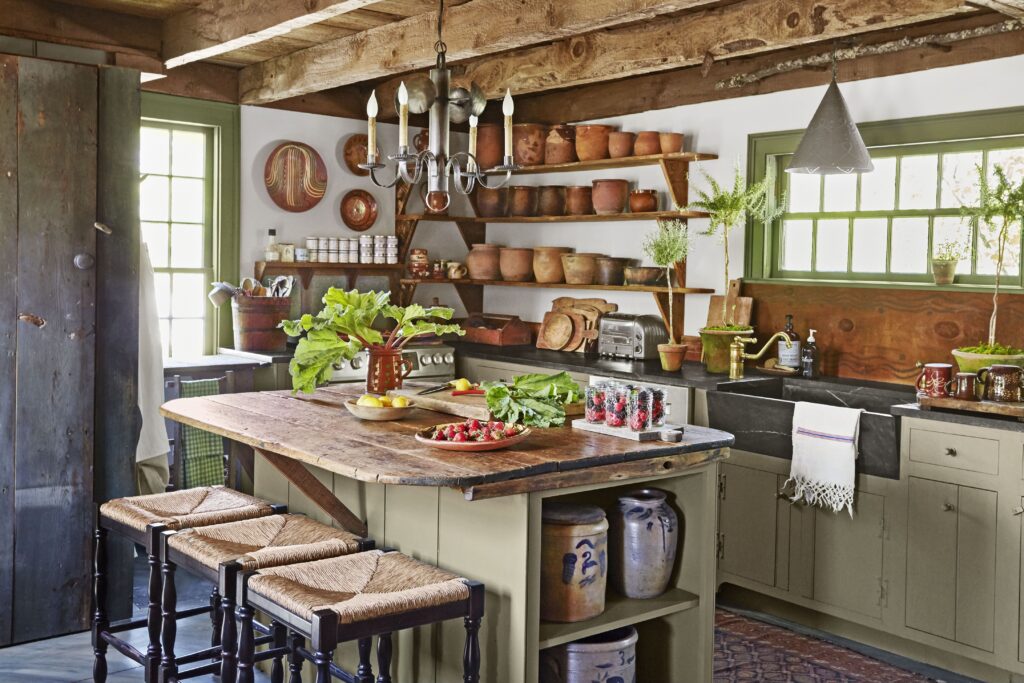 To achieve a fancy farmhouse kitchen style, contrary to the common practice, recycling and restoring your old furniture and stuff that you could find in the attic could turn into potential decorative pieces later on. All you need is to be as innovative and creative as you can. Aside from sparing your dollars from buying something new, using and beautifying these things exudes authenticity and an evident vibe of a farmhouse kitchen style. This way, you'd be able to declutter your house and use those previously used spaces for a better purpose. Imagine the benefits it brings if you recycle rather than purchase new ones?
Final Words
The kitchen is such an essential space in our house. It's not only a place for preparing and cooking meals, but it is a place where hearty and good food is made to satisfy family members' tummies. If you're that family member who does most of the kitchen chores, surely you'll be more inspired and motivated to do much if you will be working on a space that gives you a specific kind of vibe. And remember, there are plenty of cheap ways for you to achieve this farmhouse kitchen style design.
All you need to do is find your resourceful and creative side and start executing it. If you need further suggestions to achieve this kitchen theme, and maybe a few farmhouse products as well, you could visit this page to get started – https://www.annieandoak.com/