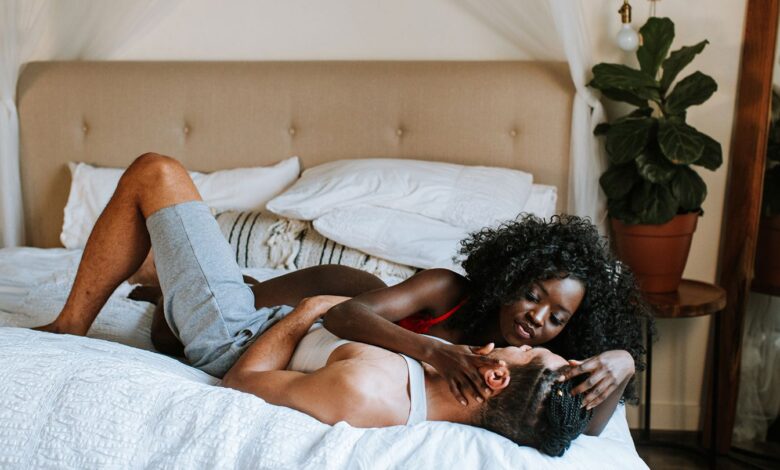 Love & Sex
Interesting Add-Ons That Will Bring More Pleasure In The Bedroom
Sex is excellent; everyone can agree on that! However, it can become a bit run of the mill if you never mix it up and perform the same old routine day after day. Luckily, the sex industry is enormous and caters to a wide range of tastes, kinks, and sexual preferences. This post will cover some of the most exciting sexual add-ons guaranteed to increase intimacy, escalate eroticism, and amplify your amorousness!
Dildos
When most people hear the word dildo, they tend to think it's only for women. However, if you have enough imagination, you can use a dildo to enhance sexual pleasure for all involved. However, with so many different options on the market, it can be challenging to figure out which one might be right for you.
Glass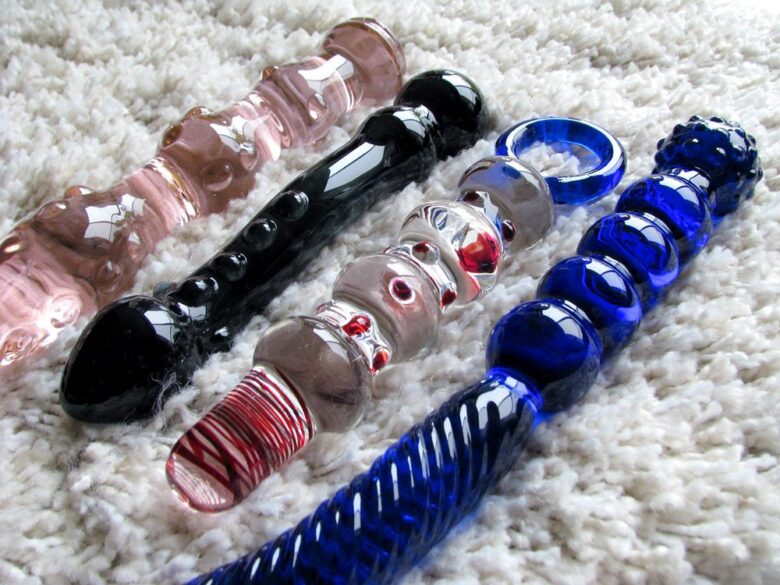 At the top of the list, in terms of class and aesthetic appeal, is the glass dildo. They are a marvel of glasswork that becomes even more interesting when you consider that someone literally blew it during its construction! However, aside from the aesthetic appeal, glass options offer a number of benefits over other materials. According to this site, glass provides a unique feeling of exclusivity that can help newer, less confident individuals a chance to explore their sexuality without feeling too "dirty." Nevertheless, they also offer a number of advantages, including:
They are solid: Some men and women prefer the flexibility of silicone, while others simply love the feeling of something rock hard inside them! Glass retains its shape no matter which orifice it goes inside.
Easy to clean: Owners of sex toys often complain about how difficult it is to keep them clean and sanitary. Cleaning glass is easy, and powerful sanitizers can be used to ensure they are clean and ready for reuse.
Come in a wide range of shapes: While this isn't unique to the glass per se, they come in a wide range of exciting forms that cater to almost any kind of kink.
You can use various lubricants: Oil-based lubricants are sometimes preferred over water-based variants for their longevity. However, the oil can sometimes erode certain materials. You can use a wide range of lubricants on glass, which is much more robust and resistant to wear and tear.
They often have a textured appearance: The added texture or veins, lumps, and bumps add a sense of realism and excitement.
Silicone
Silicone is arguably the most common material used for making these sex toys and is favored by many for its flexibility. The main advantage of silicone options over glass is that they are typically more affordable. Moreover, they come in a range of sizes ranging from normal to monstrous, some of which also vibrates. While the allure of glass excites some folks, others prefer the more natural feeling that silicone offers. Additionally, silicone models tend to include suction cups on the base, enabling you to stick them to a surface for individual use or with another partner.
Metal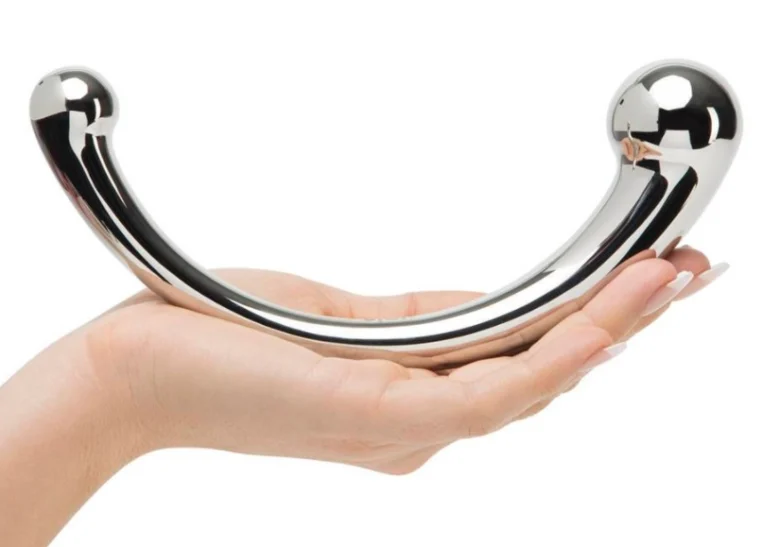 Similar to glass, metal provides a rock-solid device that can reach places others cannot. It is also easy to clean, will last a long time, and can be used with various lubes. However, this usually comes with the added cost of a higher price and an unnatural feeling. Nevertheless, many people enjoy metal dildos because of their rigidity.
Plastic
Way down on the list of materials is plastic. Although plastic is arguably the most affordable option for many people looking for dildos, they also feel unnatural and possibly unsafe. If you purchase the cheapest options, you might find them still covered with jagged injection molded bits sticking out.
Butt Plugs
Moving on from dildos, butt plugs are for the slightly more adventurous among you and probably don't need much introduction! They are essentially devices that you stick up your butt during intercourse to enhance the sensation of fullness. Similar to dildos, they can be used by both men and women, and the possibilities are endless. If you have never entertained the idea of using these toys, you are in for a treat! However, before using them, you should take some precautions:
Ease into it: Most people have never attempted to put stuff up their rear ends before; therefore, you should take it slowly. Ease into it, and remember that you are doing this for pleasure, not pain.
Use plenty of lube: Lube is crucial if you are going to have a good time. You should use plenty of it and apply it to both the toy and your anus.
Know where your limit lies: Don't feel bad if you don't enjoy using a butt plug you bought in the heat of the moment.
Enjoy the experience: Sex toys are meant to be enjoyed. Therefore, embrace the taboo and relax to make the overall experience far more enjoyable.
Vibrators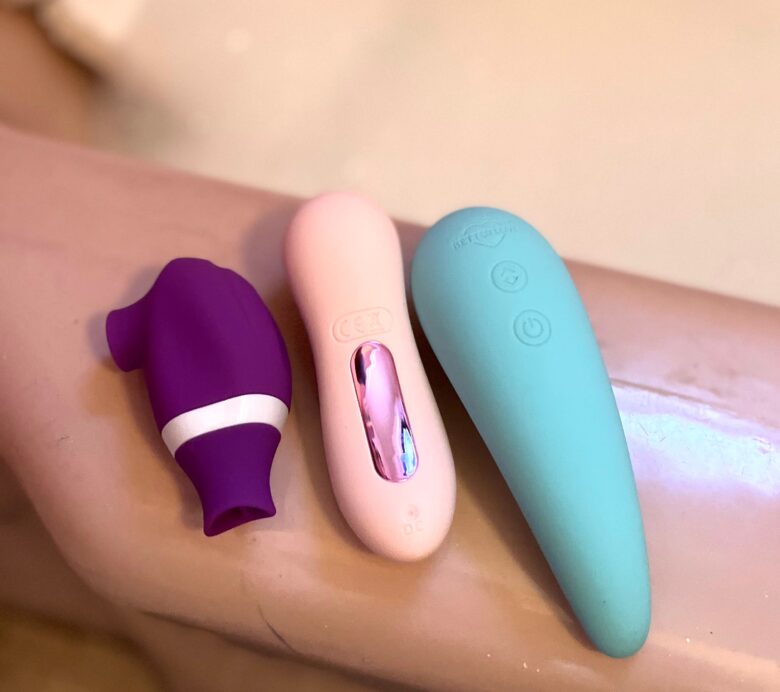 The ultimate sexual pleasure for men and women is the humble vibrator. They come in diverse shapes and intensities, but almost all are guaranteed to improve your sex life.
Wand
The wand vibrator is the largest and most expensive but consistently ranked as the most sexually gratifying toy. They were designed as neck and shoulder massagers but quickly found their alternative use as sex toys.
Cock Ring
The cock ring is designed to hold blood in the penis shaft and prolong an erection. While they are often found as standard rubber rings, some have vibratos attached to them. This can enhance sexual stimulation during penetrative sex and make both partners climax like never before.
Bullet
For the more discrete among you, a bullet vibrator is exactly what it sounds like; a vibrator shaped like a bullet. They are designed for use on their own for clitoral stimulation or to be placed inside another toy for increased pleasure.
Rabbit
A rabbit vibrator is often considered the pinnacle of vibrating devices. They look like standard dildos, except they include a protruding section with "rabbit ears." They combine the pleasures of penetration with the intensity of clitoral stimulation, providing the best of both worlds.
There are various sex toys to choose from, and this post has only covered a few of the most common. However, if your sex life is becoming staid, you could benefit from choosing one (or more) of these choices.