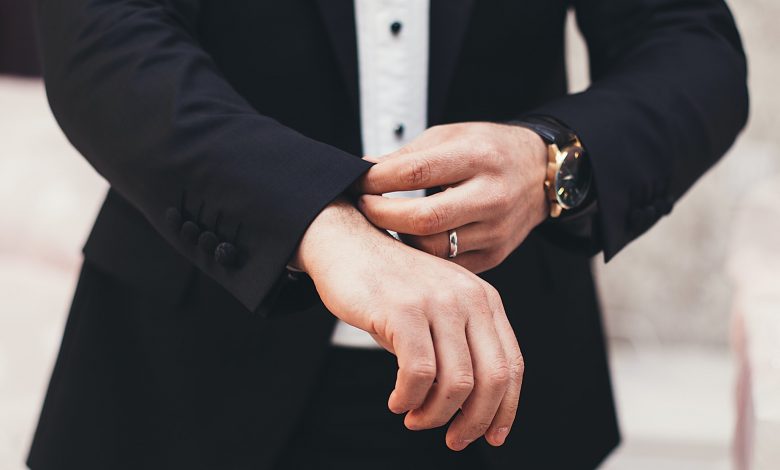 Style
5 Fashion Rules For Grooms In 2023
It always seems to be the brides who get the most attention during a wedding, when in reality the groom is equally as important. They are equal parts of a unity build on love, trust, and support, so naturally there should be as much hype and care for the man as there always is for the woman. We have to admit that it is the ladies that care more for the fashion industry in general but for a day and occasion as big as your own wedding, best believe that the groom also wants to show up looking as good and stylish as possible.
So what are the latest rules for men who are about to say the fateful "I do" and what should they pay attention to in terms of their wedding day attire? Things are not that different than they were before but since fashion always changes and adapts overtime, it is important that we have some rules established. Once the day comes when you are the one tie the knot, you will want to be the best dressed guy there and have everything under control.
In order to help you we decided to assemble a list of the most important fashion rules for grooms to pay attention to in 2023. By sticking to these as close as possible, you will cover all of the bases and ensure that you have everything you need to booth look and feel good. To learn more about this, make sure to check out topsuits.be.
1. You Do Not Need a Tux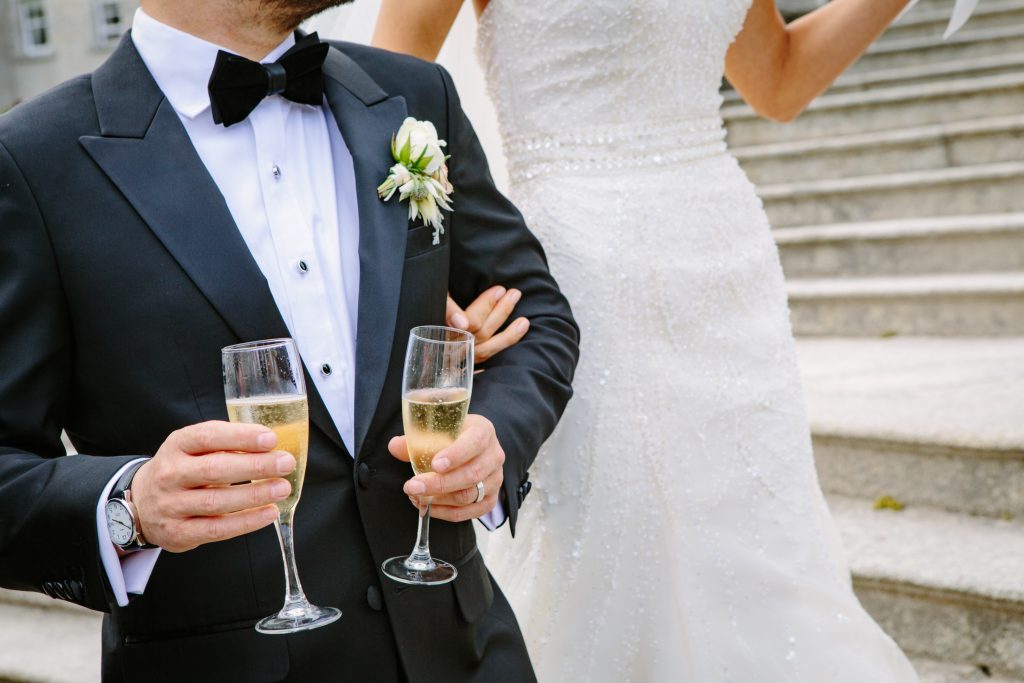 Tuxedos are iconic, there is no question about it, but most men do not feel as comfortable in them as in regular suits. What is more, you do not really need it since weddings should not feel so formal and uptight. You cannot relax enough and have a good time if you constantly worry about how you look. Therefore, opt for a normal suit and take it from there. Of course, the jacket and the pants should be matching and the rest of the look should complement them. Regular suits are also better because they are more comfortable and lighter and you have more options if you want to match the colors and styles to the general look and feel of your venue. In addition, if you do not want to go black, there is no reason to browse tuxedos at all.
2. Quality Matters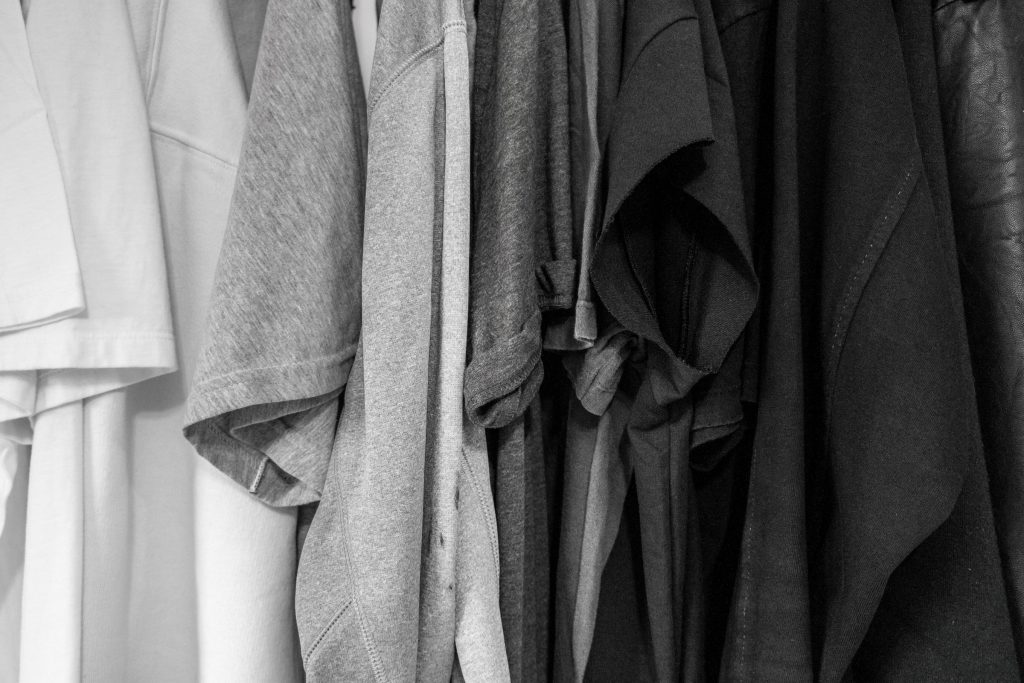 The quality of your clothes matters a lot because it really shows on formal and semi-formal looks. Do not try to save on your wedding day outfit and have it tailored, no matter if it ends up being a suit or a tux. Moreover, never buy something without seeing it and trying it on. You absolutely have to try it on and have it sized to your fit. The lining, stitching, and even the fabric is all important and they are much better and of higher quality with above average clothing. If you spend a little extra, you will ensure that the quality and the comfort level will be high and you will automatically feel much better in your skin, and in your new suit. Remember what we mentioned, you have to be the best dressed guy in the room!
3. Shirt, Tie, Shoes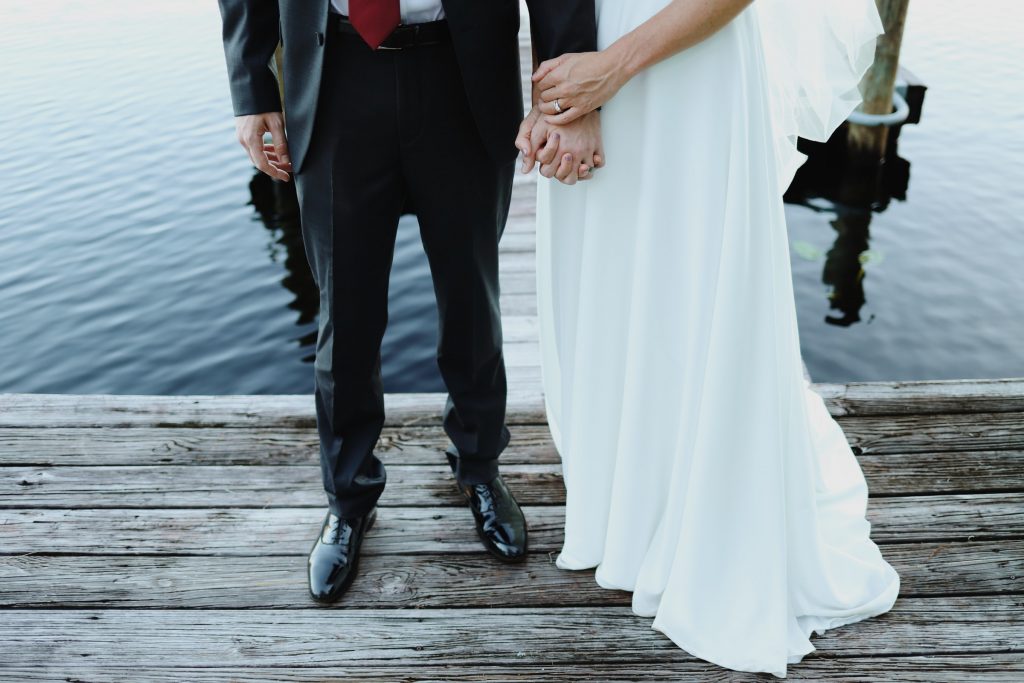 The suit is the star of your outfit, make no mistake, but it is the shirt, the tie, and the shoes that can really make or break the whole look. Not every type of shoe goes with every style and color of the suit. The same goes for the shirt and tie. It is simple really, so pay attention. Navy and grey suits go well with black or dark brown shoes.
Black suits ONLY go with black shoes, so do not experiment there. Brown suits are compatible with brown and dark brown shoes, but never black. Charcoal suits will pair up nicely with black and dark brown, but not light brown. In terms of the type of shoe, skip the modern trend of sneakers and go for the derby, the monk strap, the Chelsea boot, or the loafer. When ties are concerned, most people prefer regular models to bowties, especially on regular suits. Bowties look better on tuxedos. The tie always looks best if it is similar to the suit, with the shirt being lighter than both. Do not go overly crazy with the colors and patterns on either the shirt or the tie and keep it clean and neat.
4. Always Accessorize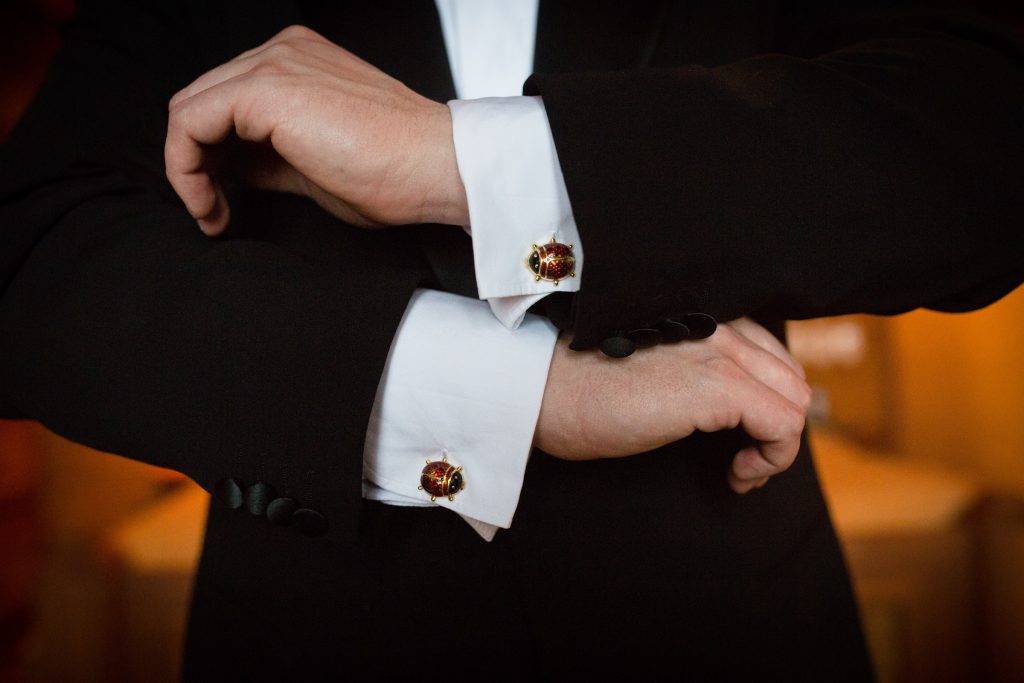 Wearing accessories is important for a number of reasons. Wearing only a suit is plain and can look boring. Moreover, it shows a lack of effort and some people may believe that the occasion is not really as important to you as it should be. You hardly want that now, do you? To prevent this and to maximize the style you can achieve, it is important to complement your suit with the right accessories. They are essential if you want to pull off a clean and timeless look. Cufflinks, a tie pin, and a watch are simply a must. Suspenders could be a tad too much since they do not always look good on all combinations, so our advice is to skip them for your wedding day.
Regarding the metal accessories, make sure they complement each other and that they follow a certain theme. You do not want either to stand out too much and be the focus of the whole attire. Last but not least, your belt should always match your shoes.
5. Buy or Rent?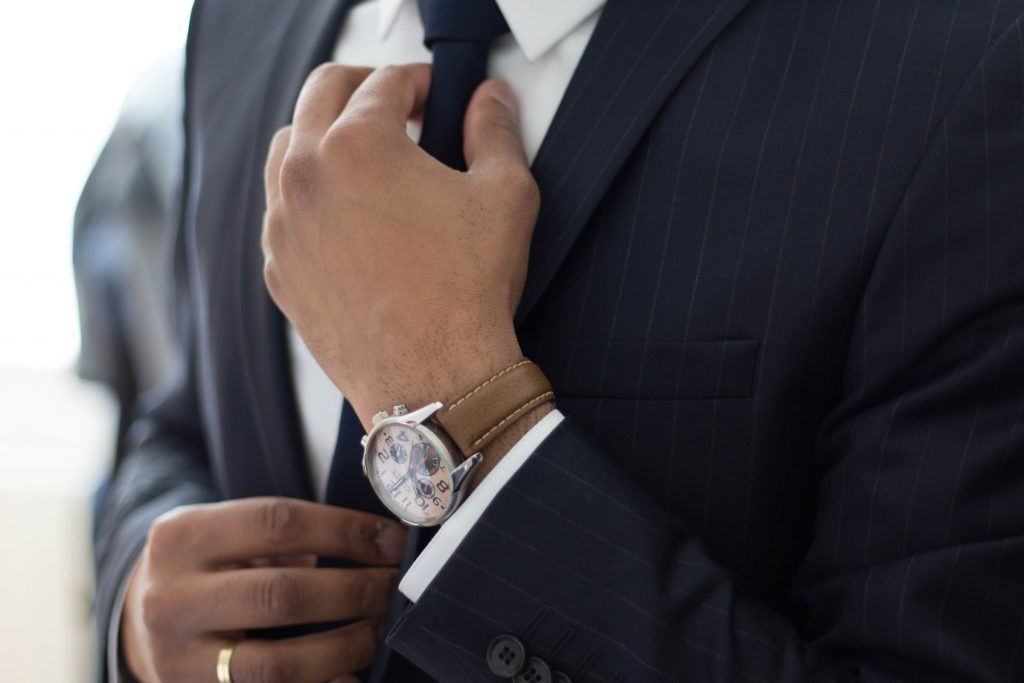 The real question here is whether or not you plan to wear the suit after your wedding. The best way of doing things is to make your wedding suit the best suit in your collection and the one you will be able to wear for years to come. This is especially true for the jacket. If you do not usually wear suits, or ever really, it would be better to rent it if that feels and sounds okay to you. It is a different story to that of a wedding dress, as it makes more sense to rent one. You will probably need the suit many more times in the future if you have a job that requires formal clothing, so choose accordingly. This approach makes even more sense with the shirt, the tie, the shoes, the belt, and the rest of the accessories.